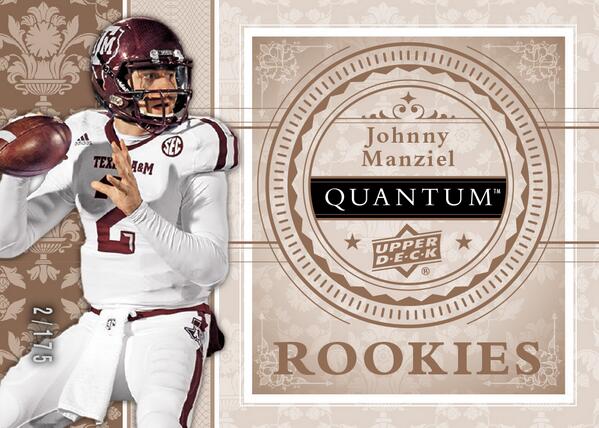 By Susan Lulgjuraj | Beckett Football Editor
Are you ready for some football? Well, at least the NFL Draft.
The 2014 draft kicks off on Thursday in New York City. The NFL is bringing in more prospects than ever, and collectors are looking forward to something to make them forget about the 2013 season.
Many of the top prospects are being widely collected already with Leaf, Press Pass, Sage and Upper Deck cards hitting the market before these players have been picked up by an NFL team. The most collectible player so far has been Johnny Manziel by far. Blake Bortles, Teddy Bridgewater and Sammy Watkins come in the next grouping but by a lot less.
It's easy to say that, but here's the proof – a list compiled by the Beckett Price Guide team showing the average value of each player in the price guide.
Manziel tops the list at $164.54 for his cards. He currently has 187 cards – 108 of which are autographs – in the Beckett database.
Johnny Manziel $164.54
Blake Bortles $66.00
Jadeveon Clowney $62.60
Teddy Bridgewater $59.64
Sammy Watkins $55.68
AJ McCarron $50.00
Derek Carr $46.31
Tre Mason $40.00
Mike Evans $29.44
Marqise Lee $27.68
Khalil Mack $26.11
Odell Beckham Jr. $22.10
Susan Lulgjuraj is an editor at Beckett Media. You can email her here with questions, comments or ideas. Follow her on Twitter here. Follow Beckett Media on Facebook and Twitter.