Here Are the 2019-20 Upper Deck Series 1 Young Guns
The 2019-20 Upper Deck Series 1 Hockey Young Guns checklist is here.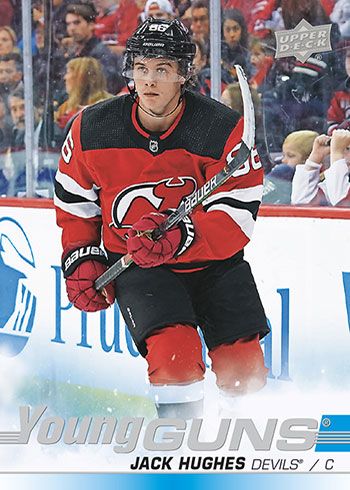 With the new NHL season underway and a fresh crop of freshman making their debuts, Upper Deck can now expand their Rookie Card offerings beyond some of the carryovers from late last season.
Typically, Young Guns rank among the most popular cards of the year. And it's not just hockey. The appeal of the subset goes beyond the sport's core group of collectors.
Leading the way is, not surprisingly, Jack Hughes. The first overall pick in the 2019 NHL Draft, the 18-year-old center also happens to be an Upper Deck exclusive. Other notables include Jack's brother Quinn Hughes, who plays for Vancouver, Cody Glass of the Vegas Golden Knights, Montreal's Ryan Poehling and Victor Olofsson who has been on a tear to start the season in Buffalo.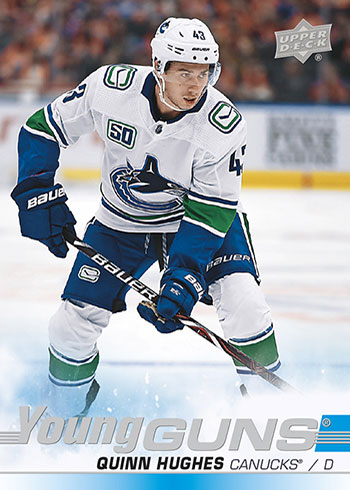 Notable missing names include Kaapo Kakko, the second pick in the 2019 draft, and Colorado's Cale Makar. Collectors can expect these players to be in Series 2. That said, they're not totally absent from Series 1. They have Young Guns cards in the UD Canvas insert set.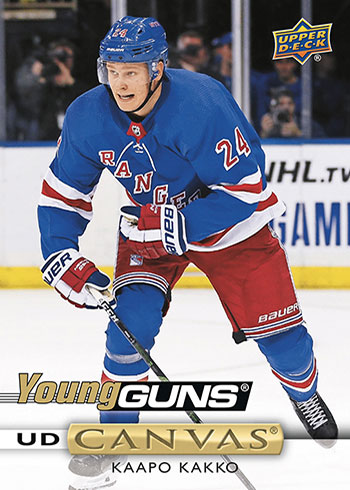 All told, the 2019-20 Upper Deck Series 1 checklist has 49 different Young Guns plus a checklist. Continuing with the subset's tradition, they're moderate short prints, landing 1:4 hobby packs (six per box).
2019-20 UD Series 1 Hockey releases on November 6. A larger gallery of images can be found on Upper Deck's blog.
2019-20 Upper Deck Series 1 Young Guns Checklist
201 Jack Hughes, New Jersey Devils
202 Blake Lizotte, Los Angeles Kings
203 Conor Timmins, Colorado Avalanche
204 Ville Heinola, Winnipeg Jets
205 Nathan Bastian, New Jersey Devils
206 Jimmy Schuldt, Vegas Golden Knights
207 Victor Olofsson, Buffalo Sabres
208 Connor Bunnaman, Philadelphia Flyers
209 Cale Fleury, Montreal Canadiens
210 Ilya Mikheyev, Toronto Maple Leafs
211 Kevin Stenlund, Columbus Blue Jackets
212 Mackenzie MacEachern, St. Louis Blues
213 Joakim Nygard, Edmonton Oilers
214 Carsen Twarynski, Philadelphia Flyers
215 Taro Hirose, Detroit Red Wings
216 Brady Keeper, Florida Panthers
217 Joel L'Esperance, Dallas Stars
218 Rudolfs Balcers, Ottawa Senators
219 Nico Sturm, Minnesota Wild
220 Scott Sabourin, Ottawa Senators
221 Philippe Myers, Philadelphia Flyers
222 Rasmus Sandin, Toronto Maple Leafs
223 Danil Yurtaykin, San Jose Sharks
224 Carter Verhaeghe, Tampa Bay Lightning
225 Alexandre Texier, Columbus Blue Jackets
226 Ryan Poehling, Montreal Canadiens
227 Vitaly Abramov, Ottawa Senators
228 Adam Fox, New York Rangers
229 Dante Fabbro, Nashville Predators
230 Mario Ferraro, San Jose Sharks
231 Teddy Blueger, Pittsburgh Penguins
232 Gaetan Haas, Edmonton Oilers
233 Jesper Boqvist, New Jersey Devils
234 Zach Senyshyn, Boston Bruins
235 Matt Roy, Los Angeles Kings
236 Martin Fehervary, Washington Capitals
237 Cody Glass, Vegas Golden Knights
238 Tobias Bjornfot, Los Angeles Kings
239 Brandon Gignac, New Jersey Devils
240 Libor Hajek, New York Rangers
241 Vladislav Gavrikov, Columbus Blue Jackets
242 Max Jones, Anaheim Ducks
243 Connor Clifton, Boston Bruins
244 Zack MacEwen, Vancouver Canucks
245 Lean Bergmann, San Jose Sharks
246 Dominik Kubalik, Chicago Blackhawks
247 Josh Brown, Florida Panthers
248 Karson Kuhlman, Boston Bruins
249 Quinn Hughes, Vancouver Canucks
250 Quinn Hughes, Vancouver Canucks/Jack Hughes, New Jersey Devils
2019-20 Upper Deck Series 1 UD Canvas Young Guns Checklist
C91 Kaapo Kakko, New York Rangers
C92 Aleksi Saarela, Chicago Blackhawks
C93 Victor Olofsson, Buffalo Sabres
C94 Cale Makar, Colorado Avalanche
C95 Nikita Gusev, New Jersey Devils
C96 Ville Heinola, Winnipeg Jets
C97 Adam Fox, New York Rangers
C98 Carl Grundstrom, Los Angeles Kings
C99 Cale Fleury, Montreal Canadiens
C100 Mario Ferraro, San Jose Sharks
C101 Max Veronneau, Ottawa Senators
C102 Blake Lizotte, Los Angeles Kings
C103 Alexandre Texier, Columbus Blue Jackets
C104 Filip Zadina, Detroit Red Wings
C105 Nicolas Hague, Vegas Golden Knights
C106 Erik Brannstrom, Ottawa Senators
C107 Karson Kuhlman, Boston Bruins
C108 Tobias Bjornfot, Los Angeles Kings
C109 Joey Daccord, Ottawa Senators
C110 Taro Hirose, Detroit Red Wings
C111 Ilya Mikheyev, Toronto Maple Leafs
C112 Emil Bemstrom, Columbus Blue Jackets
C113 Dominik Kubalik, Chicago Blackhawks
C114 Joakim Nygard, Edmonton Oilers
C115 Nick Suzuki, Montreal Canadiens
C116 Dmytro Timashov, Toronto Maple Leafs
C117 Connor Clifton, Boston Bruins
C118 Elvis Merzlikins, Columbus Blue Jackets
C119 Trent Frederic, Boston Bruins
C120 Adam Fox/Kaapo Kakko, New York Rangers