Which MLB Prospects Surprised and Which Disappointed in 2017?
The 2017 baseball season was filled with exciting and impactful rookies and will be remembered as one of the best rookie classes ever. Many rookies burst onto the scene quickly this season while others didn't live up to expectations.
As spring training came to a close and the start of the season was approaching many sports card collectors began buying into the hype on some of the top prospects in baseball which included Andrew Benintendi (who was named the #1 top prospect by MLB Network in January), Dansby Swanson (whom many predicted would win the NL Rookie of the Year). While others players flew under the radar, like Aaron Judge and Rhys Hoskins.
Here's our breakdown of some of the biggest names in the collecting world this season.
Dansby Swanson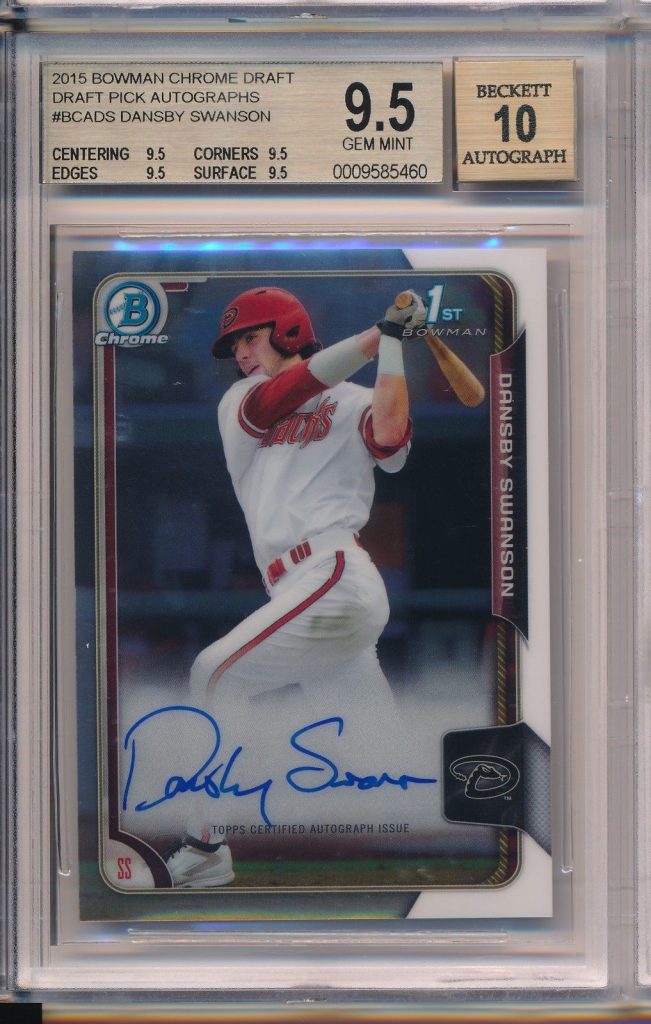 Swanson was a red hot prospect in spring training but quickly struggled to get anything going this season and was eventually sent down the minors in late July. One Swanson card that was real popular this season was his 2015 Bowman Chrome base autograph when he was steal with the D-Backs. BGS 9.5's were selling as high as $200 at eBay auction early in the season. He would finish the season with just six homers and his cards also saw a steady decrease in value.
Andrew Benintendi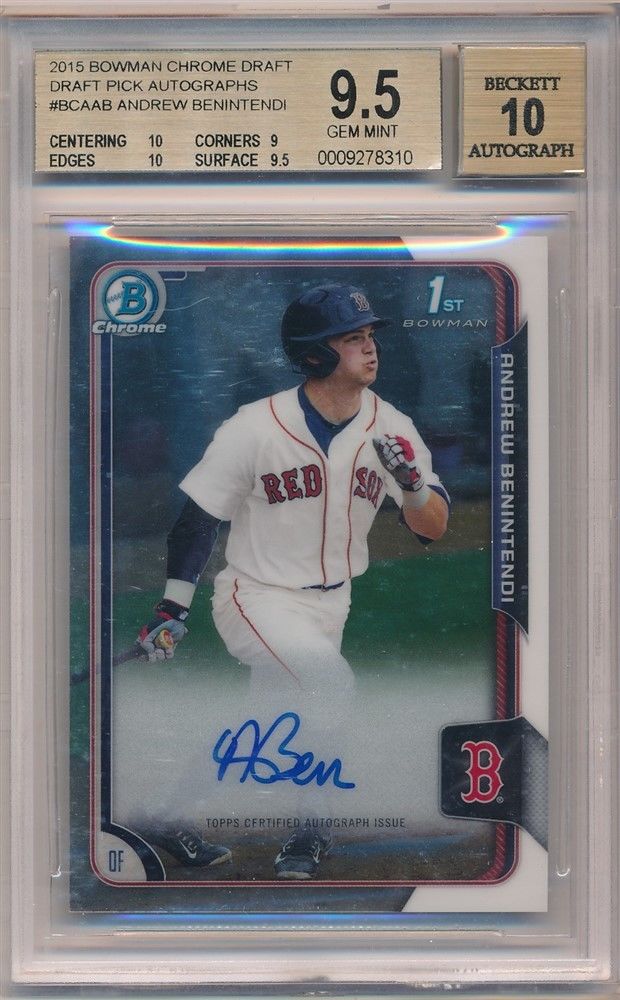 Benintendi's 2015 Bowman Chrome base autograph was one of the hot cards trending up at the start of the season. Beckett graded 9.5 copies were selling for as high as $250+ on eBay, many collectors were expecting a monster rookie season from the Boston phenom. Benintendi ended up having a solid season for the Redsox, he was one of the most consistent hitters on the Redsox. He finished his season with 20 homers, 90 RBIs and a .271 batting average.
Aaron Judge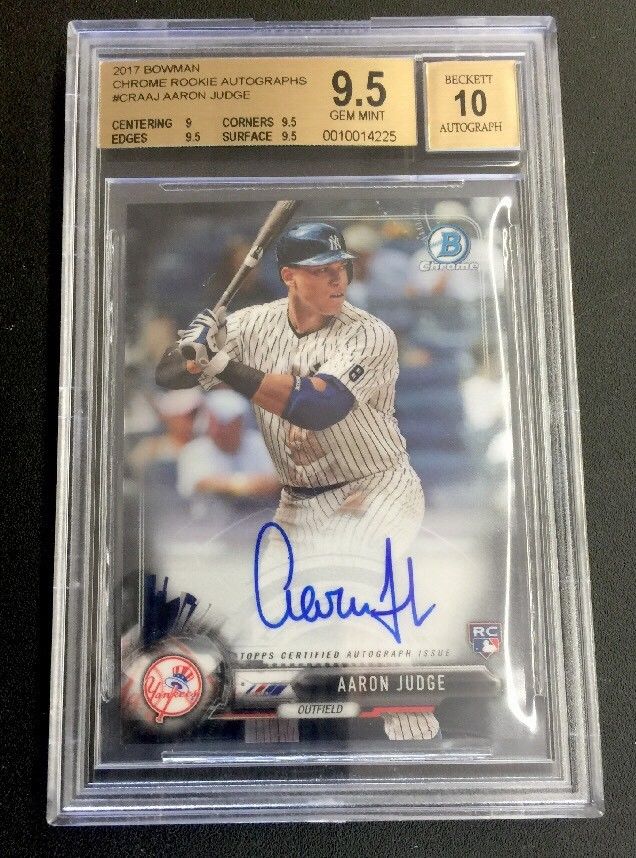 The Yankees would also be featuring a young talented rookie at the start of the 2017 season in Aaron Judge. Judge struggled mightily in his brief stint with the Yankees in 2016; he batted .179 with just four homers in 27 games played. A short sample size for sure, but many experts and scouts questioned his high strikeout rate and whether he would even make the Yankees Opening Day roster to start the 2017 season. Collectors and baseball experts were unsure how Judge would do in 2017. This un-predictability caused Judge cards to be bargain prices during the winter and up until early April. One Judge card that eventually exploded during the 2017 season was his 2013 Bowman Chrome base Autograph card. During the winter and up until spring training ungraded copies were selling on eBay for just $40-75 range and graded Beckett 9.5's were $75-100. Judge would eventually be named the Yankees Opening Day right fielder and quickly announced himself by mashing 10 homers in the month of April.
He became the undisputed new face of baseball this season, hitting mammoth home runs that traveled nearly 500 ft, getting his own seating section in Yankee Stadium named after him called "The Judge's Chambers" and earning the nickname "All Rise." Judge would finish the 2017 season breaking the AL rookie home run record by hitting 52 HRs. He is one the leading candidates to win the 2017 AL MVP award. Judge's historic season drew a huge craze for card collectors and all of his cards exploded including his 2013 Bowman Chrome Auto in a BGS 9.5. During the mid-summer this particular card would sell at eBay auction for nearly $1,100! Judge was also featured in many 2017 sets including Bowman Chrome, Topps Chrome, Bowman Platinum, Topps Finest, Topps Heritage, and more. Judge also won the Home Run Derby during the 2017 season and is had some of the most popular Topps Now cards.
Cody Bellinger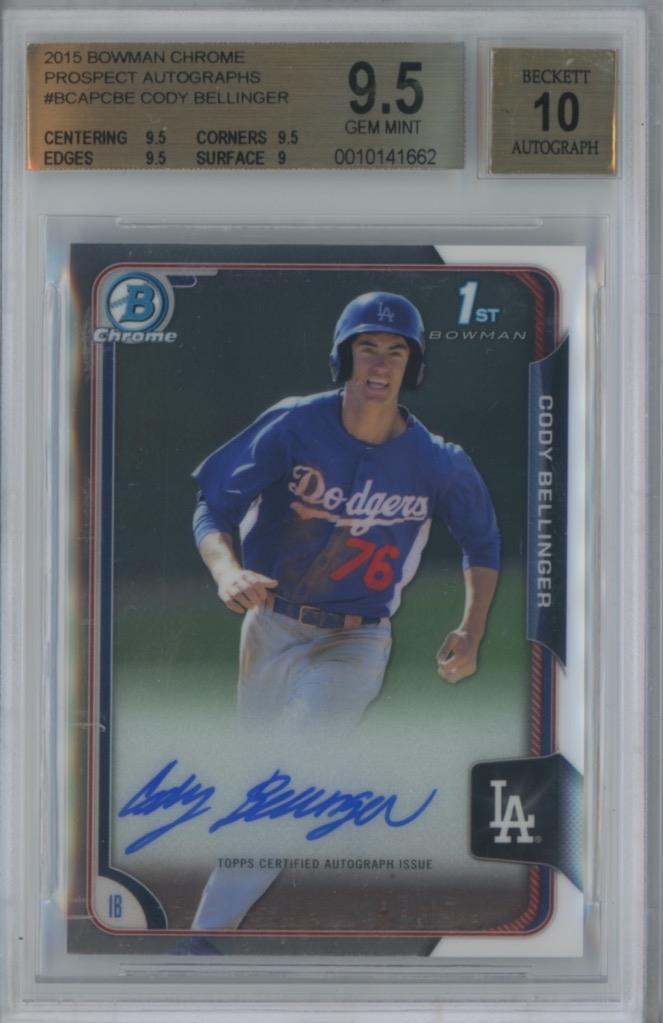 As Judge continued to mash homeruns for the Yankees early in the 2017 season another impactful rookie would soon follow in late April in the National League: Cody Bellinger. Bellinger was called up by the Dodgers and was supposed to be a short-term call up but that quickly changed because he just kept hitting homer after homer. Bellinger hit 21 homers in his first 51 games which is the fastest pace in the history of baseball. Bellinger at the start of the season was regarded as one of the Dodgers top prospects, and people throughout baseball were speculating he would be called up at some point this season but nobody saw this immediate impact coming.
Bellinger's most sought out card by many collectors was his 2015 Bowman Chrome base Autograph. Once he was called up this particular card saw an immediate spike in value and was valued at $250 in a BGS 9.5 at eBay auction. Within a month's time the card in a BGS 9.5 would sell for nearly $750 and is going still going strong at the $400-500 range. Bellinger would set a new National League Home Run Rookie record finishing with 39 homers. Similar to Judge, Bellinger would also be featured in many of the same 2017 products which included Topps Chrome and Bowman Chrome. Both Bellinger and Judge will be the unanimous rookie of the year choices.
Rhys Hoskins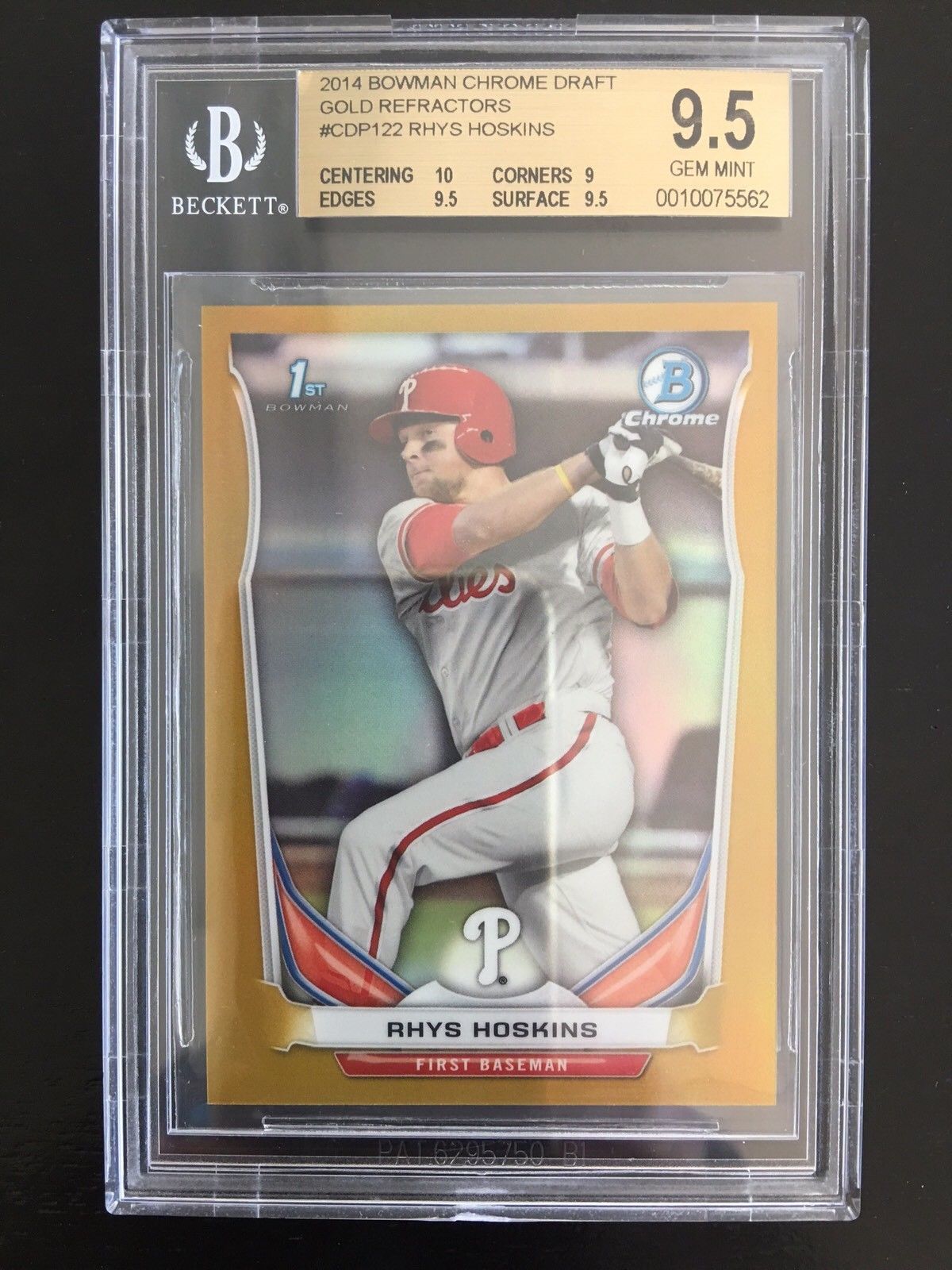 The 2017 season did feature other rookie prospects that made an impact including Rhys Hoskins, Rafael Devers, Paul DeJong, Trey Mancini, Ian Happ, and Matt Olson. Hoskins would set a record hitting 11 home runs in his first 18 games played. His cards were red hot towards the end of the season, his most sought out being his rare parallel versions from 2014 Bowman Draft which were selling at eBay auction in the $400-600 range.
Rafael Devers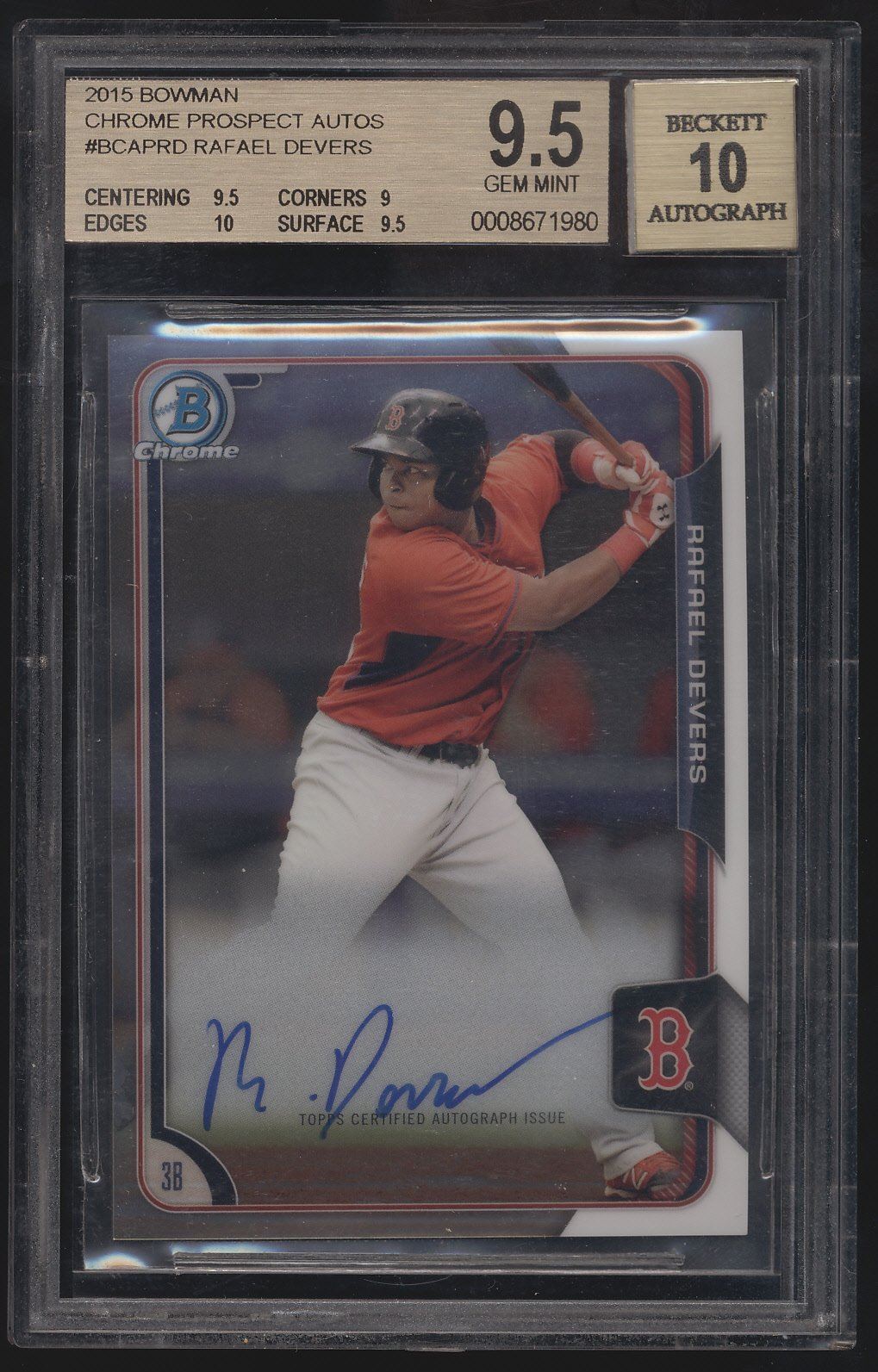 Rafael Devers would give the Red Sox a huge spark in late July when he was called up. One example being when he hit one of the more memorable home runs of the season off Aroldis Chapman to put them ahead during a Sunday night baseball telecast. This home run caused Dever's cards to spike, one particularly was his 2015 Bowman Chrome base auto, which sold at eBay auction for $175 in mid-August and was just $50 prior to the season beginning.
Paul Dejong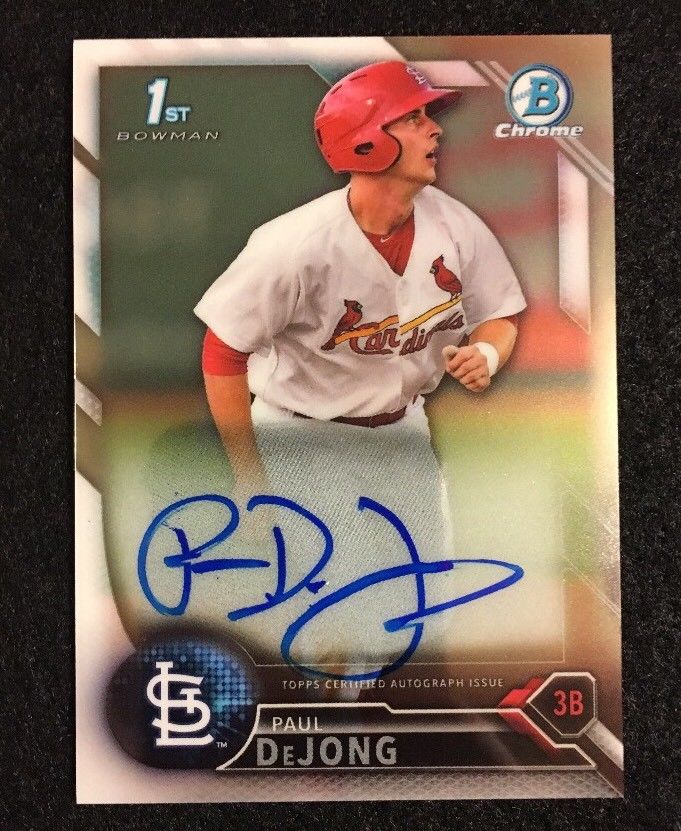 In late May the Cardinals called up shortstop Paul DeJong, who finished his rookie season with 25 homers, and will most likely finish to Bellinger as runner up for the NL Rookie of the Year. DeJong was an under-the-radar type prospect who had an outstanding season. His most sought out card is his 2016 Bowman Chrome Auto, which is featured in many different color parallel versions, his base is valued at $40 eBay auction.
Ian Happ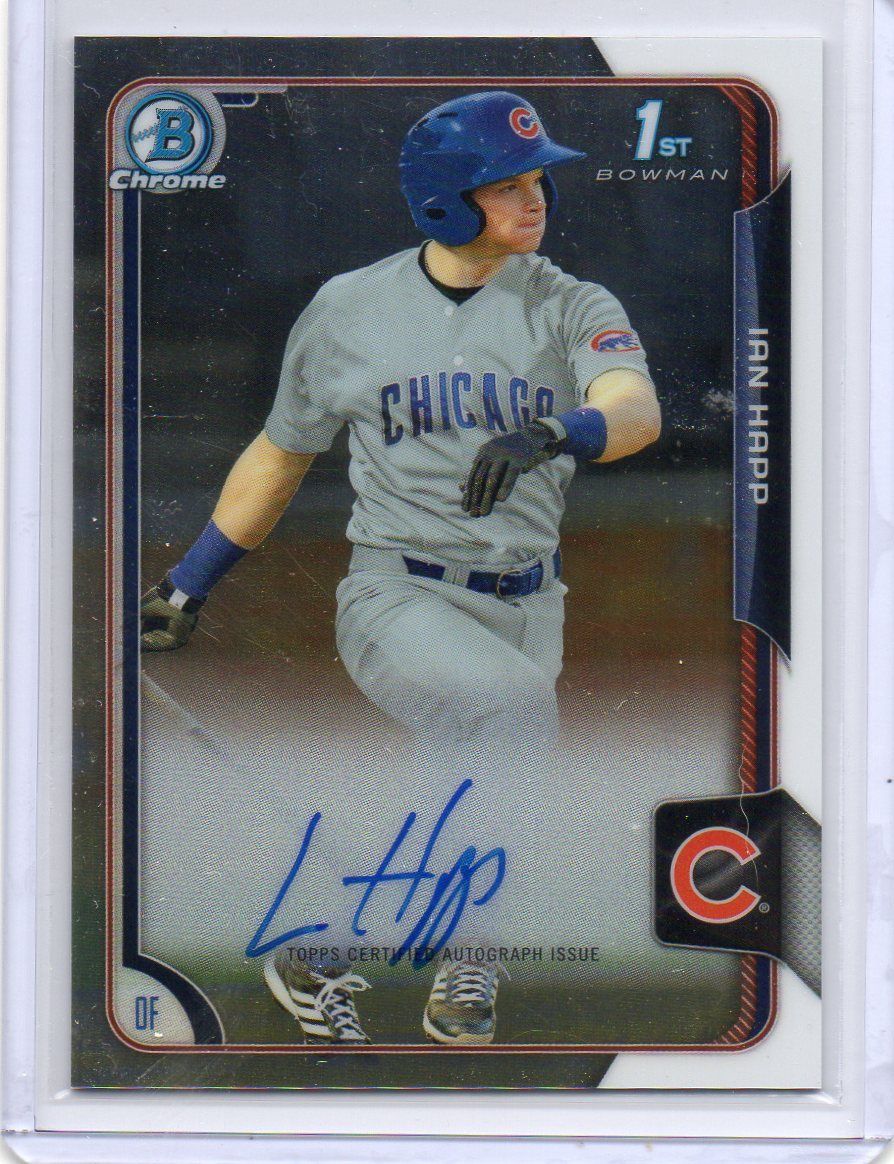 Ian Happ was smashing Triple-A pitching in April and forced the Cubs to call him up in mid-May. Happ's 2015 Bowman Chrome base auto was selling at eBay auction for nearly $100 ungraded. He would finish the season with 24 homers, but went through several hot and cold streaks. His 2015 Bowman Chrome auto is being valued at $40 on eBay auction.
Trey Mancini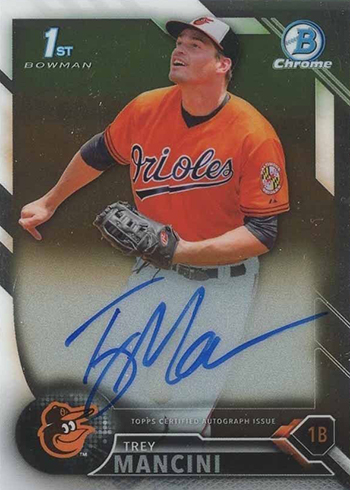 The other AL Rookie of the Year runner up will most likely be Baltimore's Trey Mancini. It could be argued that he outperformed Benintendi this season finishing with a .293 batting average, 24 HRs and 78 RBI's. Mancini began the season with the Orioles as a utility player but that quickly changed once he began hitting well in the month of May. He batted .340 in that month continued that success throughout the season. His most sought out card is his 2016 Bowman Chrome Auto, which is offered in many different color parallel versions. Mancini's is base auto was valued as high as $50 on eBay auction ungraded mid-season and now you're able to get that same card in a BGS 9.5/10 Auto which seems like a great value considering the season he had.
Matt Olson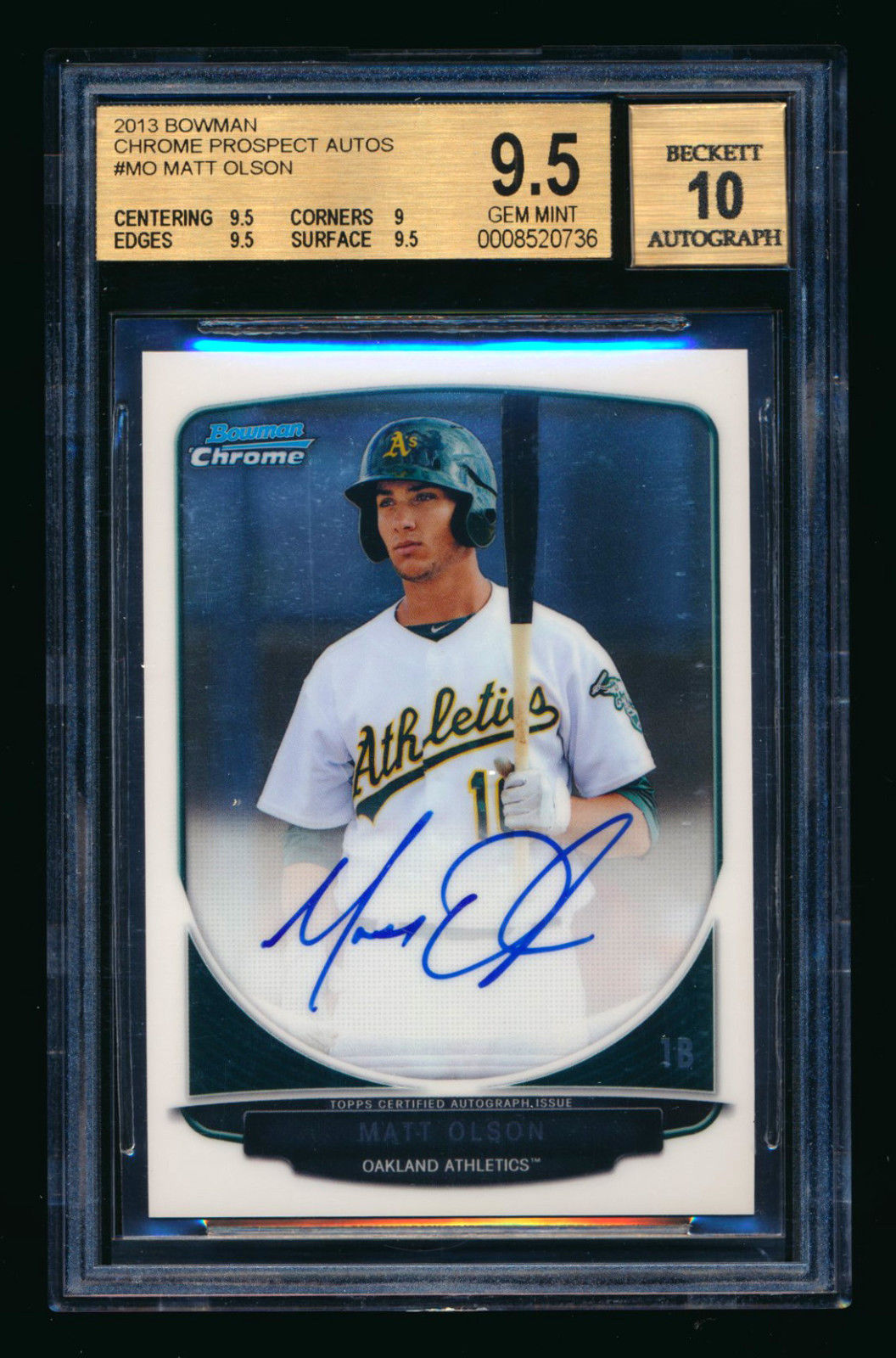 One of the biggest rookie surprises was the Oakland A's power hitting 1B/RF Matt Olson who finished the season hitting 11 homers in September, including four homers in four straight games at one point. He would finish with 24 homers in just 59 games! Olson's most sought after card is his 2013 Bowman Chrome autograph which is still very affordable; his base autograph sells at auction in the $20 range ungraded and $70-80 range in a BGS 9.5 which seems like a bargain.
Hunter Renfroe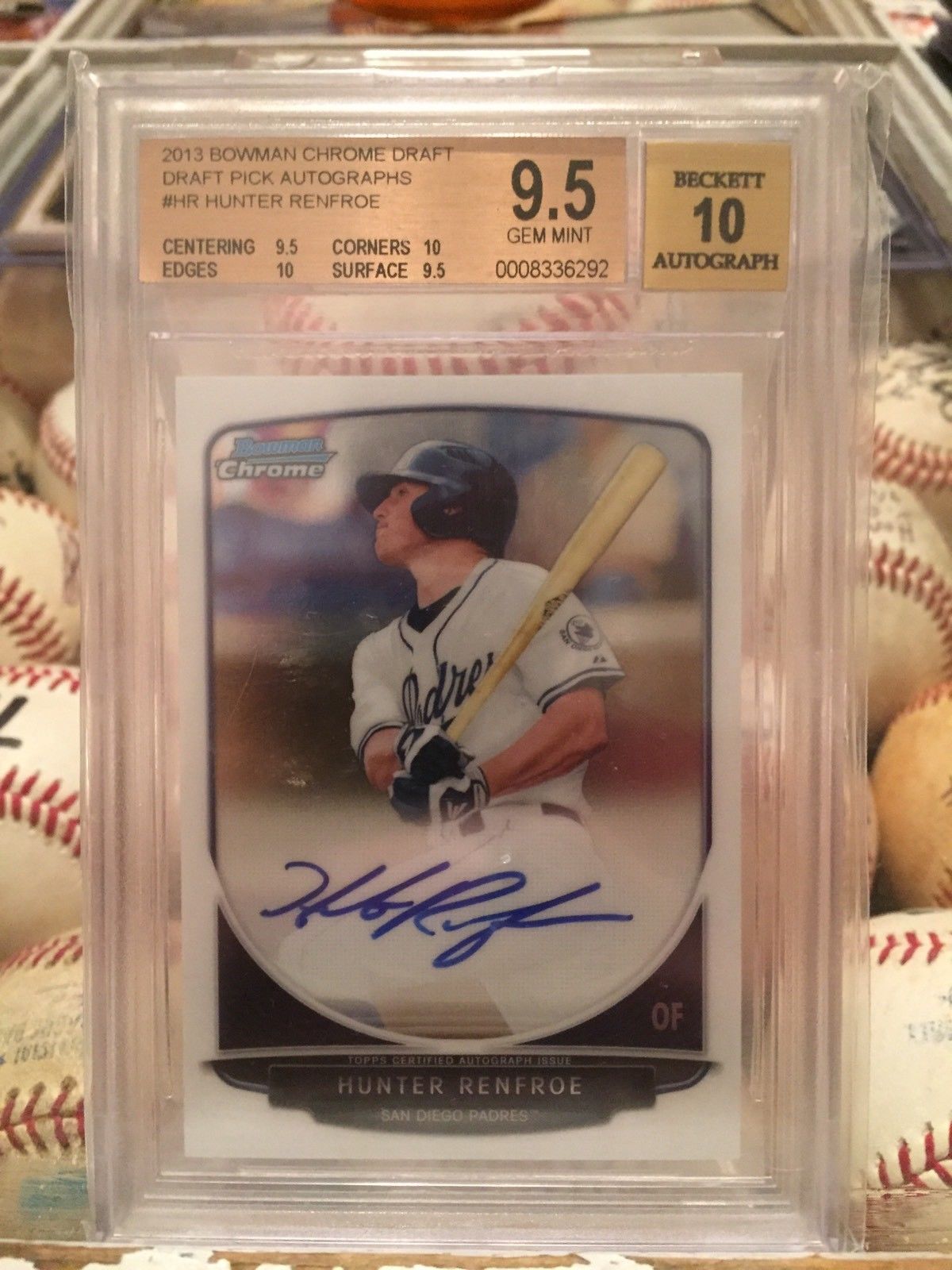 A few other rookie prospects similar to Swanson who didn't quite live up to the hype this season were Padres OF Hunter Renfroe and Indians OF Bradley Zimmer. Renfroe, similar to Swanson, was one of the NL Rookie of the Year favorites this season. Many baseball experts prior to the season starting said he was the one of the most polished rookies. Renfroe struggled throughout the majority of the season but did manage to hit 26 homers this season including three homers in one game. Renfroe's most sought out card is his 2013 Bowman Chrome Auto, beginning of the season BGS 9.5s were in the $70 range at eBay auction. Ungraded versions of the card have recently sold for $20 and $25 for a refractor.
Bradley Zimmer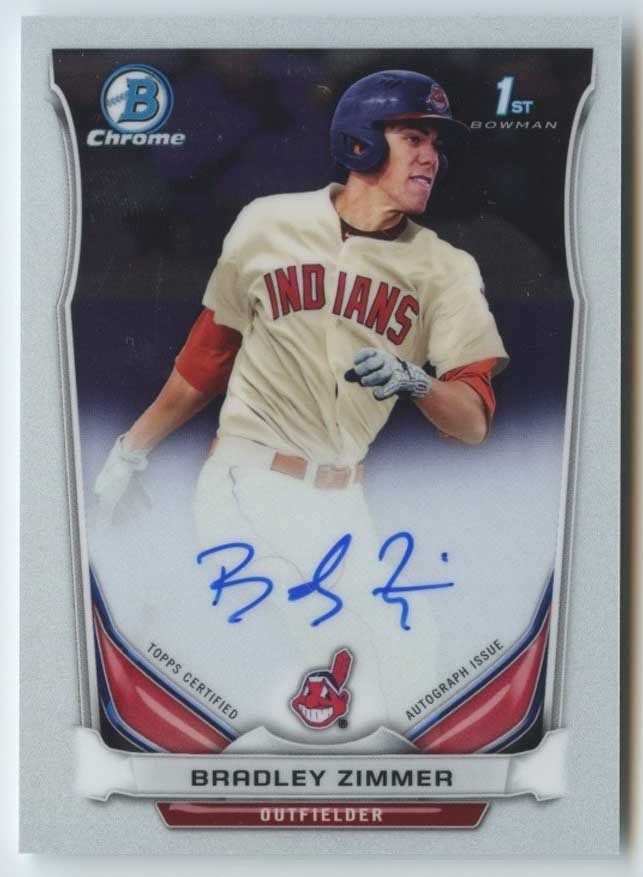 Despite being one of the first prospects called up in the 2017 season, Zimmer only made a small impact this season on the Indians. His average was just .241 with 8 HRs and 39 RBIs. Zimmer did have a DL stint, but even when playing he didn't quite live up to the hype. His most sought out card this season was his 2014 Bowman Chrome Auto which sold as high as $50 ungraded at eBay auction upon his callup. This particular card is now valued at $10-20 ungraded.
The 2017 baseball season will be remembered as one of the most historic and memorable seasons for rookies. And some of the biggest prospects are now vital members of teams in the 2017 MLB Playoffs. So while we will be watching the playoffs, there's something else on the mind of all card collectors: Who will be next year's big surprises?