Where's the love for vintage basketball?
When you click on links to various merchants on this site, like eBay, and make a purchase, this can result in this site earning a commission.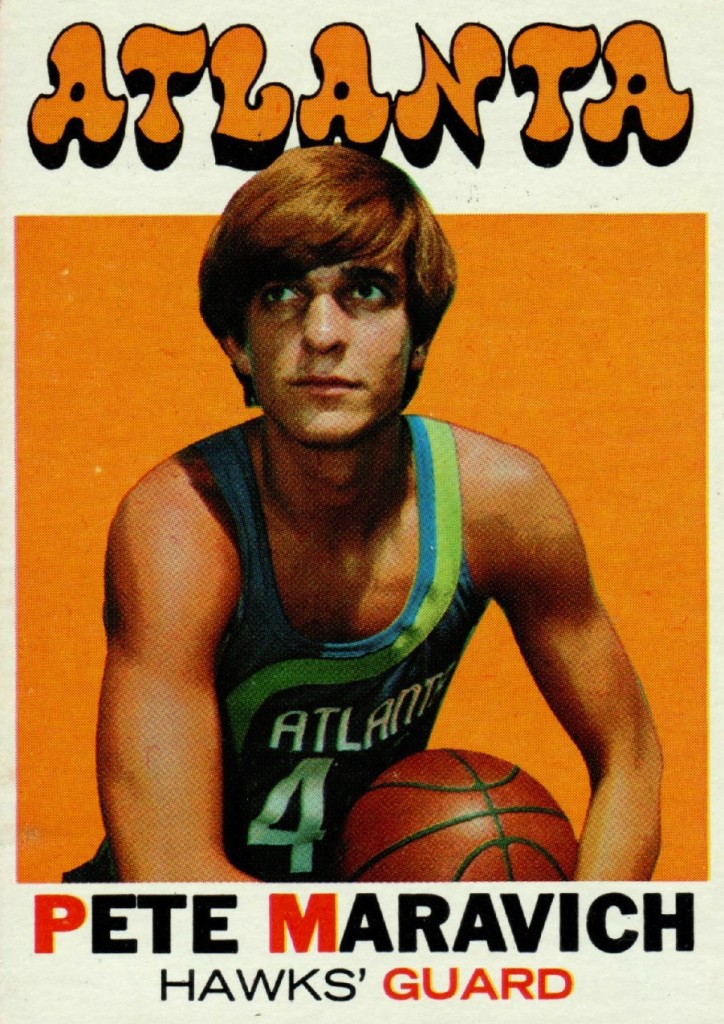 By Chris Olds | Beckett Basketball Editor | Commentary
Picture in your mind the typical sports card shop, or maybe just the one you visited last.
If you're lucky, the shop will have row after row of vintage cards to peruse, legends of the past to be found with the flick of a finger in a top-loader- or Card-Saver-filled box or maybe with the flip of a page.
Most often times, you'll find plenty of baseball cards — often a good helping of football, too.
But how often do you see vintage basketball?
If you do find past legends of the hardwood on cardboard — or even commons — it's often in much-lower quantities than those other major sports. Of course, the number of major baseball releases — and baseball cards in each set — dwarfs that of the NBA in the years before 1980. You can count on one hand the number of major releases for the league from before 1970.
There are far fewer cards to find and far less available — and yet vintage basketball is easily among the least-expensive options out there when it comes to quality of cardboard for the price.
Why is that? Do Baby Boomers just love their Mickey Mantles and Nolan Ryans more than their Bill Russells and Lew Alcindors? Or does the current crop of collectors not appreciate as much before the David Stern-led NBA?
I hope not, but I often wonder.
For basketball, the Topps years essentially begin in 1969-70 and run until 1981-82 — little more than a single page in the Beckett Basketball magazine's price guide. In that page or so, you can find many of the greats' Rookie Cards — some quite affordable, a few a bit pricey. However, none of them compare to the values held for some of the biggest cards from the same years for other, admittedly more popular (in terms of collector volume) sports.
But, again, why is that? Let's look at some Rookie Cards — the most-popular cards to collect that don't have autograph ink or game-used memorabilia attached — from that era:
Alcindor — aka Kareem Abdul-Jabbar — 1969-70 Topps. Value? $125-$250.
John Havlicek, same set, $30-60.
Walt "Clyde" Frazier,  same set, $20-$50.
"Pistol" Pete Maravich, 1970-71 Topps, $150-$300.
Nate "Tiny" Archibald, 1971-72 Topps, $6-$15.
"Dr. J" Julius Erving, 1972-73 Topps, $100-$200.
Bill Walton, 1974-75 Topps, $25-$50.
I could offer plenty of other examples where a key player's Rookie Card — his best during his playing days — just doesn't draw dollars. And they should.
The seven players above? They were all members of the NBA at 50 squad — all are Hall of Famers. There's no disputing their place in the game, their stories, no matter what the stat sheets say — heck, a few of them even have catchy nicknames for younger fans to remember easily as they learn who's who and, hopefully, pick up their cards.
Move on to their second-year cards and it's even more drool-worthy. A guy like Maravich? That card (up top) can be found for as little as $10 or as much as $25 — a substantial drop from before.
Compare their places in the game to the values and places in the game for stars of MLB, for example. It's a bit of a shame — but it's also a bit of an opportunity if you ask me.
Not all vintage cards go without attention — the initial Topps set from 1957-58 has its share of money cards (a dozen at $100 or more), but only one Rookie Card in that set typically sells for substantially more. That's Bill Russell's Rookie Card. That card is one of only two, along with George Mikan's 1948 Bowman RC, vintage regular-issue basketball cards to top the $1,000 mark. That's it.
In fact, from 1948, one has to go all the way to 1984 to find another standard-issue card that commands $1,000 or more (ungraded). That marks the arrival of one Michael Jordan in the 1984-85 Star set, which nearly tops them both.
So, if I could start the collection all over for basketball I'm not so sure I, myself, would be chasing some of those uber-hot rookies or inserts of the recent past that many love.
There's nothing wrong with that, but I just need to know from you guys who are out there doing all the buying … where's the love for vintage?
Chris Olds is the editor of Beckett Basketball magazine. Have a comment, question or idea? Send an email to him at colds@beckett.com. Follow him on Twitter by clicking here.