When a piece of cardboard satisfies …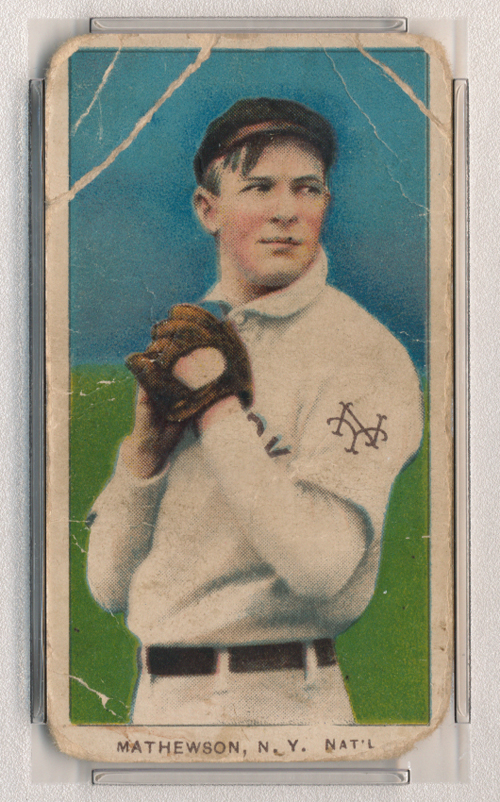 By Chris Olds | Beckett Baseball Editor | Commentary
For years, I had a personal rule that I never spent more than $15 on a single baseball card — period.
Then, of course, came memorabilia cards and certified autographs … and that changed some things.
In the past, I never had a problem spending money on wax as that's how much of my collection was built — well, that and trading. But that also meant that much of my collection reflected more current years — you know, the ones this thirtysomething can actually remember.
Don't get me wrong, I have plenty of cards from a broader era of collecting — the Topps years — mostly stuff obtained via trades and smaller lot buys. But pre-war cards? I might own a dozen — mostly because of buybacks found in packs of Topps 205 and Allen & Ginter and other small-dollar purchases. Pre-war cards were just never an affordable priority.
[youtube]http://www.youtube.com/watch?v=_i9CppMoD1g[/youtube]
Recently, though, I added a card to my collection that had quietly screamed for my attention in recent years, a card that, to me, defines perfection for its time — though my copy is nowhere near perfect at all
And that suits me just fine as it's one I could afford to buy — and still pay all the bills.
It's a PSA 1 1909-11 T206 Christy Mathewson dark cap variation, which I picked up for less than the price of a couple new wax boxes. Well, technically I got it for a gift card and about $30 of my own money — and I was shocked to get it at all as mangled copies (ones looked like they made it through the laundry before being run over by a truck) can still command asking prices of $200 and up, sometimes more in online auctions.
This card is not one for the faint of heart, though it's no Honus Wagner, as it's a card that once sold for $29,482 in a PSA 9 grade and it's one that can quickly escalate in price if graded even beyond a 1.5. It's readily apparent that, a century after its release, this card commands attention no matter what. It's a classic in any condition, and it's one that's still readily available for those looking unlike many of Mathewson's other cards. It's one of just 700 Mathewsons cataloged on Beckett.com — cards that total nearly half a million dollars in value … yet another sign that I am out of my league with this realm of collecting.
I had one simple rule in my mission to find a Matty — find a slabbed, low-grade copy that wasn't ripped, was in-register and had a clean, unobstructed view of his face. Well, all that and a pricetag of under $150 — not an easy task considering my too-frugal goal.
Who is Mathewson some of the younger or beginning collectors might ask? Well, he's one of the greatest pitchers in MLB history, a member of the inaugural Hall of Fame class and so much more. But nothing says it more succinctly than the biography from his website:
Christy Mathewson was a college man, with a range of interests, who mowed down opposing hitters in his spare time. While at Bucknell University, Mathewson sang in the glee club, belonged to a literary society, played football and served as a model of clean living. On top of these achievements, Mathewson also wrote a series of children's books. In a time when baseball was known for hard-living, hard-drinking baseball players, there was Christy Mathewson to prove that there was another way for athletes to live. He was the role model after whom every parent wanted their children to shape their lives.

On the mound, Mathewson was a fierce competitor who became arguably the most dominating pitcher of all time. During his illustrious 17-year career, he led the league in wins four times, won five strikeout titles, won 30 or more games four times, pitched four shutouts and 10 complete games in World Series competition, and won 373 games in his career.
I'm not sure precisely why this Mathewson appeals to me so much, but it's just the little things that seem to add up with his life that make the card interesting to me. Beyond baseball, so much of his story is storybook — from his being from Factorysville, Pa., a town with a population of about 1,200 (see video above), to his becoming one of baseball's biggest stars and then to his enlisting in the Army to serve in World War I where he was exposed to poisonous gas leading to tuberculosis and an early death at age 45, there's just so much to examine.
It's all so interesting — just like my baseball card that has seen its better days long, long ago. And, yet, when I first had the card in my possession, I just couldn't stop looking at it. I literally held it, examining its wrinkles, folds and wear of life for close to an hour immediately after I received it.
It's a card that I'll probably hold on to for some time.
Could I find a fresher, cleaner and pricier copy? Of course, and maybe that will happen someday — but this is a start.
But, for now, this little piece of history will stay with me. It's not about dollar signs, it's not about a status item or showing I have taste (not in this condition at least). It's not about much at all that I can completely articulate.
But I do know this … for some reason, it's just satisfying to own one.
Perhaps that's the sign of a special baseball card.
Do you have a card like this? Tell us about it in the comments below.
Chris Olds is the editor of Beckett Baseball magazine. Have a comment, question or idea? Send an email to him at colds@beckett.com. Follow him on Twitter by clicking here.