What's More Important, the Cards or Who Makes Them?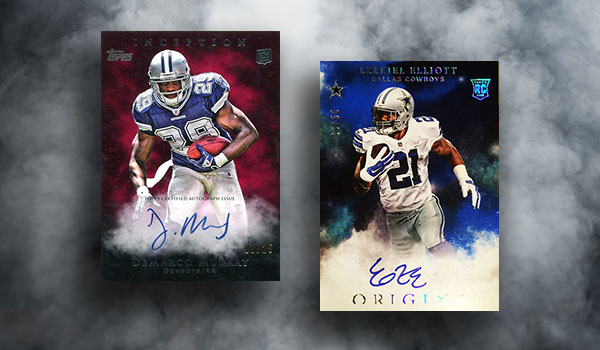 By Ryan Cracknell | Hobby Editor | Commentary
A lot of us have our favorite brands of cards that we're loyal to. Often it's a theme that grabs us. Flagship Topps has its set builders, National Treasures has the Rookie Patch Autographs, Upper Deck Hockey has Young Guns and Bowman covers the baseball prospects. Loyalty can also stem from other factors like design, content, configuration and even habit.
At the Rookie Premiere last week, 2016 Panini Origins Football was one of the company's upcoming products being teased.. And it looks awfully familiar. From the images that were shown, it looks very Topps Inception-esque.
With Panini the only company making football cards this year, it's a release like this that makes you wonder if that brand loyalty can transfer from one manufacturer to another.
Here's a look at one of the 2016 Panini Origins Football autographs that the card maker posted on Instagram (several more can be seen in the Rookie Premiere gallery posted on their blog).
And here's a look at a run of Topps Inception Football autographs from 2011 to 2015: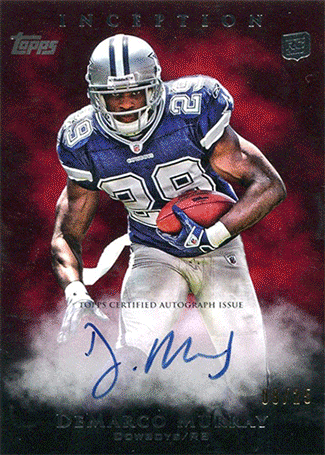 The smoky look, filtered images, foil accents are all there. We're still waiting on the full details for Panini Origins, but it certainly appearss like the brand is looking to directly fill a void left by Topps' exit.
Look up "inception" in the thesaurus and "origin" is one of the first words on the list. It's clear where Origins got its inspiration from.
The question is, if you were a fan of Topps Inception Football, does a product that looks and feels the same, and even has a similar name, carry the same weight with another manufacturer? As collectors, are we willing to accept this trade of sorts?
Card companies borrowing from each other is nothing new. You can see elements of influence in virtually every product. But usually there are added elements to go with it, something that takes a style of card and makes it something new. Take Shadow Box cards, for instance. Upper Deck introduced the layered card style.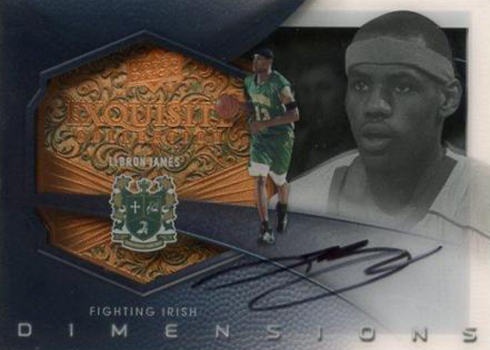 In the years since, others have joined in. But a lot of them twisted the original idea. Topps Strata still has a lot of the same elements as Upper Deck's Shadow Box cards, but adding things like the open relic window and Rivet parallels, no matter how rare, changed the overall concept.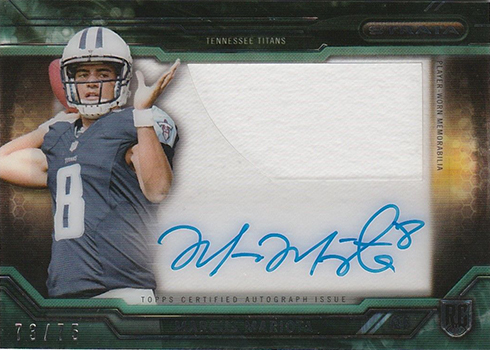 One could make a long list of ideas card companies have borrowed from one another. Still, this one feels different. That same level of transformation isn't apparent, at least not yet.
Making things a little more confusing here is the fact that Topps is still making cards under the Inception banner. Football might be gone other than digital, but Bowman Inception Baseball continues on. Like football, it uses the same sorts of filtered photos, cloudy design elements ad focus on autographs. The two sets might be in different sports, but a lot of collectors cross over or, at the very least, know what's happening in other corners of the hobby.
Are two sets with very similar looks and names going to confuse collectors? Will they even care?
When Panini began its NFL exclusive, it meant that some long-standing sets disappeared. Inception was far from the oldest, but it was one of the most distinct sets in the Topps portfolio, not just in football but baseball as well. The pending release of Origins changes that dynamic. If you collected Inception Football for the past five years, can something so similar but from a different source actually fill that void? That's what Panini must be hoping, but it's a decision that's ultimately going to be decided by collectors.
What are your thoughts on Panini Origins versus Topps Inception? If you collected Inception before, are you willing to make the jump? Are you happy something Inception-esque looks to be on the slate? Let us know in the comments below or on Twitter.