What Would Goose Gossage Think? 2016 Topps Opening Day Superstar Celebrations Gallery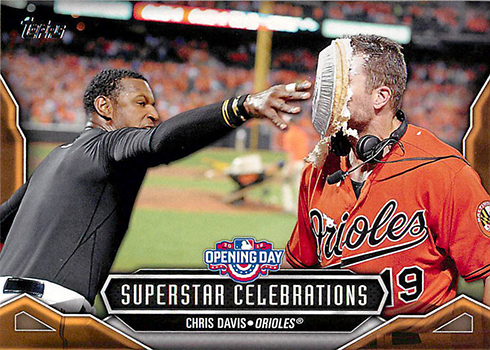 By Ryan Cracknell | Hobby Editor
Bryce Harper wants us to embrace the emotion of baseball? More often than not, sports cards capture players at their most serious. They'd probably tell us it's when they're focused. But there are times when most would agree it's okay to crack a little more than a smile and let loose. Some of those moments are captured in 2016 Topps Opening Day Superstar Celebrations.
The insert set shows what happens after the heroics and proverbial fireworks. The result? Lots of great, emotional photos outside of the norm that are usually showcased on cards.
Often, what we see on TV when we're watching sports is the serious stuff. There might be the occasional cutaway to a mascot doing their thing or some sort of brief highlight reel shenanigans. But other than maybe a championship game, we don't see much of what happens after the final out, whistle, bell or goal. We get people talking at a desk or a Grey's Anatomy repeat.
It's the aftermath where the majority of the 2016 Topps Opening Day Superstar Celebrations cards are set. Gatorade, whipped cream pies and even chocolate syrup all make appearances alongside cap tips and infield group hugs.
Each of the 20 featured moments have a timestamp of sorts thanks to the card backs that delve right into the specific game and the reason for the excitement.
There is some overlap in the photo types with those found in the 2016 Topps Opening Day variations. Carlos Gonzalez appears in both and his photos look as though they may have come moments apart.
Where the variations can fetch high price tags, Superstar Celebrations cards are much more affordable. In fact, complete sets can be found for less than one of the cheapest variations.
The insert theme isn't a new one for Opening Day. Superstar Celebrations has been a part of the product since 2010.
2016 Topps Opening Day Baseball Superstar Celebrations Gallery
SC-1 Mike Trout, Los Angeles Angels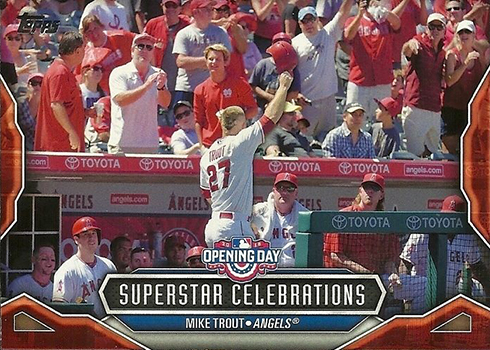 SC-2 Chris Davis, Baltimore Orioles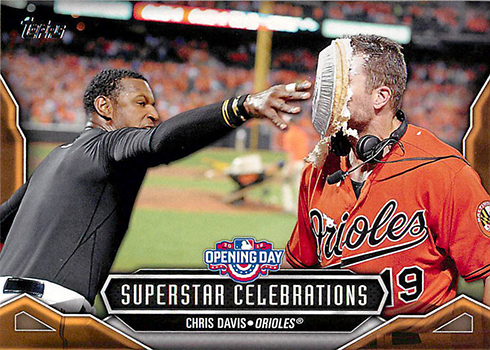 SC-3 Wilmer Flores, New York Mets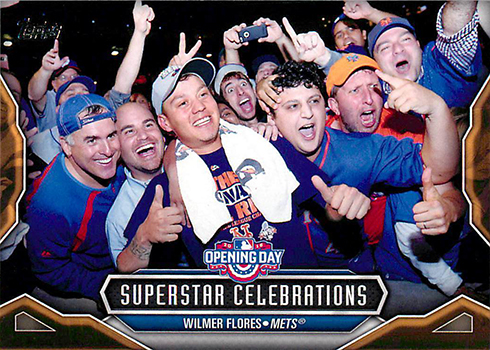 SC-4 Salvador Perez, Kansas City Royals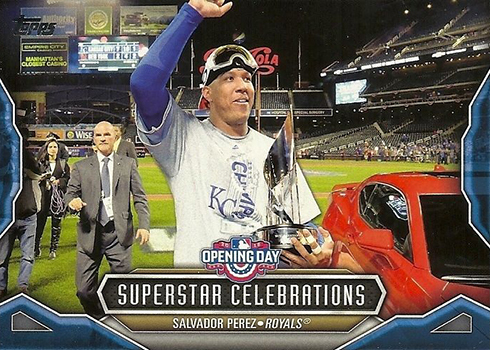 SC-5 Jake Arrieta, Chicago Cubs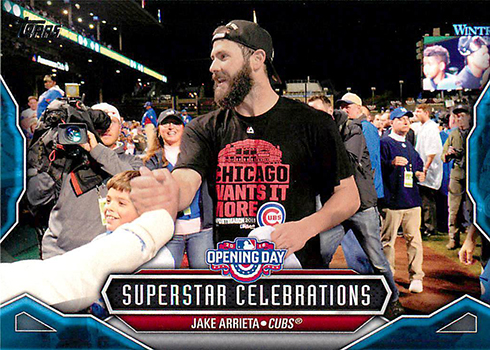 SC-6 Daniel Murphy, New York Mets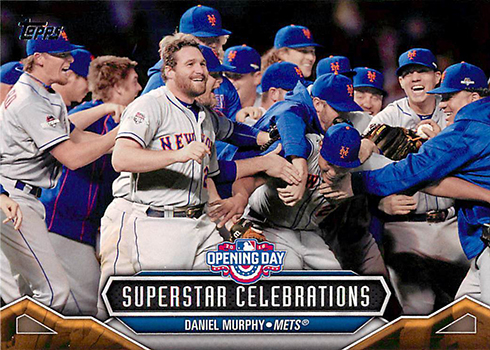 SC-7 Dallas Keuchel, Houston Astros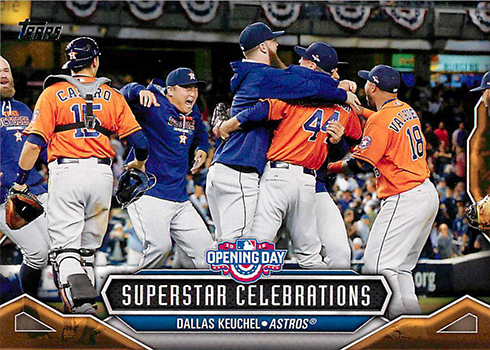 SC-8 Kris Bryant, Chicago Cubs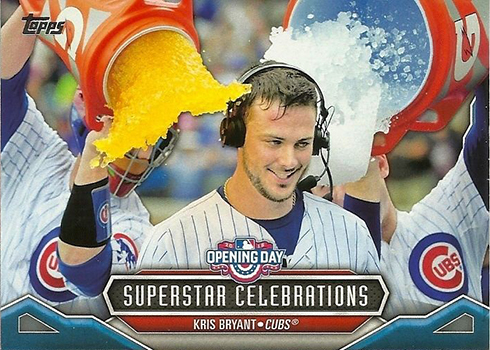 SC-9 Michael Brantley, Cleveland Indians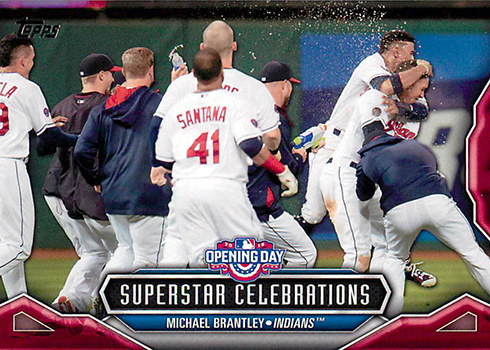 SC-10 Ryan Zimmerman, Washington Nationals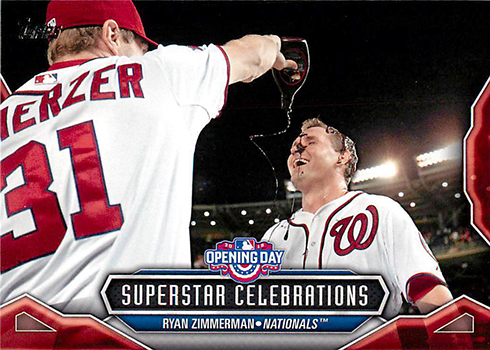 SC-11 Brian Dozier, Minnesota Twins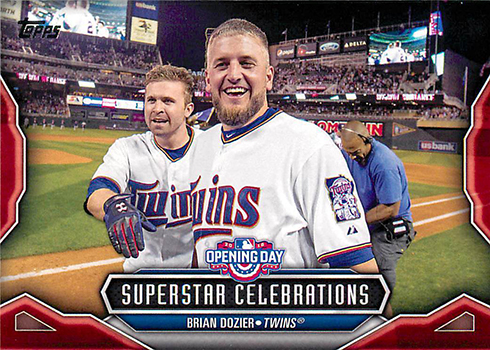 SC-12 Ian Kinsler, Detroit Tigers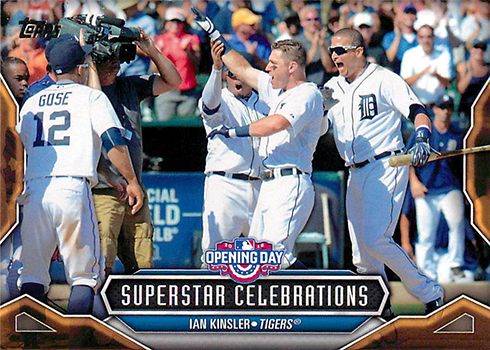 SC-13 Josh Reddick, Oakland Athletics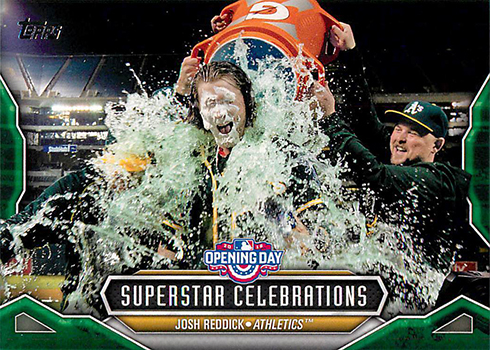 SC-14 Robinson Chirinos, Texas Rangers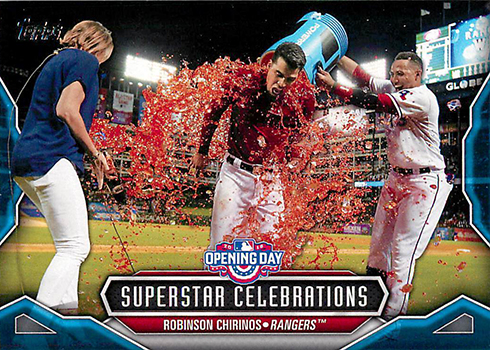 SC-15 Josh Donaldson, Toronto Blue Jays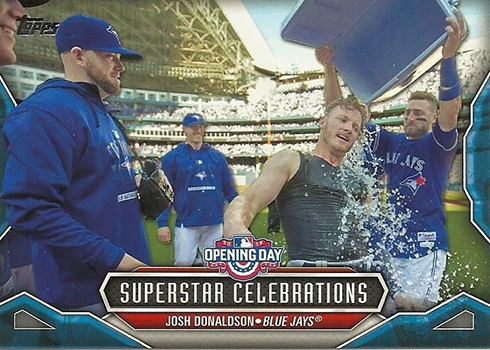 SC-16 Pedro Alvarez, Pittsburgh Pirates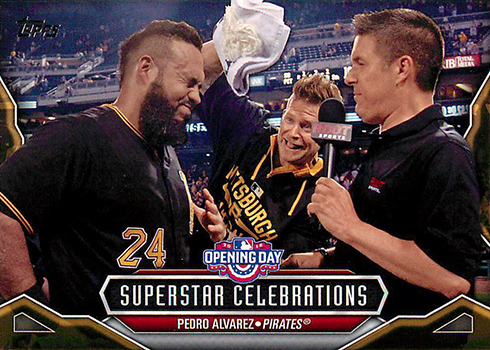 SC-17 Derek Norris, San Diego Padres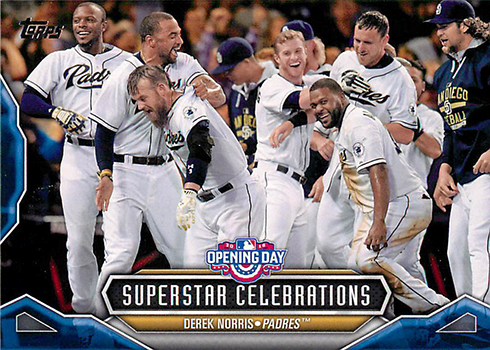 SC-18 Carlos Gonzalez, Colorado Rockies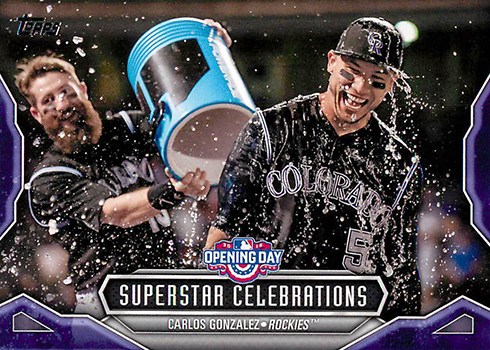 SC-19 Andre Ethier, Los Angeles Dodgers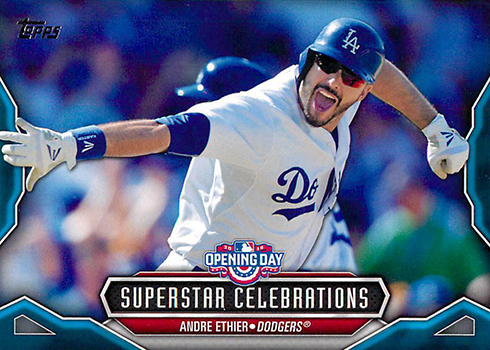 SC-20 Justin Bour, Miami Marlins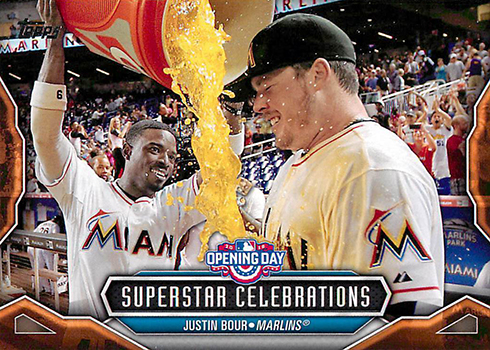 Comments? Questions? Contact Ryan Cracknell on Twitter @tradercracks.