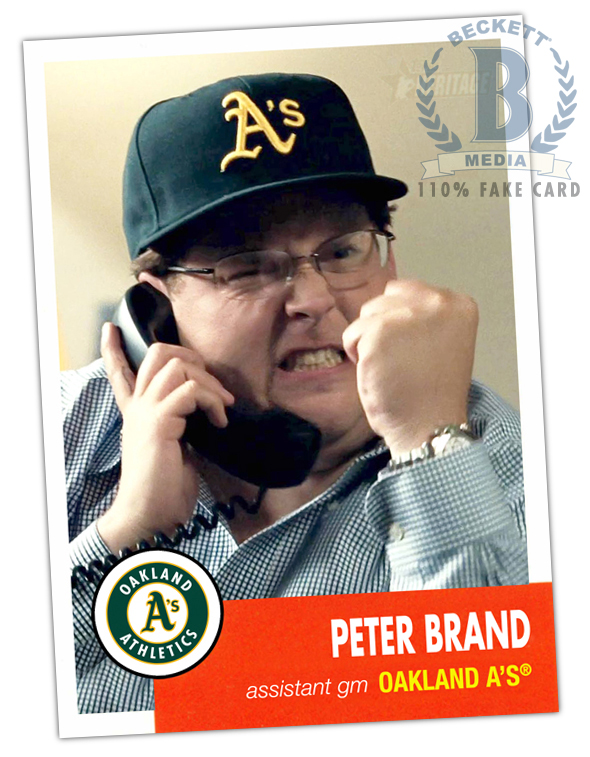 By Chris Olds | Beckett Baseball Editor | Commentary & Opinion
What if you could open a pack of cards and find absolutely anything inside … what would it be?
It's a simple question that could have so many answers from so many people if the real-world realities of intellectual property rights, personality rights and so on didn't exist. You know, that's the stuff that all involves money if a product is to be sold using somebody's owned logos, names, trademarks and so on.
For some of us out there, fantasy cards can become a reality when we sit down with a copy of Photoshop and make those ideas happen just for fun. However, in the real world for cards to exist and be sold there are plenty of legal hurdles that must be cleared. With the next issue of Beckett Sports Card Monthly, we're taking a look at sports movies and their memorabilia, and one short column in that issue talks about one of my "other" hobbies and how it came about.
What's my niche? When it comes to fantasy cards, I've dabbled here and there with cards of sports stars from movies. Why? Why not. They're just for fun, of course.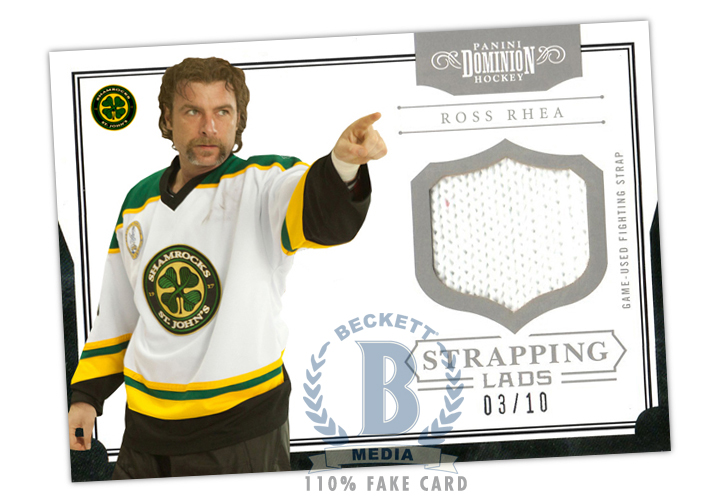 "What if?" Is a powerful question because of the possibilities it could inspire. Heck, it's been one that has inspired many ideas into reality around the world — beyond just trading cards. There have been plenty of ideas inside the walls of card companies that simply can't come into fruition because of costs of making deals happen, too, but fantasy cards aren't bound by real-world limitations. As a fan not trying to make a buck selling a creation, fantasy cards can be a fun idea once one has the skills to make them a virtual reality.
So, here, I present a selection of six re-imagined and, again, 110-percent fake creations of mine (a couple old, a couple new) using the stars of a few memorable sports movies:
— Jonah Hill's Peter Brand (top) in a classic moment from Sony's 2011 Moneyball, the story of the Oakland Athletics' 2002 season on a 2002 Topps Heritage card. Classic moment, classic set.
— Liev Screiber's Ross Rhea, the fighter of all fighters from Goon, a 2012 comedy from Magnolia Pictures, on a fantasy 2011-12 Panini Dominion Strapping Lads card. That's a hard-hitting release, eh?
— Charlie Sheen's infamous "Wild Thing" Ricky Vaughn from Paramount's 1989 classic Major League on another 1989 classic, the Upper Deck set. That set's Star Rookie Card No. 1 in an alternate universe, right?
— Jamie Foxx's Willie Beamen from the 1999 Warner Bros. hit Any Given Sunday on a 1990 Pro Set-inspired card. (I think there's a joke in there somewhere about how Pro Set's presses are still running somewhere on any given … oh, I see, you get it … )
— Tom Cruise's Cole Trickle from Paramount's 1990 NASCAR ode Days of Thunder on a 1988 Maxx card. Why that set? Everybody else's Rookie Card is in it — or at least it seems that way since it's the first NASCAR set — so his should be, too! (We're not bound by realities of time and space here … at least that's what Dr. Emmett Brown said. Cool haircut.)
— Bob Barker's beatdown of Adam Sandler from Universal's 1996 hit Happy Gilmore on the first set that could have looked back at this memorable moment when it was a released, a 2001 Upper Deck card. (It was the first golf set in a long, long time.)
And, lastly, I present to you, as a discussion point, this … what if you could find anything — movies or not — on a trading card what would it be?
Tell us in the comments below … or, better yet, show us!
Chris Olds is the editor of Beckett Baseball magazine. Have a comment, question or idea? Send an email to him at colds@beckett.com. Follow him on Twitter by clicking here. Follow Beckett Media on Facebook.