Is Rob Lowe right? Is Peyton Manning retiring?
[youtube]http://www.youtube.com/watch?v=1TtGQnyPZ6g[/youtube]
By Andrew Tolentino | Football Editor
Rob Lowe. Sports reporter? No. Maybe? We fear change.
In what could just be an abstract prank linked to free-flowing information and today's SOPA/PIPA protests, actor Rob Lowe sent sports fans buzzing with series of tweets this afternoon. He first tweeted, "Hearing my fave #18 Peyton Manning will not return to #NFL. Wow."
The guy who played Benjamin Kane in "Wayne's World" followed up by saying "let's hope my info is wrong," and publicly turned to Rich Eisen of the NFL Network to corroborate his story: "My people are saying Manning will retire today. What do you hear?"
Could this celebrity tweet create a sudden demand and spike values for Manning's football cards?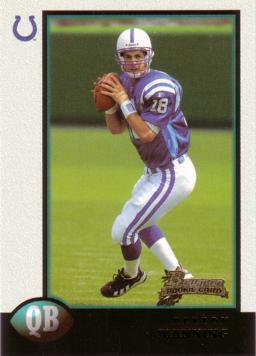 While it's not necessarily shocking that Manning would throw in the towel, the way the news broke — through a seemingly age-impervious celebrity's twitter account — is the real kicker.  But what if this isn't some strange practical joke, or as some have deemed it, a publicity stunt to promote Lowe's upcoming Lifetime movie?
In all likelihood, Manning's eventual retirement will, of course create a commotion in the collecting world. Even with Tom Brady in the mix, he is arguably the most beloved quarterback of his era.
His value is sure to increase when he actually, officially calls it quits. And there might even be a few interesting listings that pop up on tonight as a result of the gossip. But for now, without any further confirmation, Lowe's tweet is what it is — a speculative chirp at best.
Loading ...