What intentional errors might be in store in 2014 Topps Heritage? (UPDATED WITH CONFIRMED ERRORS)
UPDATE (March 14): The first five cards below have been confirmed as having variations in 2014 Topps Heritage. A sixth, card No. 442 of Mark Trumbo, has his birthdate incorrectly listed as 1927. The six error-based variations have been added as a gallery below. (Only the rarer error cards are shown.)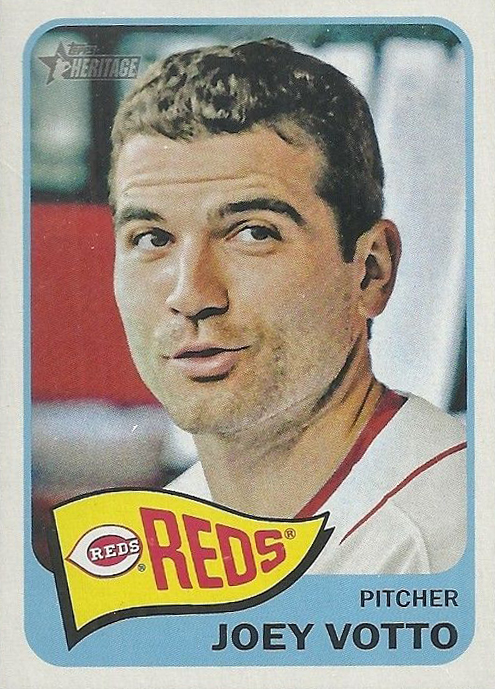 With the release of the final checklist for 2014 Topps Heritage about 10 days before its arrival, we now know the players who will have variation cards for three of the four ways Topps is adding a chase to this year's throwback brand.
Now, it's time to guess on which cards will have variations based on mistakes made way back in 1965.
While there are 20 throwback uniform variations, 25 image variations and 25 logo variations to chase, the number of error variations isn't yet known. That's where we just have to dare to compare the checklists for both sets and, for now, guess which players' cards could have the rarer — and potentially pricier — cards.
Again, this is purely guesswork, but …
— No. 43, Mike Shannon. His name is incorrectly designed in red, while the other Cardinals cards in the 1965 set are in yellow. This one might hold true again as Carlos Beltran holds down card No. 43 in this year's set, though he's a New York Yankee and a former Cardinals player now.
No. 62 — Twins pitcher Jim Kaat's name was spelled "Katt" on his 1965 card. On this card number this year? Twins pitcher Kevin Correia. I'd expect a typo of some sort — and unlike the Katt card, I'd expect two versions to be found.
No. 160 — On the 1965 card, Roberto Clemente's 1960 club as "Pittsburfh" on the back. It wasn't fixed. This year's card No. 160? Reigning NL MVP Andrew McCutchen of those same Pittsburgh Pirates. While a nod to this error appeared on Bryce Harper's Heritage card last year, I'd expect something like that to be found here, too.
No. 462 — On the 1965 card, Athletics pitcher Lew Krausse isn't there — it's his teammate, Pete Lovrich. It wasn't corrected back then. This year's player on the card? Sonny Gray, a pitcher for, yep, the Athletics.
No. 472 — On the 1965 card, Cincinnati's Don Pavletich is mistakenly listed as a pitcher, a mistake that wasn't fixed. With Red slugger Joey Votto on this year's card, I'd expect a nod to that mistake to be made — and fixed.
Other errors in the 1965 set that don't have an obvious 2014 counterpart based on the player on the same card number include:
— No. 79, checklist. This list has a variation with a name — card No. 61, Chris Cannizzaro. In this year's set, Dan Haren is card No. 79, and No. 61 is Nathan Eovaldi. Maybe it's a sign to watch their cards?
— No. 519, Bob Uecker. This card famously shows the Cardinals catcher intentionally posing as a left-handed hitter when he was actually right-handed. This bit of trivia would be too classic not to create an homage card for, but there's no No. 519 in the set. For the record, though, Yadier Molina appears on card No. 491.
— No. 526, A's Rookie Stars. This four-player card might be one of the best multi-nickname RCs of all time with Hall of Famer Jim "Catfish" Hunter joined by John "Blue Moon" Odom, Rene Lachemann and Skip Lockwood. On the back, Hunter's first name is spelled "Tim." Again, there's no No. 526 in this year's set, so be on the watch for typos on players named Jim? No. 270 is Oakland A's pitcher Jim Johnson. No. 292 is Milwaukee's Jim Henderson. No. 337 is Philadelphia's Jimmy Rollins. No. 386 is a dual RC of Jimmy Nelson and Yordano Ventura. My bet would be on Johnson.
A few other cards in this set have incorrect birth dates for the players on the front, but that's enough guesswork for now. We all get to do more starting next week. Let us know in the comments below if you find a card that might fit the bill as a mistake.