What do you think of this year's Bowman football Rookie Cards?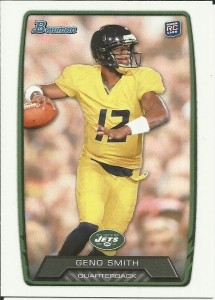 By Susan Lulgjuraj | Beckett Football Editor
Geno Smith steps back, looking downfield at his target. The newest New York Jets quarterback is ready to unfurl a furious pass.
I'm sure one of the questions you're asking – when did the New York Jets change their uniforms?
They haven't.
Topps used college uniforms for rookies in 2013 Bowman, which released this week. The company Photoshopped out college logos (Upper Deck owns the college license), leaving Smith in a watered-down West Virginia uniform with a New York Jets logo placed in the middle of the bottom of the card.
Last year, Bowman employed generic uniforms for its rookies, but often in colors of their newest team. These cards were more artsy as opposed to this year's live-action photos.
Panini circumvented the issue with this year's Score product by showing head shots of rookies on a 1989 Score design.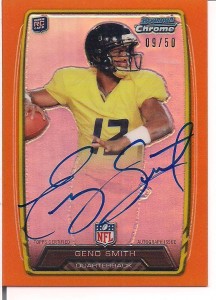 For Bowman's on-card autographs, collectors don't even get team logos. Topps had to prepare these cards in advance to get the cards signed at the NFL Players Association Rookie Premiere. So, there is no team logo, no team name. Just Smith with an NFL logo on the front with a great looking on-card autograph.
Topps might have avoided the NFL logo issue – and showed players with their teams – by employing sticker autographs rather than on-card autos … but sticker autos don't have the colleting appeal of hand-signed cards.
The result for Bowman – Topps's first card product on the NFL calendar – isn't much different than pre-draft offerings by Press Pass, Sa-Ge and Leaf, other than the small NFL logo.
Collectors criticize those pre-draft products about the lack of logos and team names.
But in the end, what's the difference?
Loading ...
Susan Lulgjuraj is an editor of Beckett Football. You can email her here with questions, comments or ideas. Follow her on Twitter here. Follow Beckett Media on Facebook and Twitter.