What did you get at The NSCC? I got Reggie …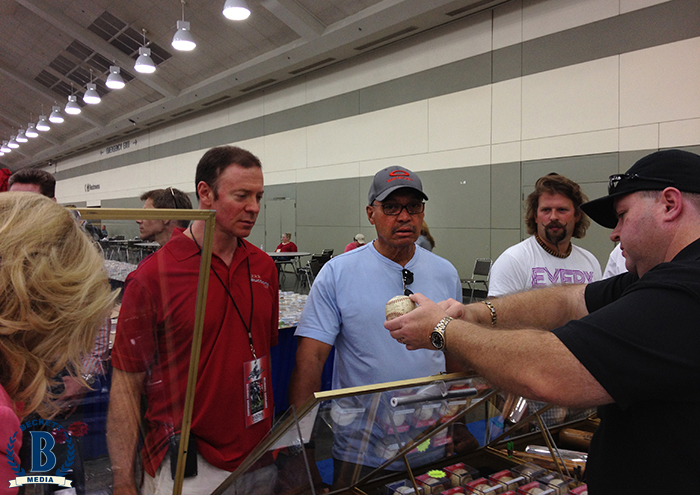 By Chris Olds | Beckett Baseball Editor | Commentary
The National Sports Collectors Convention is the place you visit to pick up memories, add to your collections that you have built over a lifetime and, in a way, shape your own personal view of the sports world.
With my final hour of my final day at the show winding down, it was now-or-never time for finding a certain memorable item to add to my collection since I had purchased just a couple small items — nothing necessary, nothing remotely memorable — while working. Before this year's event, I had told myself that I should find one item — a better piece — that I could remember the show by, so that was what was in my mind as I made my way out of the Beckett bullpen with one of our writers and we headed down one aisle.
What I got in that last hour was something I never in my life could have expected — something I could have never want-listed or dreamt about. It wasn't a Rookie Card or an autograph, it wasn't an unusual piece of memorabilia I couldn't find anywhere else.
What I got was Reggie Jackson.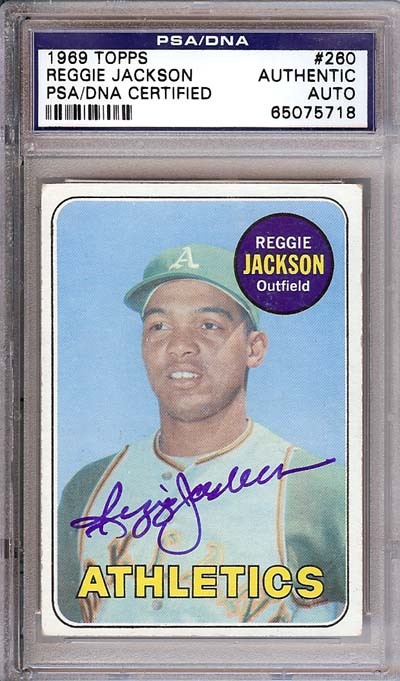 What I got was not Reggie on a signed 1969 Topps Rookie Card (something I had eyed the previous year; above) or Reggie on an old candy bar long past its prime. I got the Reggie that made Billy Martin even angrier. I got the Reggie that made reporters cringe. I got the Reggie that made teammates scowl.
I got what made Reggie  "The Straw That Stirs The Drink." I got the Reggie that I have heard stories about from show promotors and autograph-acquiring companies in the past.
I got berated for taking photo of Reggie Jackson by Reggie Jackson.
We had walked a distance from our bullpen toward some dealers on that side of the Baltimore Convention Center, breezing by some tables, stopping at others. We came up on a table where, a bit earlier in the day, Jackson had been posing with a bat while looking at items one dealer had for sale. After all, he was at the show to sign and he's also been known as a collector of memorabilia, cards and sports cars (much of it lost in a fire long ago). Turns out, he was still there. We were 10 to 15 feet away from Jackson when two of our writers came up to tell us they were leaving for the day, giving us their last contacts before hitting the road.
Those of us remaining took a few more steps forward, stopping at the table to look at whatever treasures were there when I said, "I guess I should get a picture of Reggie" and started fidgeting with my iPhone, raising it once but it was on my video setting from filming wax breaks and other videos before. I switched its settings and took a few more steps forward when a couple of other collectors walked off after taking a picture of the Hall of Famer from across the two tables.
From six or so feet away, I framed up the image of him and card industry legend  Ken Goldin, who was beside him, looking at a baseball and clicked once (the image at the top) as Jackson himself just started to click.
"How many you need?" he quipped (at least I think thats what he said as it was all a blur). "Take a couple and move on."
A bit surprised, I looked to my right but nobody was there and spun around to see where my writer had went. Jackson was talking to me and he wasn't done.
"How many do you need? Six, seven … 10, 11?" clearly agitated and not kidding. "Take a couple and move on."
"I got one," I said, holding up a single finger. "One."
For a split-second, I contemplated saying something to Goldin — a "How are you doing?" and an introduction to break the unnecessary tension as I had talked to him before last year's show, make Jackson realize he might have screwed up by berating a member of the media. But I was stunned, and I doubted Jackson would care.
All I could come up with was "I'm an A's fan." in a flustered response, raising both of my hands over my head, not believing the surreal circumstances.
Jackson wasn't done barking at me like I was one of the reporters in those 1970s news clips.
"Buy my drinks and I'll pose for photos with you all night," he said (or something close to it) as the few other people around on his side of the table chuckled. I quickly quipped "sure" as the laughter died down, but he didn't hear it and I was done with it. I wondered whether that was his way of making up for being Reggie.
It might have been, but I wasn't sure so I walked off.
—

I was stunned for the rest of the show — the single image was taken at 5:10 p.m. on Aug. 4, according to my iPhone — and I tried to replay it all to myself and to the writer who witnessed it, a few recaps muttered with adjectives that couldn't be written here.  ("Man, TMZ would have loved that on video," I later thought.) We worked our way down a few other tables and found a dealer selling ticket stubs, stopped and looked — I was instantly reminded of Jackson again when one Yankees stub showed Jackson from the 1977 World Series.
I was done, annoyed once again. I didn't buy another thing at the show. Less than 1/10th of the money I brought with me for buying was spent — a record-low.
At first it was shock as this life-long Oakland A's fan was being trash-talked by one of the guys he'd have on his Mount Rushmore of A's collecting — Reggie, Rickey, Jose and Swish. Then I thought back to the old notion that "you never want to meet your favorite player" because he might quash your entire image of him and why you collect. But that wasn't it for me — I've met Canseco and I've met Swisher — neither was like this. (Heck, I could have met Henderson had I been in the Beckett booth for the whole show — he stopped and took a picture with members of our crew. That's something I would not have expected out of Rickey.)
Instead, by a short time later and still feeling conflicted, I realized I got Reggie. I got the Reggie that isn't the Reggie showing when the dog and pony show of the TV cameras are around at an event like the National. No, no. I got the real Reggie.
For me, he's one of a kind. For him, I'm one of a million (or two). None of this really shocks me — put yourself in his shoes. Doesn't make it right, but he's been in the spotlight longer than I have been alive. I'll give him that. But when I'm in the shoes of the one being treated poorly? Well, it's different.
I got Reggie — one part of that puzzle that made him an enigma, a star. I got Reggie — the part that we may not always like, but it's there.
He stirred me up. I hear he's good at that.
Never once did I have any inclination of asking Reggie for an autograph — one that, oddly, I don't have through all these years — I preferred just a snapshot from afar. I got much more, and it oddly sort of made my 2012 NSCC, too — but not in an overwhelmingly positive way.
I was ready to sign off on this entire story by the end of the night, but it ironically presented itself once again the next morning.
My flight out of Baltimore left at 7 a.m., which meant about two hours of sleep after a late-night VIP event I needed to attend on Saturday night. We got to the airport with no problems, and I quickly worked my way to a newsstand location for breakfast and the first food of any kind in about 10 hours. I made a beeline for a $4 bottle of Evian (that, to me was like finding a Honus Wagner in an attic), some pretzels, a sandwich and sleepily rolled to the check-out stand.
It was a line that couldn't move fast enough as my head hurt just as much as the rest of me after a long show. I leaned on my suitcase, and I glanced up at what was on the counter in front of me to see what the hold-up was. In a sleepy haze I noticed three newspapers — two being New York tabloids — being stacked to be bought, and I remembered my days of working in the industry. "Oldschool readers are still around," I thought to myself. "That's good." Then I glanced over and up … and that's when everything seemingly went into slow-motion.
It was Reggie Jackson.
Again.
Part of me really wanted to ask him if I could buy his papers instead of his drinks just to see his reaction. But I really didn't want to get Reggied one more time and we had a person in line between us. Yet, I also wondered if he'd remember me — after all, it might not be that hard to unless he made a habit out of berating fat guys in white dress shirts and khakis at the show. (That's what I was wearing at the airport, too.)
Even though he treated me like something damp and useless beneath the napkin below The Drink just 13 or so hours earlier, I didn't want to blow his cover to anyone around us. (I wasn't a jackass before, wasn't going to be now — not my style.) Instead, once again in shock, I watched as he paid and walked across the hall in a straight line to the Bayside Landing restaurant to sit and wait for a flight. I collected my things and moved on toward my gate. I ate my breakfast among the crowd and mentally recapped the whole thing, chuckling at it all.
But then I started to think about one more thing.
I collected my belongings and headed back toward the restaurant and the newsstand, intent on doing one more thing to cap this story if Jackson was still there and he was. It was 6:26 a.m. on Aug. 5, according to my iPhone, when facing the wall across from him using my two-way camera just in case he turned around to leave, I snapped this Nighthawks/Edward Hopper-style photo of Jackson, age 66, alone and far, far away from stirring anything.
It's just my second photo of Reggie Jackson.
It's the way I'll choose to remember him for this trip.
Chris Olds is the editor of Beckett Baseball magazine. Have a comment, question or idea? Send an email to him at colds@beckett.com. Follow him on Twitter by clicking here.