Could Signing with the Cowboys Bode Well for Andy Dalton Cards? – Beckett Pricing Insider
This edition of the Beckett Pricing Insider is brought to you by GTS Distribution. Watch Go GTS Live – The Hobby's Web Show, every Thursday at 9 PM EST.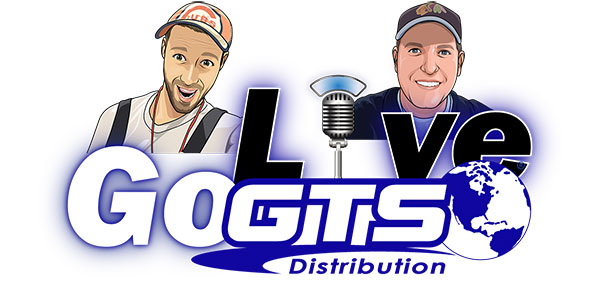 For the first time in his pro career, Andy Dalton isn't a Cincinnati Bengal. The Dallas Cowboys, one of the most popular teams in all of sports, signed him to a one-year contract where he'll likely back up Dak Prescott. If Dak goes down with an injury, Andy Dalton is a very capable player to take over the team and manage a game. He has a track record of success, going to the playoffs the first five years of his career. Sure, Dalton never won a playoff game, but let's ignore that for now.
Dalton's cards used to sell for a lot higher than they do now. If collectors are looking for a bargain that has the potential to go up, it's his cards. The Cowboys are one of the most collected teams, and if he gets a chance to start and wins his values could go up in a hurry. That's a lot of ifs, but there are a lot of questions surrounding the Cowboys, their quarterback situation and even football in general.
Here's a look at some recent market activity on some of Andy Dalton's top cards.
2011 Playoff National Treasures Andy Dalton RC /99
This card is the cream of the crop when it comes to Andy Dalton cards. As far as National Treasures cards go, this one is pretty affordable. Collectors can snag one of these for around $200.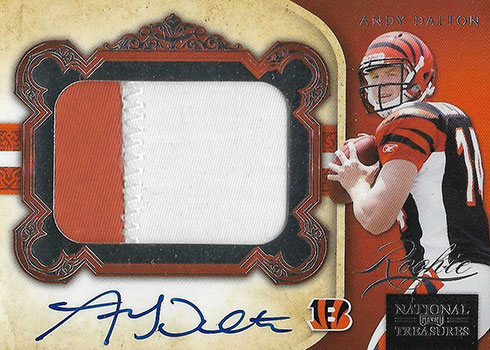 2011 Topps Triple Threads Autographed Relics Black Andy Dalton 1/1
Triple Threads was one of the premiere brands Topps had when they were producing NFL cards. It offered up some of the coolest patches in cards as well as some good values. This one sold for around $250.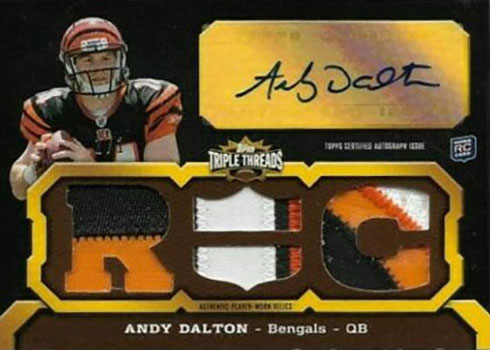 2011 Playoff Contenders #225A Andy Dalton RC
Contenders is always one of the most graded cards in the hobby. Getting a BGS 9.5 of Andy Dalton for a little over $100 has some potential if he can take over a starting role and win some games.