Welcome to my jungle, Axl
When you click on links to various merchants on this site, like eBay, and make a purchase, this can result in this site earning a commission.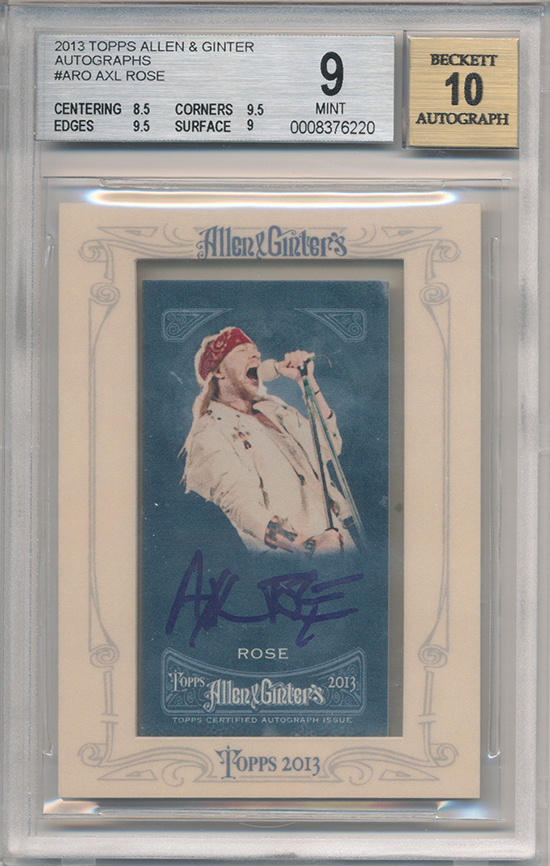 By Chris Olds | Beckett Baseball Editor | Commentary
Patience.
It's a word that's very appropriate for redemption cards — and it's one even more appropriate for Axl Rose redemption cards. It's also one that's appropriate for me today as I finally received my 2013 Topps Allen & Ginter Autograph inked by the Guns N' Roses singer who's notorious for taking his time with everything from album releases to concert times.
It took 441 days from after my purchase and subsequent redeeming of the card to arrive — something not Topps' sole responsibility and something far from my longest redemption wait because I have them outstanding from other companies that will probably never arrive. Why? At least one of the other companies no longer exists.
Patience is a word that also probably resonates well with Topps as the company reportedly had to reprint cards to suit the musician's liking more than once because some detail wasn't quite right for him — that's his right — though they likely had already gone through approvals before being printed. That's probably why Rose's Heavy Metal auto from Archives doesn't have the same logo as the rest of the cards in the set. That's probably why his Ginter autos are, oddly, a dark background when the rest of the cards in the nine-year history of the brand are white.
Rock stars. You've got to love them.
When Rose was announced as a signer for the Topps Archives Heavy Metal set back in February 2013, there was plenty of skepticism about him actually following through with the signing. When he was announced to appear in Ginter on June 26, 2013, the same sentiments were echoed by collectors online.
"More Axl Rose redemptions that will never be honored. You should've asked if Topps received any of the stickers back yet."
"I wouldn't get too excited. It will probably be a redemption and you will never get it."
"Call me a skeptic. A better poll would be asking whether he will actually sign the cards."
"I've been to a show where he didn't show up, so I wouldn't definitely not buy a redemption of this dude." 
"That's a redemption that will never be filled."
Sales of the redemptions were sluggish as the days passed without any signing news and skepticism mounted. Despite this, I picked off a redemption card for about the price of a Ginter hobby box with a blaster tacked on to get the exact card I wanted — an autograph that I would never imagined being made of a musical icon from my childhood. In fact, it's not one I would have ever even put on a wish list — that's how unlikely I thought it would be to actually happen.
Back in July of this year, Topps finally confirmed that all Rose cards had been signed — but the Ginter cards didn't begin shipping alongside the Archives cards because they needed to be framed. That process took until Oct. 9 when the company finally confirmed that Ginter cards would begin processing and mailing in the days to follow. Since July, the live Rose autos — and their redemptions — have been strong sellers online, going for way more than what I paid for mine. All that skepticism has turned into dollar signs — a real win in today's collecting landscape and the result is some quality cardboard that might not ever be done again.
Today, not long after the FedEx driver finally arrived at my door, I whistled my way through a slow and deliberate envelope opening. (You'll never guess the song.) Then, one of my first stops was at the door of Beckett Grading Services where my Rose met a slab he'll never leave. (Mine was the first Ginter slabbed — and surely not the last. By the way, only three Archives cards have been submitted.)
So now that "patience" no longer applies and "you could be mine" is my reality, I guess it's time for the card to go home and become part of my collection.
Welcome to the jungle, Axl.
Chris Olds is the editor of Beckett Baseball and Beckett Sports Card Monthly magazines. Have a comment, question or idea? Send an email to him at colds@beckett.com. Follow him on Twitter by clicking here.