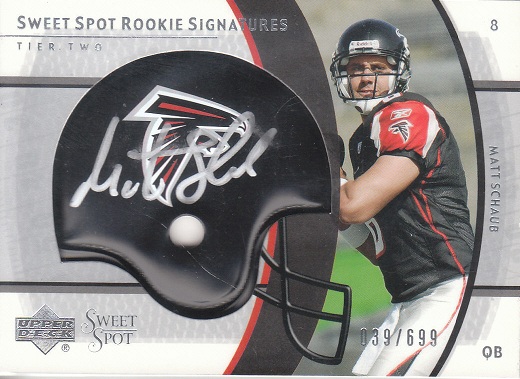 By Susan Lulgjuraj | Beckett Football Editor
The Monday Morning Collector is back for the seventh week of the NFL season. If we had to pick a game of the week, it would be the New York Giants against the Washington Redskins. It wasn't the prettiest game played, but it was definitely exciting.
Now on to the awards.
Veteran of the Week
Matt Schaub, Houston Texans: Houston has come on as one of the best teams in the league. The Texans are 6-1 and have outscored opponents by 88 points this year. A big part of that success is Matt Schaub, the Texans quarterback. He's been consistent week in and week out. On Sunday, Schaub finished 23-for-37 for 256 yards and two touchdowns in a 43-13 win over the Baltimore Ravens.
Chase cards:
2004 Hot Prospects #94 jersey/autograph /120

2004 SP Authentic #187 jersey/autograph /799

2004 Topps Chrome #211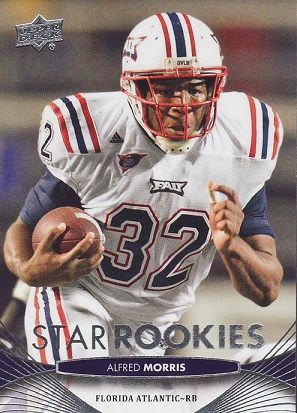 Rookie of the Week
Alfred Morris, Washington Redskins: Robert Griffin III isn't the only rookie to watch on the Redskins. The sixth-round draft pick ran for 120 yards on 22 carries, averaging 5.5 yards a touch in a tough loss against the New York Giants on Sunday. Morris enters today second in the league in rushing, just one yard behind Houston's Arian Foster.
Chase cards:
2012 Elite Aspirations Autograph #185 /49

2012 Momentum #137 autograph /799

2012 Upper Deck Rookie Autographs #53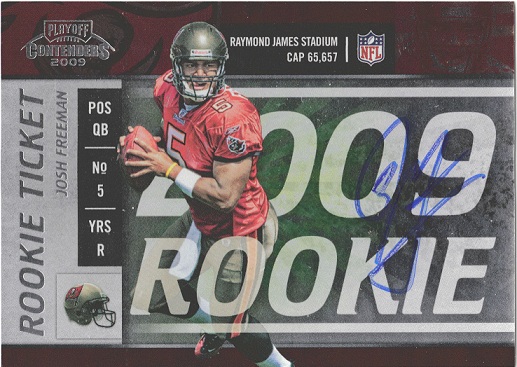 Breakout Performance of the Week
Josh Freeman, Tampa Bay Buccaneers: The Bucs have been some tough-luck losers this year. They are 2-4, but have played better than their record shows. Freeman had a huge game on Sunday against the New Orleans Saints. He completed 24-of-42 passes for 420 yards and three touchdowns. Unfortunately for Bucs fans, TB still lost to the Saints 35-28.
Chase cards:
2009 Absolute Memorabilia #209 RPM autograph /199

2009 Bowman Chrome Rookie Autographs #112

2009 Exquisite Collection #190 jersey/autograph /99
Susan Lulgjuraj is an editor of Beckett Football. You can email her here with questions, comments or ideas. Follow her on Twitter here.