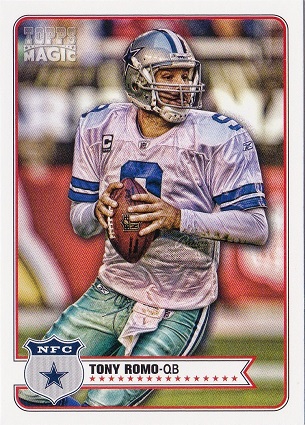 By Susan Lulgjuraj | Beckett Football Editor
Veterans Players of the Week
Throwing for 500 yards is no easy feat in the NFL. Just 15 quarterbacks have done it in league history, including Dallas' Tony Romo this weekend in a 51-48 loss to the Denver Broncos.
But it's hard to name Romo as one of the Veterans of the Week. Those who watched the game know the crushing late interception that put immediately made Romo the punchline to all "choking" jokes.
However, I'm going to do it.
Romo completed 25-of-35 passes for 506 yards, five touchdowns and, yes, one interception. Would it be so much to ask Dallas' defense to make a stop? It did give up 51 points after all. It was Romo's first interception since Week 1, but couldn't have come at a worse time.
Key cards
2003 Bowman Chrome #144

2003 Playoff Contenders #156 AU/999

2003 SP Authentic #217 Tony Romo AU RC
Jamaal Charles, RB, Kansas City Chiefs
Charles ran for 108 yards and a touchdown in Kansas City's 26-17 win over the Tennessee Titans. The Chiefs are 5-0 and if Charles can maintain these types of games, Kansas City should get even better.
Key cards
2008 Exquisite Collection #148 Jamaal Charles JSY AU RC

2008 Playoff National Treasures #109 Jamaal Charles JSY AU RC
2008 Playoff Contenders #145 Jamaal Charles AU RC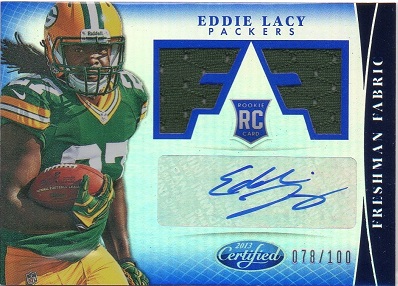 Rookies of the Week
Eddie Lacy, RB, Green Bay Packers
Lacy ran for 99 yards and a touchdown on 23 carries in Green Bay's 22-9 win over the Detroit Lions. Things looked good for Lacy in his first game back from a concussion.
Key cards
2013 Topps Inception #120 Eddie Lacy AU RC
2013 Finest Rookie Autograph Refractors #130 Eddie Lacy

2013 Score Rookie Signatures #363 Eddie Lacy
Zac Stacy, RB, St. Louis Rams
The fifth-round draft pick ran for 78 yards on 14 carries in Sunday's 34-20 win over the Jacksonville Jaguars. The Rams put it together on offense over the weekend.
Key cards
2013 Topps Rookie Legends Gold #434 Zac Stacy

2013 Topps #434 Zac Stacy RC

2013 Topps Mini #434 Zac Stacy RC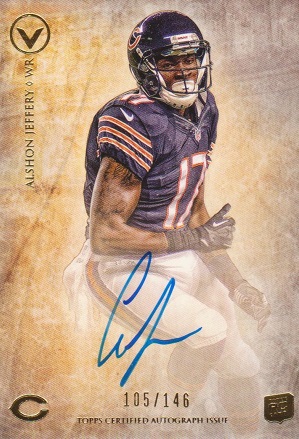 Breakout Players of the Week
Alshon Jeffery, WR, Chicago Bears
The second-year player had an impressive game in the Bears 26-18 loss to New Orleans. Jeffery had 10 catches for 218 yards and a touchdown. It's just his second 100+ yard game, the first of which came last week.
Key cards
2012 Panini National Treasures #335 Alshon Jeffery JSY AU RC
2012 Panini Playbook #177 Alshon Jeffery JSY AU RC

2012 Topps Five Star #161 Alshon Jeffery JSY AU/50 RC
Austin Pettis, WR, St. Louis Rams
Pettis didn't have a lot of yards. He had just 49 receiving yards, which still led all Rams receivers, but he was Sam Bradford's target when it counted. The third-year player had two touchdowns in a 34-20 win over Jacksonville.
Key cards
2011 Exquisite Collection #141 Austin Pettis JSY AU

2011 Playoff National Treasures #311 Austin Pettis JSY AU RC

2011 Topps Rookie Autographs #396 Austin Pettis
Susan Lulgjuraj is an editor at Beckett Media. You can email her here with questions, comments or ideas. Follow her on Twitter here. Follow Beckett Media on Facebook and Twitter.