Week 4: Monday Morning Collector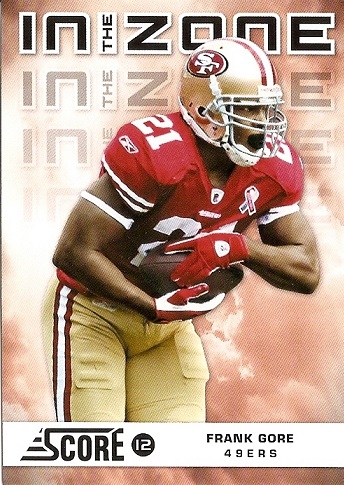 By Susan Lulgjuraj | Beckett Football Editor
Quarterbacks take the spotlight week in and week out in the NFL. But in Week 4, we're going to focus on the running backs.
Several running backs had impressive showings this weekend – and late last week.
Three that stood out from the crowd were San Francisco's Frank Gore, Minnesota's Adrian Peterson and Detroit's Reggie Bush.
Of course, we still have to give a shout out to Peyton Manning and Philip Rivers for their performances this weekend.
Veterans of the Week
Frank Gore, RB, San Francisco 49ers
Many NFL pundits wondered when Gore would have a breakout game to get his season rolling. It happened last week when he rushed for 153 yards and a touchdown in a 35-11 win over the St. Louis Rams.
Key cards
2005 Exquisite Collection #93 Frank Gore JSY AU RC

2005 SP Authentic #224 Frank Gore JSY/899 AU RC

2005 Zenith #162 Frank Gore AU RC
Adrian Peterson, RB, Minnesota Vikings
Peterson is at it again this year. He's second in the league so far in rushing with 421 yards after adding 140 in a 34-27 win over the Pittsburgh Steelers in London. Peterson also scored twice.
Key cards
2013 Topps Legendary Club Coins Adrian Peterson

2013 Prestige Gamers Materials Prime #2 Adrian Peterson

2013 Score Franchise Fabrics #FFAP Adrian Peterson
Reggie Bush, RB, Detroit Lions
Bush averaged 7.7 yards a carry in a 40-32 win over the Chicago Bears on Sunday. Bush ran for 139 yards and a touchdown on 18 carries.
Key cards
2006 Exquisite Collection #105 Reggie Bush JSY AU/99 RC
2006 SP Authentic #252 Reggie Bush JSY/299 AU RC

2006 Playoff National Treasures #143 Reggie Bush JSY AU RC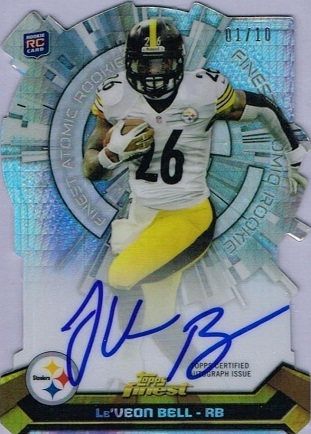 Rookies of the Week
Le'Veon Bell, RB, Pittsburgh Steelers
Bell didn't run for the type of yardage that gets noticed, but he made it count. Bell scored two touchdowns in a loss.
Key cards
2013 Elite Rookie Inscriptions Le'Veon Bell

2013 Bowman Chrome Rookie Autographs Refractors Le'Veon Bell
2013 Topps Inception Rookie Jumbo Patch Autographs #AJPLB Le'Veon Bell/150
Kiko Alonso, LB, Buffalo Bills
E.J. Manuel isn't the only Bills rookie fans should watch. Linebacker Kiko Alonso had two interceptions in Buffalo's 23-20 win over Baltimore.
Key cards
2013 Upper Deck Rookie Autographs #118 Kiko Alonso D

2013 Topps #363 Kiko Alonso RC

2013 Leaf Draft Autographs #BAKA1 Kiko Alonso
Kenbrell Thompkins, WR, New England Patriots
The undrafted free agent shined this weekend, catching six passes for 127 including a touchdown. He also had two touchdowns the week before against Tampa Bay.
Key cards
2013 Topps Finest Mystery autograph redemptions – Topps announced on its football Twitter account last week that Thompkins would be its redemption player.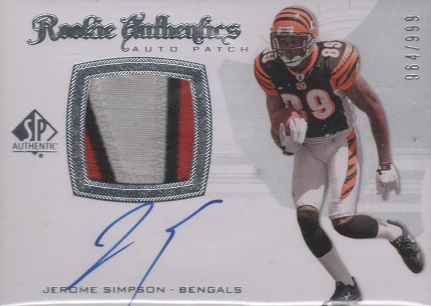 Breakout Players of the Week
Jerome Simpson, WR, Minnesota Vikings
The 2008 draft pick has had pockets of good moments throughout his career – and he enjoyed another with Matt Cassel under center this weekend. Simpson caught seven passes for 124 yards against Pittsburgh.
Key cards
2008 Playoff National Treasures #123 Jerome Simpson JSY AU RC

2008 Exquisite Collection #164 Jerome Simpson JSY AU RC

2008 Donruss Threads #280 Jerome Simpson AU/140 RC
Julian Edelman, WR, New England Patriots
Tom Brady needs a target and it seems as Edelman is the beneficiary this year. He had 118 yards on seven catches in Sunday's win for just his second 100-yard game of his five-year career.
Key cards
2009 Exquisite Collection #158 Julian Edelman AU RC

2009 Playoff Contenders #176 Julian Edelman AU RC

2009 Playoff National Treasures #161 Julian Edelman AU RC
Don't forget ou can find cards of these players in the Beckett Marketplace.
Susan Lulgjuraj is an editor at Beckett Media. You can email her here with questions, comments or ideas. Follow her on Twitter here. Follow Beckett Media on Facebook and Twitter.