Week 16: Monday Morning Collector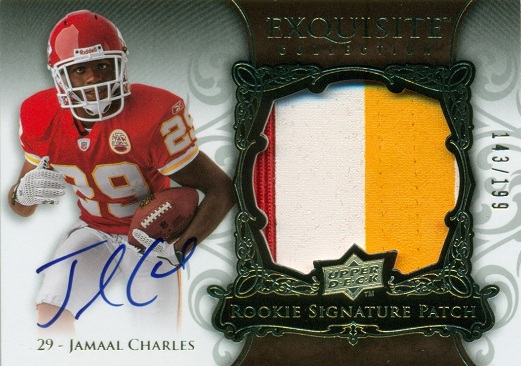 By Susan Lulgjuraj | Beckett Football Editor
AH! The football season is almost over.
There is just one week left to the season and more records could possibly fall. However, this is also "junk time" for some teams that put in players who didn't get a lot of playing time throughout the regular season.
Monday Morning Collector is back again (just a couple of days late due to the holiday).
Veteran of the Week
Jamaal Charles, RB, Kansas City Chiefs – This is the year of injured running backs having a resurgence. After injuring his knee last season, Charles has had a great 2012 for the Chiefs capping it off with a 226-yard, one-touchdown performance in a 20-13 loss to the Indianapolis Colts. That is the second time this year Charles broke the 200-yard mark.
(Note: I didn't forget about Charles Johnson. He's getting his own post later today)
Chase cards
2008 Exquisite Collection #148 JSY AU RC /199

2008 Playoff National Treasures #109 JSY AU RC /99

2008 Topps Triple Threads #117 JSY AU RC /89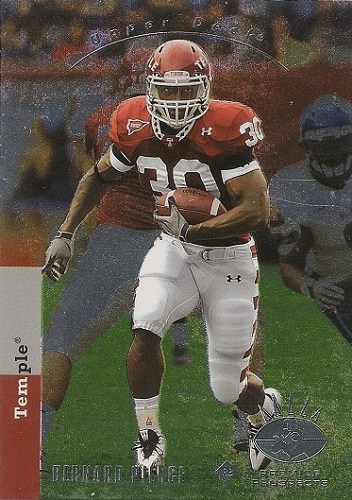 Rookie of the Week
Bernard Pierce, RB, Baltimore Ravens – Even though one run set up the bulk of Peirce's stats from this weekend, the Temple graduate put on an impressive show against the New York Giants. Pierce ran for 123 yards on 14 carries in 33-14 win – easily his best performance of the season.
Chase cards
2012 Topps 1965 Mini Autographs #165 EXCH

2012 Upper Deck 1993 SP Inserts Autographs #93SP15

2012 Rookies and Stars #228 JSY AU RC EXCH /499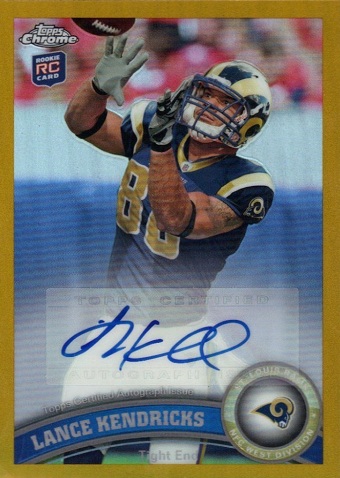 Breakout Player of the Week
Lance Kendricks, TE, St. Louis Rams — In two years, Kendricks had more than 50 receiving yards just twice, and never more than 100. That changed on Sunday when Kendricks caught four passes for 119 yards and a touchdown in a 28-13 win over Tampa Bay. Kendricks had a career-long TD for 80 yards in the game.
Chase cards
2011 Playoff Contenders #151 AU RC /298

2011 Exquisite Collection #86 AU /70

2011 Topps Chrome Rookie Autographs Refractors #13 /99
Susan Lulgjuraj is an editor of Beckett Football. You can email her here with questions, comments or ideas. Follow her on Twitter here.