Week 15: Monday Morning Collector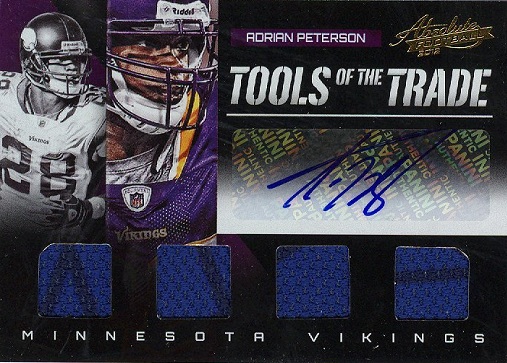 By Susan Lulgjuraj | Beckett Football Editor
With just two weeks left in the regular season, the playoff picture got a bit murkier for some teams. But many football fans have been doing a little bit more than watching the standings.
Several players stood out in this weekend's football games from superstars to rookies to those who live in the shadows. With a number of players charging toward records, football fans still have some interest in the NFL even if their team was bounced out of their fantasy football league.
There is a new category with Defensive Player of the Week. It might be a one-week shot, but it might carry on. These players deserve more credit.
Veteran of the Week
Adrian Peterson, RB, Minnesota Vikings – It's hard not to go with Peterson every week at this point. As he inches toward 2,000 yards – and possibly the single-season rushing mark – Peterson shines on the field. He would be having a great season by any standards, but considering his offseason knee surgery makes many marvel at his success.
Peterson finished with 212 yards and a touchdown on 24 carries in a 36-22 win over St. Louis on Sunday. He's 294 yards away from Eric Dickerson's single-season rushing record with two games to go.
Chase cards
2012 Absolute Memorabilia Tools of the Trade

2012 Upper Deck Goodwin Champions

2012 Triple Threads "Running Wild" jersey with Matt Forte/Stephen Jackson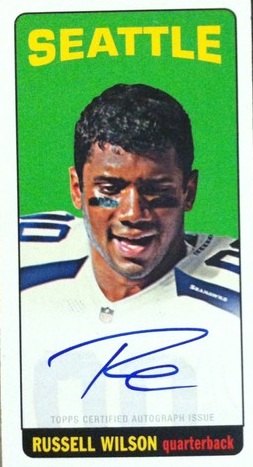 Rookie of the Week
Russell Wilson, QB, Seattle Seahawks – For the second straight week, the Seahawks put up at least 50 points on the board. Seattle fans, in large part, get to thank Wilson for that. He led Seattle with four touchdowns – one passing and three on the ground this weekend. Wilson completed 14-of-23 passes for 205 yards and a score and had nine carries for 92 yards and three TDs in a 50-17 win over Buffalo.
Chase cards
2012 Topps 1965 "Tall boy" Autograph

2012 Upper Deck Letterman autographs

2012 SPx jersey/autograph /399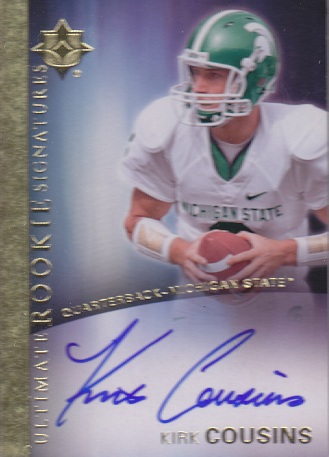 Breakout Player of the Week
Kirk Cousins, QB, Washington Redskins – Robert Griffin III had been one of the highlights for the Redskins this season. A rookie QB who can run and throw, but when he was injured last week not many realized Washington still had plenty behind him. Cousins completed 26-of-37 passes for 329 yards, two touchdowns and an interception to catapult the Redskins into first place in the NFC East. Not bad for a backup.
Chase cards
2012 Ultimate Collection Rookie Autographs

2012 Elite autographs

2012 Topps Rookie Autographs SP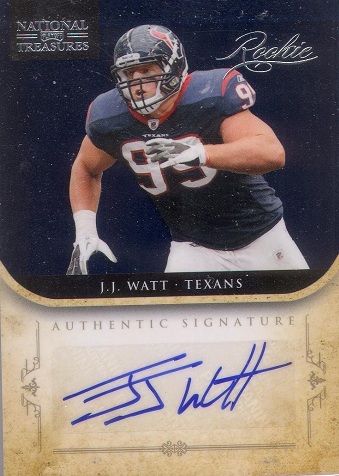 Defensive Player of the Week
J.J. Watt, DE, Houston Texans: Defensive players aren't really talked about as much as those on the other side of the ball. But week in and week out, Watt has been one of the best players this season. On Sunday, he had 10 tackles, three sacks and a forced fumble in a 29-17 win over the Indianapolis Colts.
Chase cards
2011 Playoff National Treasures autograph

2011 Rookies and Stars autograph RC

2011 Bowman Sterling RC
Susan Lulgjuraj is an editor of Beckett Football. You can email her here with questions, comments or ideas. Follow her on Twitter here.