Week 1: Monday Morning Collector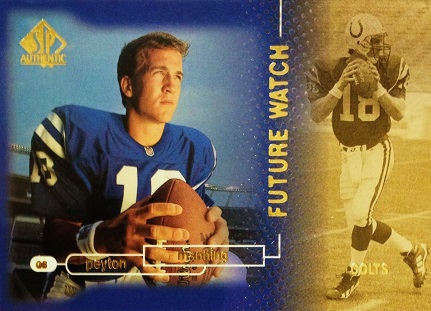 By Susan Lulgjuraj | Beckett Football Editor
Football is back. That also means Monday Morning Collector is back.
This season, we're going to do something a little different. Rather than have one veteran or rookie per week, we'll pick two or three players for each category (as long as it necessary).
There are players who have tremendous games, but don't get the recognition because someone had a slightly better game.
Let's kick off the first Monday Morning Collector.
Veterans of the Week
Peyton Manning, QB, Denver Broncos
Manning took hold of this category on Thursday. He led the Denver Broncos to a 49-27 win over the reigning Super Bowl champions. Manning tied an NFL record with seven passing touchdowns. He finished 27-for-42 for 462 yards against the Baltimore Ravens.
Key cards
1998 Playoff Contenders Ticket #87 Peyton Manning AU/200*

1998 Bowman's Best Autographs Atomic Refractors #7A Peyton Manning

1998 SP Authentic #14 Peyton Manning RC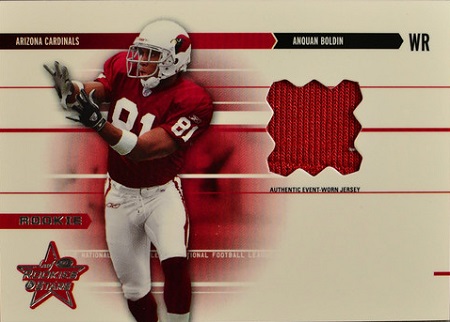 Anquan Boldin, WR, San Francisco 49ers
In Boldin's debut with the 49ers, he torched the Green Bay Packers for 208 receiving yards and a touchdown on 13 catches in a 34-28 win. Adding Boldin to San Francisco has given Colin Kaepernick a good target.
Key cards
2003 Leaf Limited #147 Anquan Boldin AU RC

2003 Sweet Spot Signatures #SSAN Anquan Boldin/100*

2003 Playoff Contenders #146 Anquan Boldin AU/524 RC
Rookies of the Week
E.J. Manuel, QB, Buffalo Bills
Manuel had a solid game in his debut, but fell to the New England Patriots 23-21. Manuel completed 18-of-27 passes for 150 yards and two touchdowns. If it wasn't for early miscues by the Bills, Manuel could have gotten a win in his first start.
Key cards
2013 Topps Inception #101 EJ Manuel AU RC

2013 Elite #132 EJ Manuel/699 RC

2013 Ultimate Collection Rookie Autographs #4 EJ Manuel C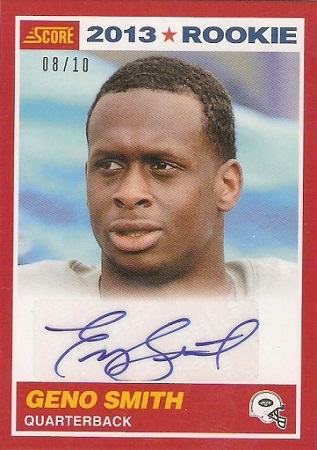 Geno Smith, QB, New York Jets
It wasn't the prettiest game, but the best stat of all was the New York Jets adding a win. Smith completed 24-of-38 passes for 256 yards and a touchdown. He also threw an interception and fumbled.
Key cards
2013 Finest Rookie Autograph Refractors #150 Geno Smith

2013 Score Rookie Signatures #368 Geno Smith SP

2013 Upper Deck Rookie Autographs #91 Geno Smith C
Breakout players of the week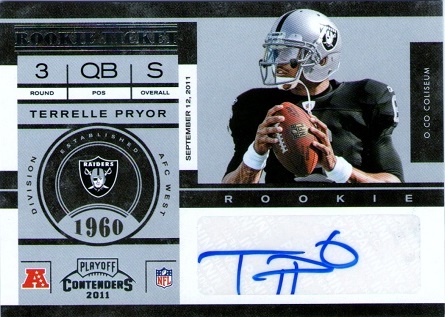 Terrelle Pryor, QB, Oakland Raiders
Pryor got his second career start and impressed many in a 21-17 loss to the Indianapolis Colts. He completed 19-of-29 passes for 217 yards and a touchdown. He also threw two interceptions. But Pryor led all players in rushing yards this weekend with 112 on 13 carries. New England running back Shane Vereen was closest with 101 yards.
Key cards
2011 Playoff National Treasures #290 Terrelle Pryor AU RC

2011 Exquisite Collection #102 Terrelle Pryor AU

2011 Topps Five Star Rookie Autographs #FSFATP Terrelle Pryor/110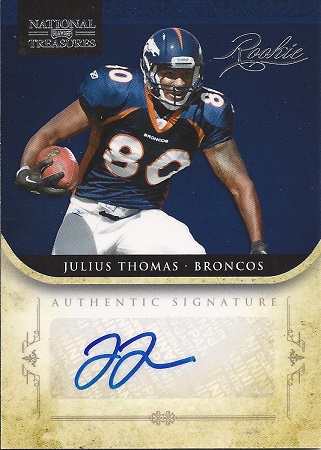 Julius Thomas, TE, Denver Broncos
A good quarterback can make stars out his receivers. Thomas, a 2011 fourth round draft pick, had the best game of his career when he caught five passes for 110 yards and two touchdowns on Thursday. In 24 hours following the game, more than 100 of his cards were listed on eBay when only about 70 were listed before the start of the game.
Key cards
2011 Topps Chrome Gold Refractors #92 Julius Thomas

2011 Panini Plates and Patches #143 Julius Thomas AU/49 RC

2011 Playoff National Treasures #253 Julius Thomas AU RC
Susan Lulgjuraj is an editor at Beckett Media. You can email her here with questions, comments or ideas. Follow her on Twitter here. Follow Beckett Media on Facebook and Twitter.