Wednesday at the 2017 National Sports Collectors Convention — Kickoff Time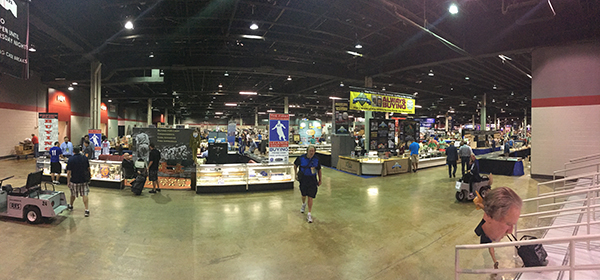 The 2017 National Sports Collectors Convention has arrived.
Over the course of the next five days, thousands of collectors and sports fans from all over the world will be descending on the Donald E. Stephens Convention Center in Rosemont, just outside of Chicago. When it comes to cards and collecting, it doesn't get any bigger.
Cards will be bought and other treasures sought. Just as important, if not more so, is that this is an event where the collecting community comes together. That means catching up with old friends, making new ones and putting a face to a Twitter handle.
Wednesday is where things get started. That means a shorter day to get the momentum building. It also means a special VIP-exclusive party with some special guests.
The Topps VIP party kicks things off at 2:30 PM. Open only to VIP ticket holders, there's lots of food and friendship. As with every year, there are free autograph signers. This year's party is headlined by Jose Canseco. Joining him are Nate Archibald and Ron Duguay.
VIPs can enter the show floor at 3:30 PM. That's a half-hour before the general public.
Wednesday, July 26 at a glance:
Hours: 4PM-8PM (3:30 open time for VIPs)
Autograph Signers:
Ron Duguay – 4:15 PM (VIP party)
Jose Canseco – 4:30 PM (VIP party)
Nate Archibald – 4:30 PM (VIP party)
Todd Hundley – 5:15 PM (VIP)
Charlie Joiner – 5:30 PM (VIP)
Ken Anderson – 6PM
Tom Browning – 6PM
Mark Grace – 6:30 PM
Dave Robinson – 6:30 PM
Here's a full list of signers for the week.