We need more collectibles for classic sports video games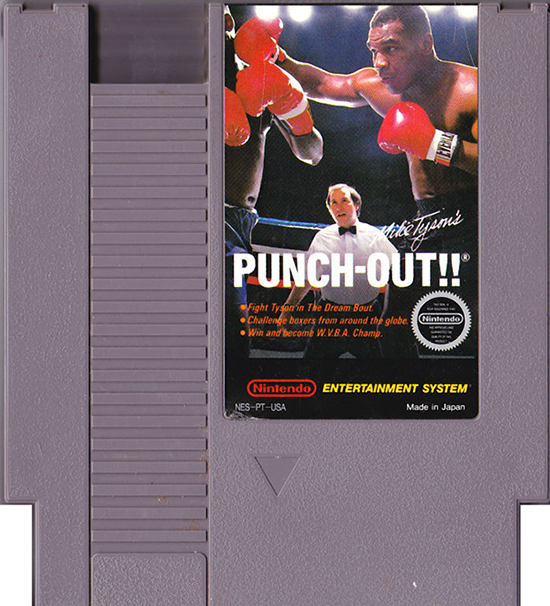 By Ryan Cracknell | Hobby Editor
Many of us have spent countless hours trying to master video games. A select few of these games live on in the same way we look back at classic movies, TV shows and books. Perhaps even more so. Whereas we watch TV, video games require interaction. Beating a level is an event. Wrapping a game can be a life benchmark.
We often collect to connect to memories and remind us of moments — like playing video games. And while there are some cool pieces of sports video game memorabilia available, it's a corner of the hobby that has tons of potential for plenty more.
Mike Tyson is an icon of 1980s sports. In his prime, he lived up to his billing as the Baddest Man on the Planet with a long line of knock outs and dominant performances. And as big a deal as his fights were, nobody in my neighborhood ever got to watch them. We just heard stories and saw clips on TV.
What we did have, though, was 8-bit Mike Tyson courtesy of Punch-Out!! We played as Little Mac, an underdog who had to work through the likes of King Hippo, Soda Popinski and Von Kaiser to get to Tyson. He was the boss of all bosses. And until you figured out the secret to defeating him, that final fight often lasted as long as his real fights.
The end result is that I've got a similar connection to 8-bit Mike Tyson as the real one. The version I saw on TV and read about was almost like a myth. The one inside the NES cartridge was a trophy. We played, we swapped secrets with friends, we went to each others houses and played some more. Ultimately, I have more memories with the video game version. And today, I wish I had something to collect.
There are a couple of things. One that's I see more and more is signed Mike Tyson photos that feature the 8-bit Tyson instead of his photo. I makes for a great piece and definitely outside the norm.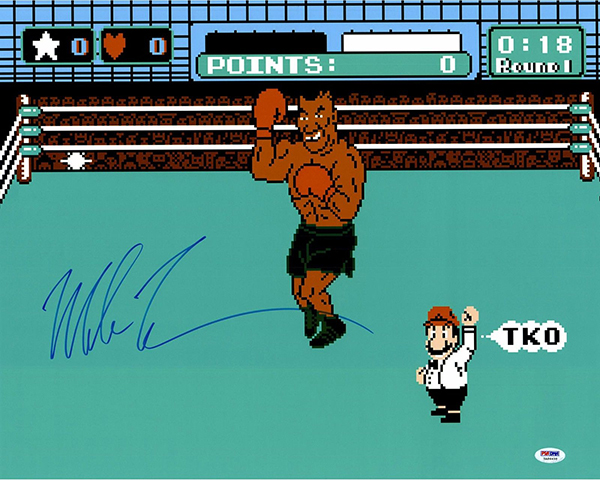 Back when the game was still fresh, there were a couple of things that came out. However, it was focused on the Punch Out!! part of the game, not Mike Tyson. He disappeared once he lost to Buster Douglas.
Applause made a couple of simple figurines for Little Mac and King Hippo. They were part of a large line of Nintendo figurines that was heavy on Mario but also had a couple from Zelda.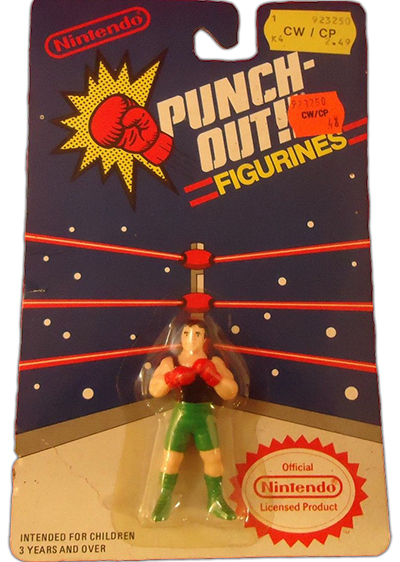 Around the same time, Hasbro produced a few different Punch Out!! pieces called Trophy Figures. These are like mini scenes from the game, each with Little Mac going to town on one of his opponents. Again, no Tyson.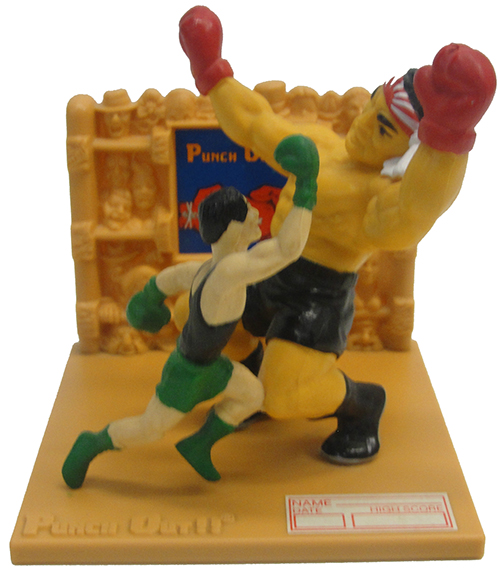 All of these figures are relatively scarce on the secondary market and cost a lot more than they used to. But without much out there, it's understandable.
Given today's market for detailed collectible figures and the colorful characters from the game, I'd love to see Punch Out!! brought back in toy form. And apparently, NECA, a collectible figure manufacturer would too.
Tyson's Punch-Out!! and maybe Blade Runner https://t.co/YwpCWRBOc8

— NECA (@NECA_TOYS) January 13, 2016
But licensing can be tricky. Even if the dollars make sense, sometimes a company doesn't want to license their property out. One can only hope that Nintendo, and Mike Tyson, realize how much potential this particular game has.
Similar to the Tyson-signed Punch-Out!! photos, Bo Jackson is autographing images of him from Tecmo Bowl, the game where he had the perfect touchdown run. Again, there's the connection to mashing thumbs and creating memories.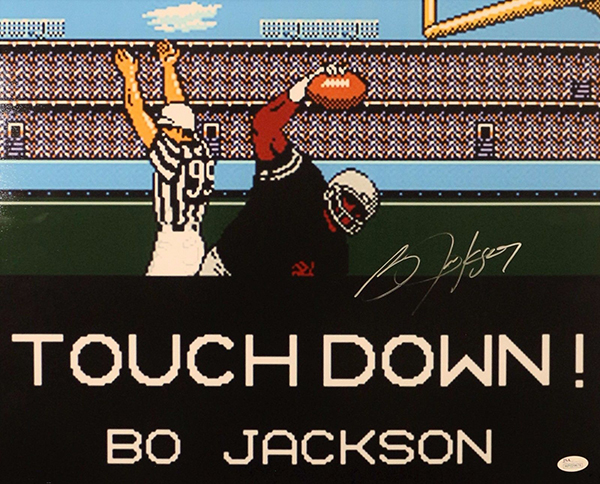 While I don't want to see a lot of them, how about a few cards of players in their video game forms (without being ads for new games we haven't played much and have no connection to). I would mind a Tecmo Bo. How about some R.B.I. Baseball-esque inserts in Topps Archives?
What are your favorite video games? What sorts of related collectibles would you consider picking up? Comment below or connect with us on Twitter and Facebook.
Comments? Questions? Contact Ryan Cracknell on Twitter @tradercracks.