Wayne Gretzky: The "King" of Early '90s Pop Culture – Beckett Pricing Insider
I was recently scrolling through the NHL's website and came across a great little piece about Wayne Gretzky and pop culture.  It was filled with the typical moments you would think of when reflecting back on mid '80s to early '90s pop culture. The Great One did everything you would have expected him to do. From daytime soap operas to late night television, Gretzky left his mark transitioning into mainstream media (and sometimes not so gracefully).
I don't think any of us will soon forget the cult classic Swingers and the iconic scene in which, while playing Sega Genesis NHL '93, Gretzky's digital doppelgänger was pummeled and left lying in a puddle of 16 bit blood.  There was also the SNL appearance which gave us one of the best "Wayne's Word" skits of all-time. His spot on The Arsenio Hall Show, when they were both at the pinnacle of their careers, will live on in late night lore for years to come.
But all of this fails in compression with what may be the most underrated early '90s cartoon ever,
ProStars
.
This was your typical "What if?" scenario of a cartoon series. In this case it was what if we took the three biggest stars in all of sports (Gretzky, Michael Jordan and Bo Jackson) and had them fight crime, solve mysteries and save the world.  The answer? ProStars.
Although it lasted only one season, this cartoon remains etched in the memories of 30-somethings around the world. Call it nostalgia, call it grasping at childhood memories, or just call it fun. No matter the case,
ProStars
holds a special place in the hearts of many, especially the card collector.
The Pro Stars name and Gretzky has another connection with Canadians. General Mills had ProStars cereal throughout much of the '80s with Gretzky as the face on the box.
This being a time when prizes and premiums still came with cereal, Pro Stars cereal and
ProStars
the cartoon
converged for a set of nine cards
. The cartoon versions of Gretzky, Jordan and Jackson are all included along with a couple of original characters. The cards pop up on the secondary market from time to time and they actually demand a premium of sorts considering the era they were produced.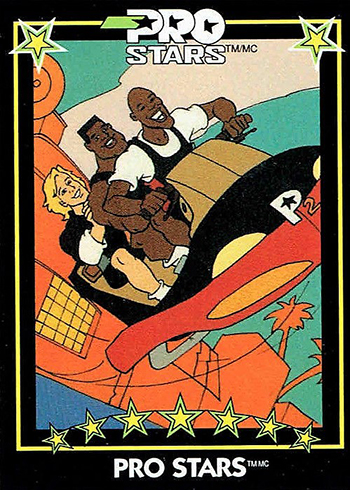 As a child of the '90, this era of sports and pop culture will always hit home for me just as it does for many others. Pro Stars cereal, the cartoon and the cards may not be for everyone, but if you want to have some fun chasing down some of your childhood memories, then why not give this set a shot?
This edition of the Beckett Pricing Insider is sponsored by Classic Auctions.