Want a Mike Tyson rookie card? 1986 Panini Supersport Stickers are the closest thing.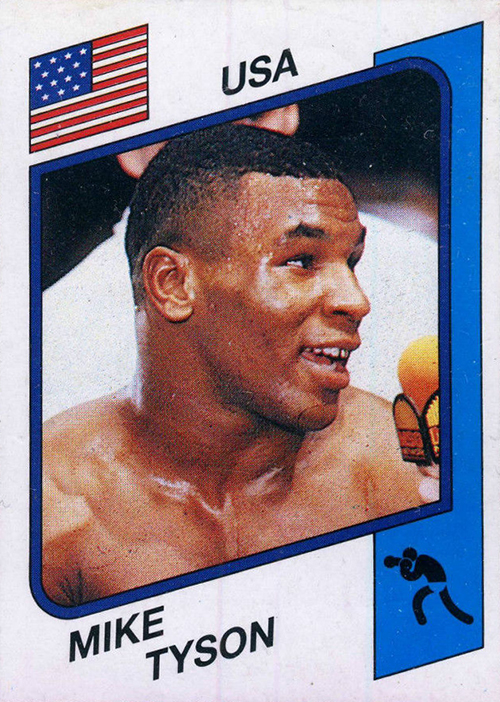 By Ryan Cracknell | Hobby Editor
When you get outside of the major sports, at least when it comes to the hobby, figuring out rookie cards can be tricky. Sometimes there aren't anything that's considered "official" and you need to look outside the normal channels and products. Sometimes you need to look overseas. Mike Tyson is one of those. To find the closest thing to an Iron Mike rookie, you're not only going to have to look to an international release, but one that's not even a card. 1986 Panini Supersport stickers have emerged as the top choice for those looking for early Mike Tyson cards.
And while he might be the most iconic player to make his hobby debut in the multi-sport product, he's not the only big name to do so.
1986 Panini Supersport covers several sports, most of which don't get many traditional trading cards. Boxing, tennis, track and field and motor racing are just some of them. It's a rare product that has both NBA and basketball players from the international scene.
The main set has 221 main stickers. An insert poster was also included in the album, which has spots for soccer stickers. It appears as though those posters vary by region, meaning different players to give it a local flavor.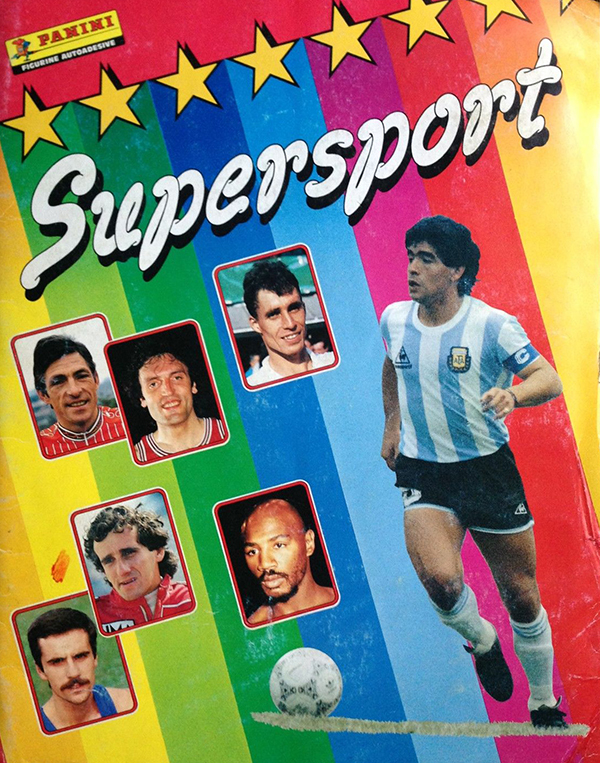 Like a lot of Panini sticker collections, the stickers themselves can be found with language variations. Again, this depends on where they were sold.
In addition to Mike Tyson, those with with early pieces include Ayrton Senna, Steffi Graf and Boris Becker.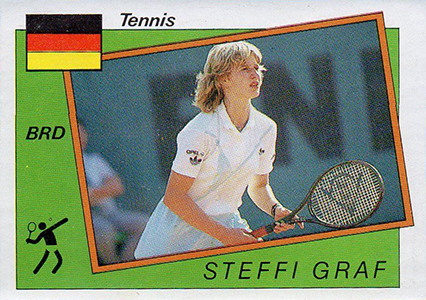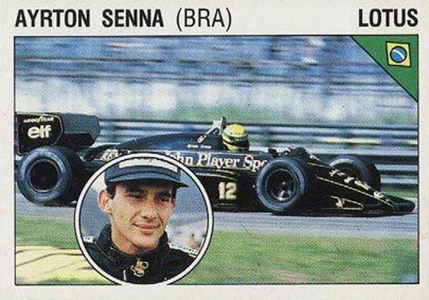 And while Drazen Petrovic wouldn't have his first NBA cards until 1990-91, he does appear in 1986 Panini Supersport.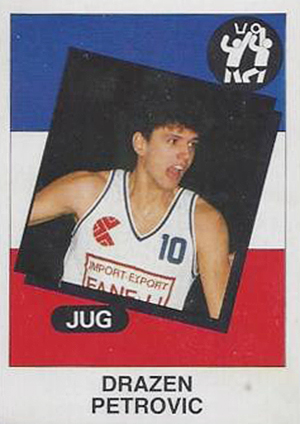 Because these are stickers, they don't carry a rookie label. That hasn't stopped them for fetching large values, though. The Tyson can go for hundreds when it comes back with a high grade. The other other important players also carry strong values.
1986 Panini Supersport Stickers aren't particularly rare, but they're not the easiest to track down. A lot of them still reside in collections overseas so they may not appear to be readily available. Fair or not, stickers also carry a bit of a stigma when it comes to the secondary market because they're not traditional cards. There's nothing wrong with stickers, but they are in more of a niche.
1986 Panini Supersport Stickers Checklist
1 Athletics Foil
2 Carl Lewis
3 Alberto Cova
4 Sergei Bubka
5 Said Aouita
6 Dietmar Mögenburg
7 Sebastian Coe
8 Alessandro Andrei
9 Daley Thompson
10 Joaquim Cruz
11 Maurizio Damilano
12 Steve Cram
13 Igor Paklin
14 Willie Banks
15 Pierre Quinon
16 Giovanni Evangelisti
17 Sara Simeoni
18 Thomas Schönlebe
19 Orlando Pizzolato
20 Uwe Hohn
21 Stefano Mei
22 Stefka Kostadinova
23 Marita Koch
24 Evelyn Ashford
25 Mary Decker
26 Gabriella Dorio
27 Valerie Brisco-Hooks
28 Zola Budd
29 Motorsports Foil
30 Alain Prost
31 Ayrton Senna
32 Nigel Mansell
33 Nelson Piquet
34 Michele Alboreto
35 Keke Rosberg
36 Jacques Laffite
37 Riccardo Patrese
38 Stefan Johansson
39 Rene Arnoux
40 Teo Fabi
41 Alan Jones
42 Andrea De Cesaris
43 Patrick Tambay
44 Gerhard Berger
45 Martin Brundle
46 Thierry Boutsen
47 Piercarlo Ghinzani
48 Markku Alen
49 Timo Salonen
50 "Calcio" Foil
51 Alessandro Altobelli
52 Manuel Amoros
53 Frank Arnesen
54 Igor Belanov
55 Zbignew Boniek
56 Aziz Bouderbala
57 Hans-Peter Briegel
58 Jorge Luis Burruchaga
59 Emilio Butragueno
60 Careca
61 Jan Ceulemans
62 Fernando De Napoli
63 Preben Larsen-Elkjaer
64 Luis Fernandez
65 KarlHeinz Förster
66 Enzo Francescoli
67 Josimar
68 Junior
69 Michael Laudrup
70 Gary Lineker
71 Diego Armando
72 Lothar Matthäus
73 Miguel Gonzalez
74 Manuel Negrete
75 Morten Olsen
76 Park Chang Sun
77 Jean-Marie Pfaff
78 Michel Platini
79 Julio Cesar Romero
80 Karl-Heinz Rummenigge
81 Hugo Sanchez
82 Vincenzo Scifo
83 Gordon Strachan
84 Jean-Amadou Tigana
85 Jorge Alberto F. Valdano
86 Francesco Moser
87 Cycling Foil
88 Laurent Fignon
89 Bernard Hinault
90 Sean Kelly
91 Giuseppe Saronni
92 Greg Lemond
93 Moreno Argentin
94 Urs Freuler
95 Roberto Visentini
96 Joop Zoetemelk
97 Guido Bontempi
98 Claudio Corti
99 Maria Canins
100 Vito Di Tano
101 Carl Lewis, Sara Simeoni Foil
102 Sergei Bubka, Alberto Cova Foil
103 Marita Koch, Alain Prost Foil
104 Nelson Piquet, Michele Alboreto Foil
105 Bernard Hinault, Francesco Moser Foil
106 Sean Kelly, Freddie Spencer Foil
107 Angel Nieto, Kareem Abdul Jabbar Foil
108 Arvidas Sabonis, Dino Meneghin Foil
109 Marvin Hagler, Donald Curry Foil
110 Ingemar Stenmark, Erika Heiss Foil
111 Ivan Lendl, Martina Navratilova Foil
112 John McEnroe, Chris Evert-Lloyd Foil
113 "Motociclismo" Foil
114 Freddie Spencer
115 Fausto Grezini
116 Angel Nieto
117 Eddie Lawson
118 Stefan Dörflinger
119 Anton Mang
120 Randy Mamola
121 Luca Cadalora
122 Christian Sarron
123 Carlos Lavado
124 Pier Paolo Bianchi
125 Wayne Gardner
126 Michele Rinaldi
127 Jacky Vimond
128 Basketball Foil
129 Kareem Abdul-Jabbar
130 Larry Bird
131 Earvin "Magic" Johnson
132 Moses Malone
133 Julius Erving
134 Dino Meneghin
135 Pierluigi Marzorati
136 Arvidas Sabonis
137 Renato Villalta
138 Antonello Riva
139 Drazen Petrovic
140 Mike D'Antoni
141 Catarina Pollini
142 Fernando Martin
143 "Pugilato" Foil
144 Marvin Hagler
145 Donald Curry
146 Michael Spinks
147 Livingstone Bramble
148 Thomas Hearns
149 Patrizio Oliva
150 Azumah Nelson
151 Barry McGuigan
152 Pinklon Thomas
153 Mike Tyson
154 Loris Stecca
155 John Mugabi
156 Carlos De Leon
157 Frank Bruno
158 Marc Girardelli
159 Skiing Foil
160 Ingemar Stenmark
161 Pirmin Zurbriggen
162 Peter Wirnsberger
163 Michael Mair
164 Rok Petrovic
165 Peter Müller
166 Markus Wasmaier
167 Robert Erlacher
168 Paul Frommelt
169 Joel Gaspoz
170 Richard Pramotton
171 Leonhard Stock
172 Maria Walliser
173 Roswitha Steiner
174 Paoletta Magoni
175 Erika Hess
176 Michela Figini
177 Gunde Svan
178 Maurilio De Zolt
179 Ivan Lendl
180 John McEnroe
181 Tennis Foil
182 Boris Becker
183 Mats Wilander
184 Jimmy Connors
185 Stefan Edberg
186 Yannick Noah
187 Joakim Nystrom
188 Andres Gomez
189 Anders Jarryd
190 Henri Leconte
191 Guillermo Vilas
192 Miloslav Mecir
193 Claudio Panatta
194 Francesco Cancellotti
195 Martina Navratilova
196 Chris Evert-Lloyd
197 Hana Mandlikova
198 Steffi Graf
199 Raffaella Reggi
200 Reinhold Messner
201 Guiseppe Aggagnale, Carmine Abbagnale
202 Renato Della Valle
203 Ezio Gamba
204 Vincenzo Maenza
205 Giovanni Franceschi
206 Gianni Minervini
207 Mauro Numa
208 Dorina Vaccaroni
209 Marco Marin
210 Daniele Masala
211 Paul Hildgartner
212 Norberto Oberburger
213 Luciano Giovannetti
214 Juventus Torino
215 Simac Milano
216 Primigi Vicenza
217 Panini Modena
218 Teodora Ravenna
219 Petrarca Padova
220 Marines Posillipo
221 Cividin Trieste Squadre