Wacky Packages to get the chrome treatment from Topps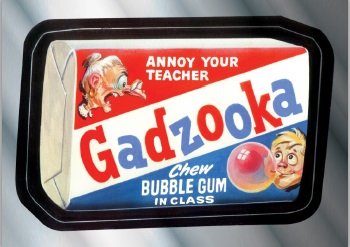 By Susan Lulgjuraj | Beckett Sports Card Monthly Editor
Wacky Packages is getting the chrome treatment.
Some of the first Wacky Packages releases will be included in 2014 Wacky Packages Chrome with the original 1967 series, 1973 Series, and 1973 Series 3.
Wacky Packages Chrome will include standard Refractors, Blue Refractors (numbered to 50, hobby only), Gold Refractors (numbered to 25, hobby only) and 1-of-1 Superfractors.
The inserts will feature Wacky Ads (a reprint of the 1969 Wacky Ads series), Cutting Room Floor (unused concepts from the 1970s that will be printed for the first time), Where Are They Now (updated vintage products), and Lost Wackys.
Collectors will also finds hits such as Printing Plates (440 total), Co-Creator Autographs from Len Brown (1,100 total), Redemption Cards for uncut sheets from the chrome release (50 total), Buy Backs from the three series featured in the set (75 total), and Chrome Framed Sketch Cards (2,000 total).
The base set will feature 110 cards.
There will be four cards in each pack with 24 packs in each box.
Wacky Packages Chrome is scheduled to come out July 23.
Susan Lulgjuraj is an editor at Beckett Media. You can email her here with questions, comments or ideas. Follow her on Twitter here. Follow Beckett Media on Facebook and Twitter.