Voting Opens to Pick 2021 Topps Baseball Card #1
Who will leadoff the 2021 Topps Baseball checklist? The card maker has narrowed it down to 19 players, but it'll be collectors who make the decision from here.
For the sixth consecutive year, the card that will be card #1 will be determined by a fan vote. The website has opened and all it takes is one simple click.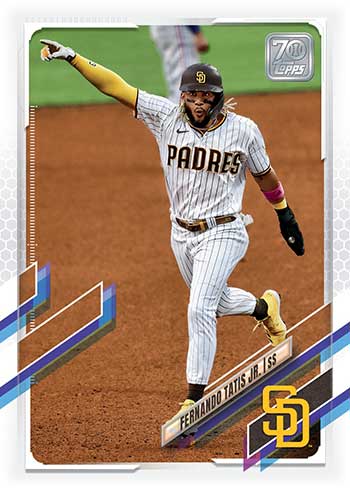 Voting is open through Wednesday, September 30 at 5 PM EST. You can vote up to three times.
The choices are:
Ronald Acuna Jr., Atlanta Braves
Nolan Arenado, Colorado Rockies
Javier Baez, Chicago Cubs
Cody Bellinger, Los Angeles Dodgers
Mookie Betts, Los Angeles Dodgers
Bo Bichette, Toronto Blue Jays
Alex Bregman, Houston Astros
Gerritt Cole, New York Yankees
Jacob deGrom, New York Mets
Rafael Devers, Boston Red Sox
Jack Flaherty, St. Louis Cardinals
Bryce Harper, Philadelphia Phillies
Aaron Judge, New York Yankees
Francisco Lindor, Cleveland Indians
Luis Robert, Chicago White Sox
Juan Soto, Washington Nationals
Fernando Tatis Jr., San Diego Padres
Mike Trout, Los Angeles Angels
Christian Yelich, Milwaukee Brewers
2021 Topps Series 1 Baseball is scheduled to com out on February 10.