VIP Party Kicks Off the 2016 National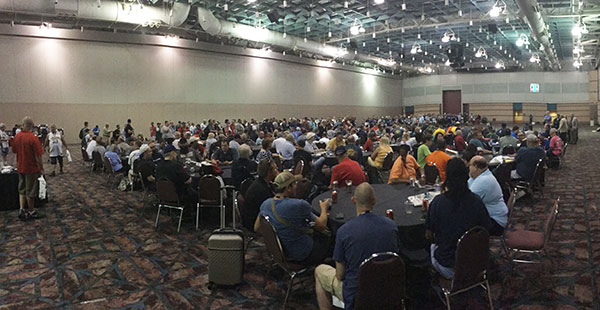 By Ryan Cracknell | Hobby Editor
The VIP party is a National Sports Collectors Convention tradition. It kicks things off in a formal fashion as the event opens up to more than just dealers and companies.
The 2016 party featured hundreds of VIP pass holders, a relaxed atmosphere and a quartet of autograph signers.
Things kicked off with John Broggi handing over the reigns of MVP party MC to Dan Berkus. He's the son of the National's founder, Mike Berkus, who had long been the voice of the VIP party.
After a few giveaways from Topps, the party's sponsor, the meal line opened up and the autograph guests made their appearances. The lines for Ed Giacomin and Mitch Williams were long even before the speeches and giveaways began.
Giacomin is a member of the Hockey Hall of Fame. He shared the 1971 Vezina Award for the NHL's top goaltender in 1971 and was an All-Star several times in his career.
Back in the early 1990s, Wiiliams was one of the most popular players on a loaded Phillies roster. Dubbed "Wild Thing," Williams carried a demeanor similar to that of Ricky Vaughn from Major League. His hard-throwing, sometimes wild pitching style was also part of it.
Steve Garvey was originally scheduled to attend the event but had to cancel due to a family emergency. Replacing him was two additional signers, Roy White and Art Shamsky. White, a two-time All-Star, won World Series titles with the Yankees in 1977 and 1978. Shamsky was a member of the 1969 "Miracle Mets" team.
Comments? Questions? Contact Ryan Cracknell on Twitter @tradercracks.