Thank-you, Yogi! Vintage Yogi Berra cards gallery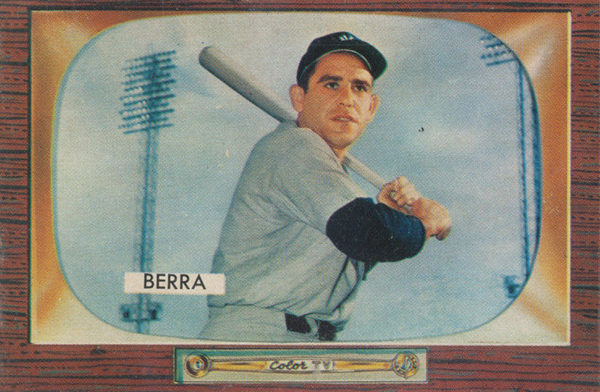 By Ryan Cracknell | Hobby Editor
Yogi Berra's life was filled with superlatives. In the field, he was one of the greatest catchers of all-time. As a player, he was a key part on ten World Series-winning teams. He added three more rings as a coach. And while it was Berra's on-field success made him a baseball legend, it was his personality that made him an icon. And longevity too. With such a prolific career, vintage Yogi Berra cards cover five decades. In fact, his last cards as an active manager aren't even vintage to most.
The Yogi Berra rookie card can be found in 1948 Bowman Baseball. Collectors can hunt down a couple of regional issues before that but this is his first widely available card. For the next 27 years the Yankees legend would appear in every major Bowman and Topps baseball release. After that, there were sporadic appearances in sets through 1985 as a coach and manager.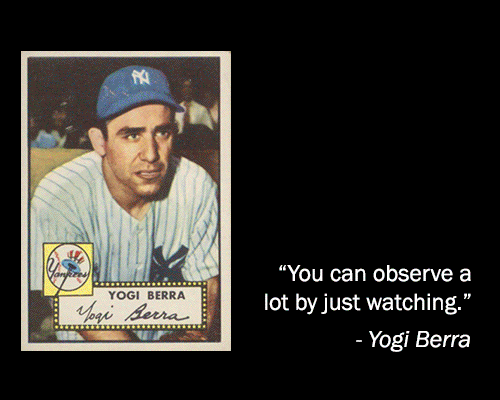 The hobby's evolution has meant plenty more Yogi Berra cards in the last 20 years including autographs and memorabilia cards. For now, here's a trip back to Yogi Berra, the player/manager/coach and a gallery of all his main Topps and Bowman cards.
Vintage Yogi Berra Cards Gallery
The following gallery highlights all of the main Bowman and Topps Yogi Berra cards (plus one from Donruss) released during his playing, managing and coaching career. While the vast majority of these are vintage, Berra's career was so long that it might be a stretch to call a couple of his final managerial cards vintage. Nonetheless, we feel they're important to include. If you're looking to add vintage Yogi Berra cards to your collection (as well as modern ones), the Beckett Marketplace has a huge selection.
1948 Bowman Yogi Berra RC #6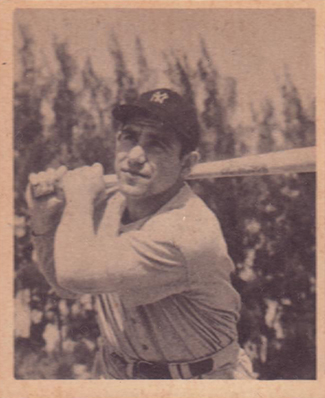 1949 Bowman Yogi Berra #60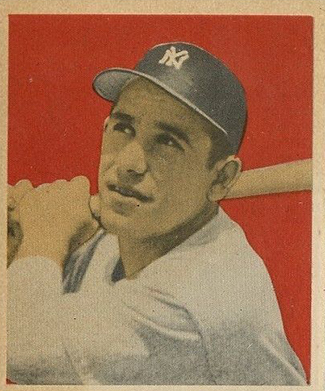 1950 Bowman Yogi Berra #46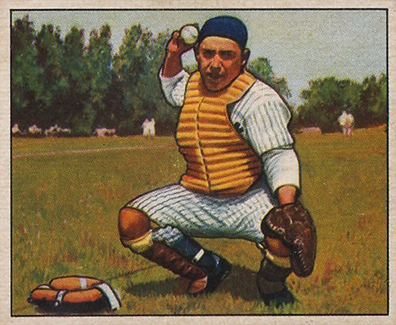 1951 Bowman Yogi Berra #2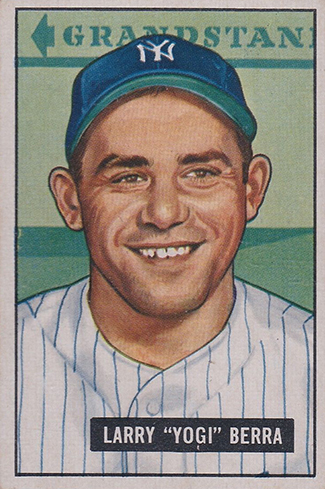 1951 Topps Red Backs Yogi Berra #1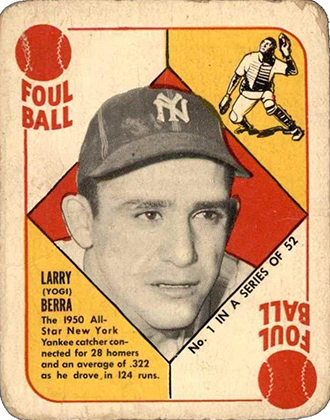 1952 Bowman Yogi Berra #1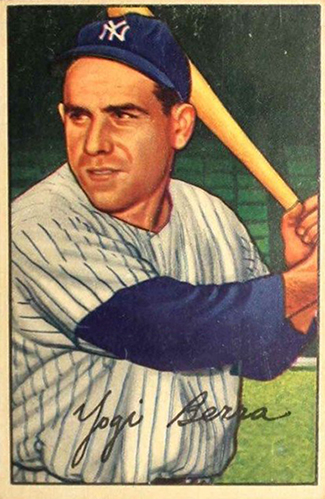 1952 Topps Yogi Berra #191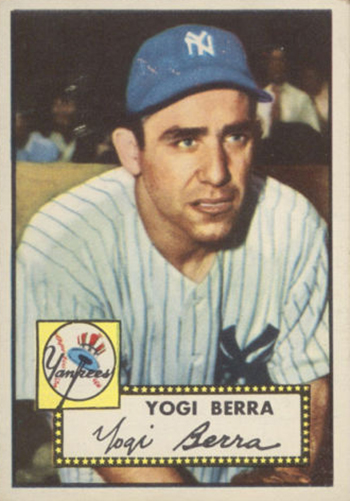 1953 Bowman Color Yogi Berra #121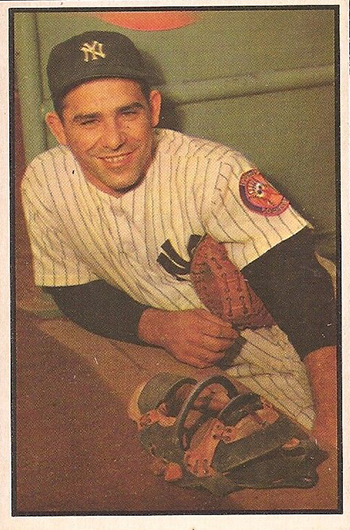 1953 Bowman Color Yogi Berra, Hank Bauer, Mickey Mantle #44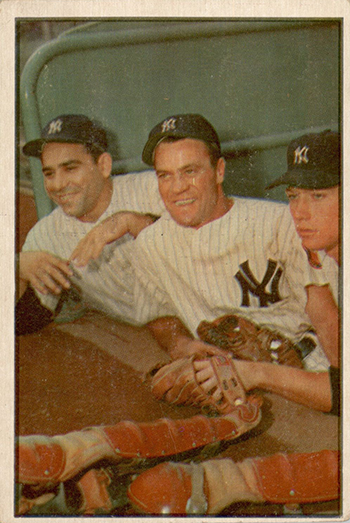 1953 Topps Yogi Berra #104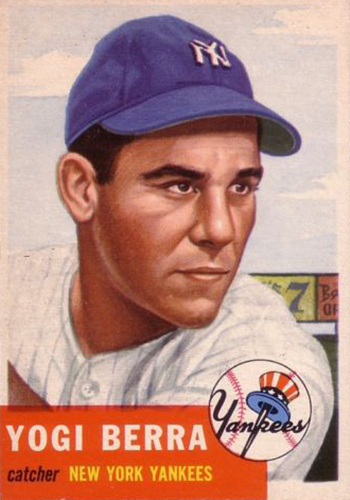 1954 Bowman Yogi Berra #161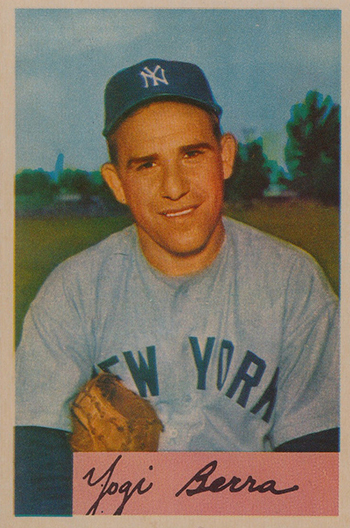 1954 Topps Yogi Berra #50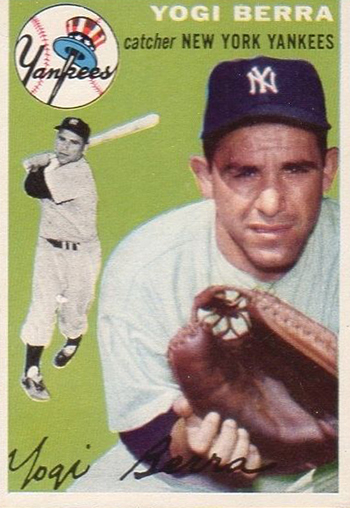 1955 Bowman Yogi Berra #168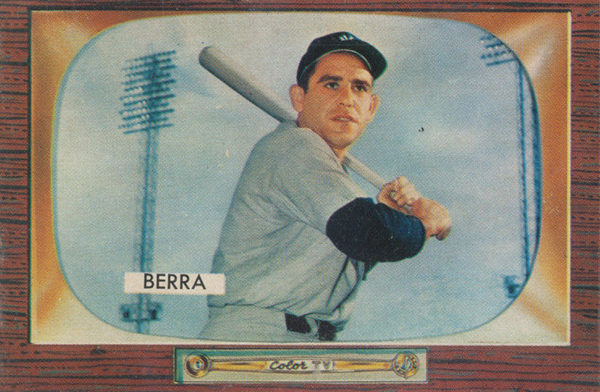 1955 Topps Yogi Berra #198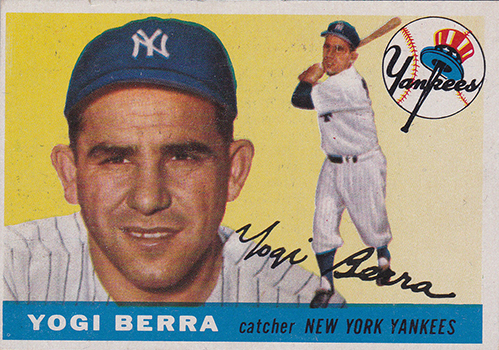 1956 Topps Yogi Berra #110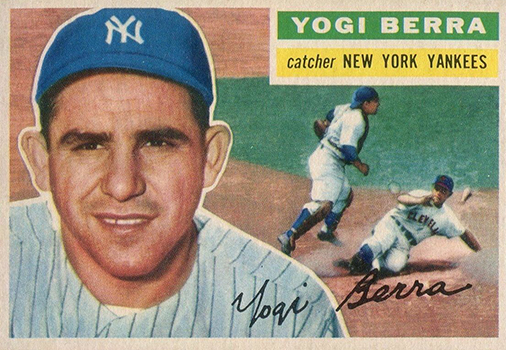 1957 Topps Yogi Berra #2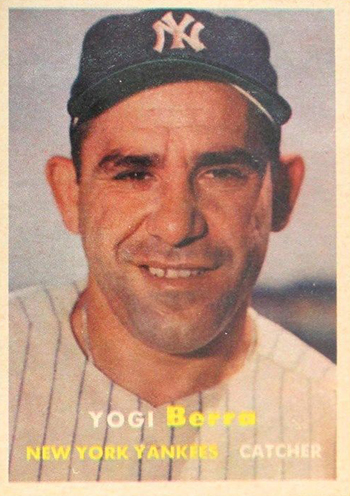 1957 Topps #407 Yogi Berra, Mickey Mantle "Yankees' Power Hitters" #407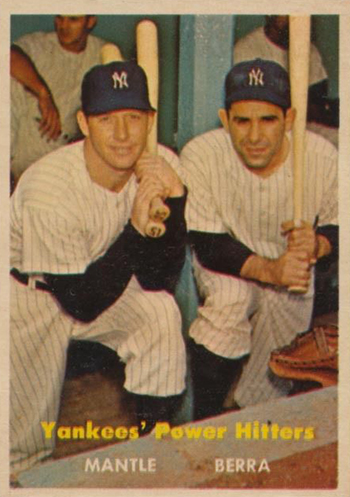 1958 Topps Yogi Berra #370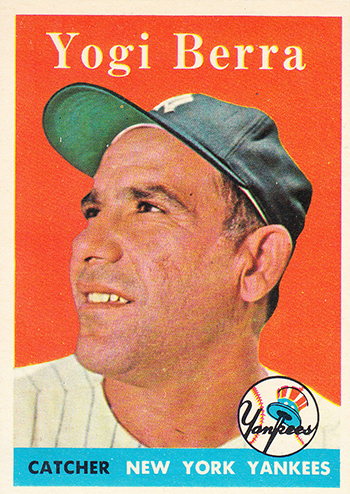 1959 Topps Yogi Berra #180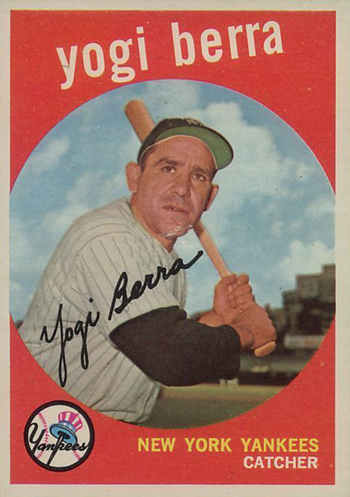 1960 Topps Yogi Berra #480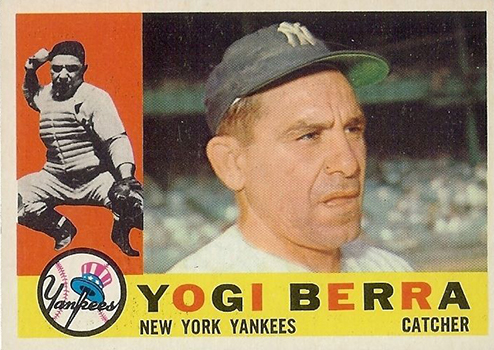 1961 Topps Yogi Berra #625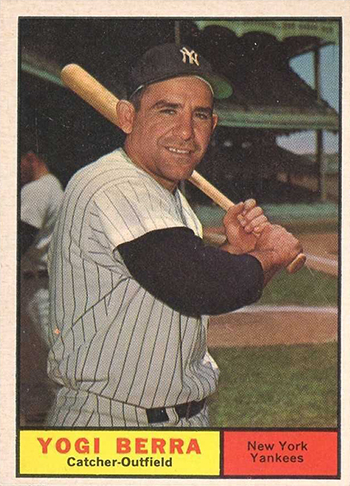 1961 Topps Yogi Berra MVP #472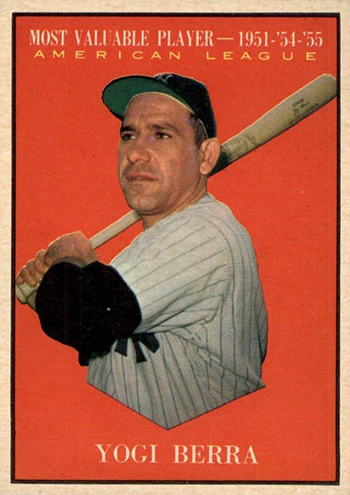 1962 Topps Yogi Berra #360
1963 Topps Yogi Berra #340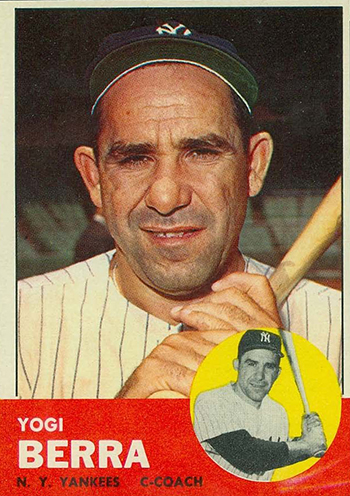 1964 Topps Yogi Berra #21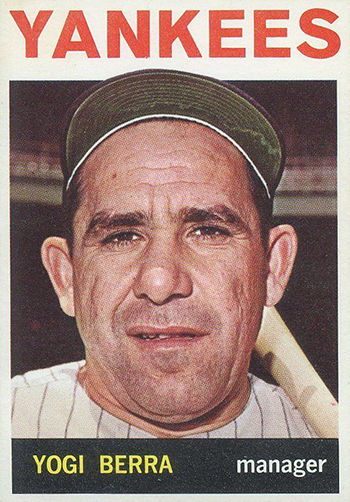 1965 Topps Yogi Berra #470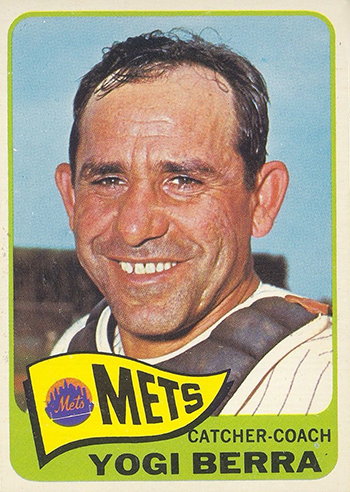 1973 Topps Yogi Berra #257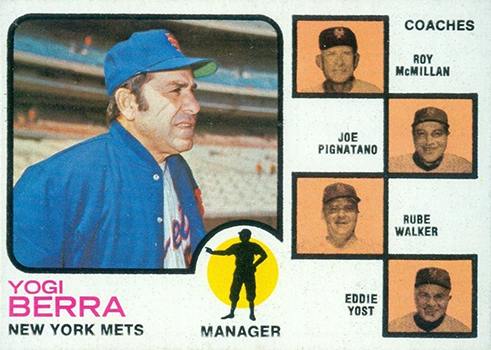 1974 Topps Yogi Berra #179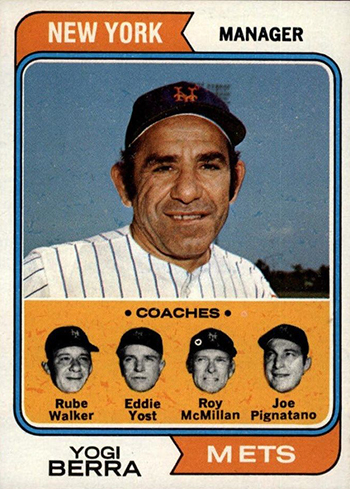 1975 Topps Yogi Berra #421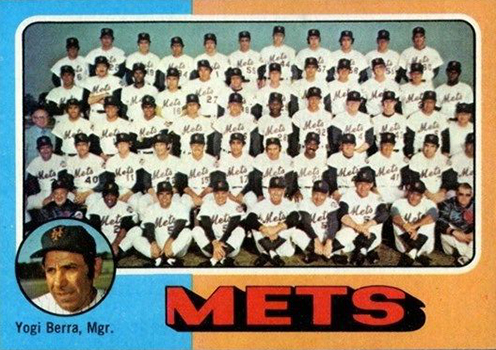 1975 Topps Yogi Berra, Roy Campanella "25 Years of Topps" #189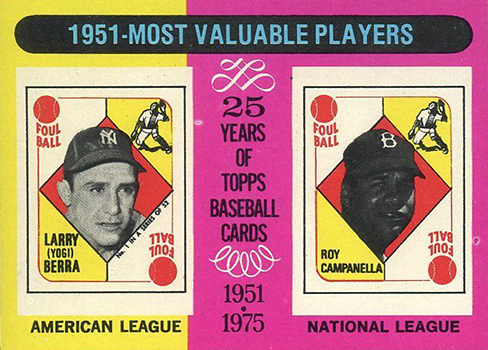 1975 Topps Yogi Berra, Willie Mays "25 Years of Topps" #192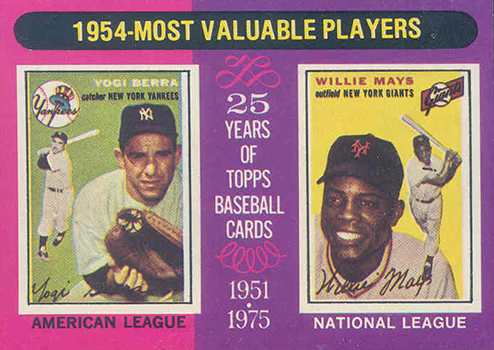 1975 Topps Yogi Berra, Roy Campanella "25 Years of Topps" #193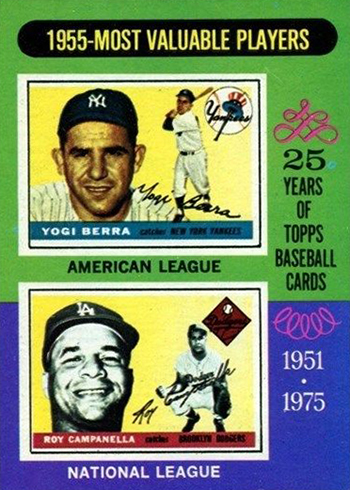 1982 Donruss Yogi Berra #387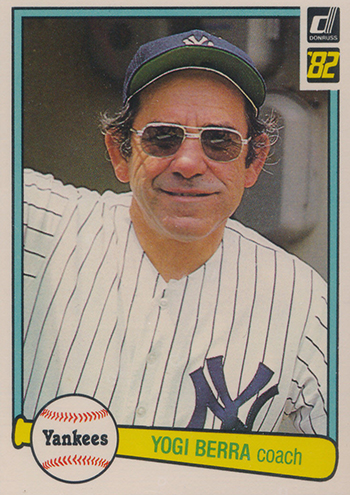 1984 Topps Traded Yogi Berra #13T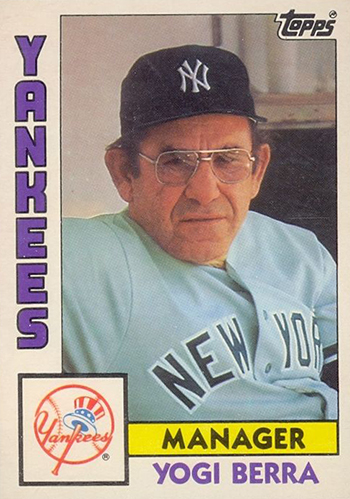 1985 Topps Yogi Berra #155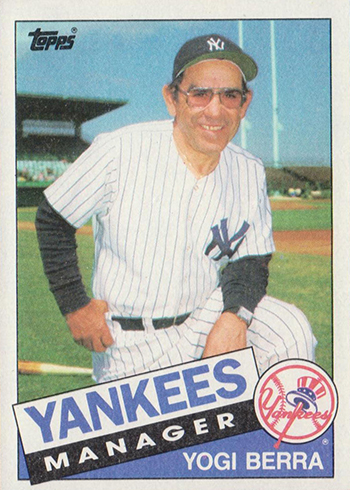 1985 Topps Yogi Berra, Dale Berra "Father/Son" #132