Vintage Mickey Mantle, Early Bryce Harper Memorabilia Highlight July Beckett Auctions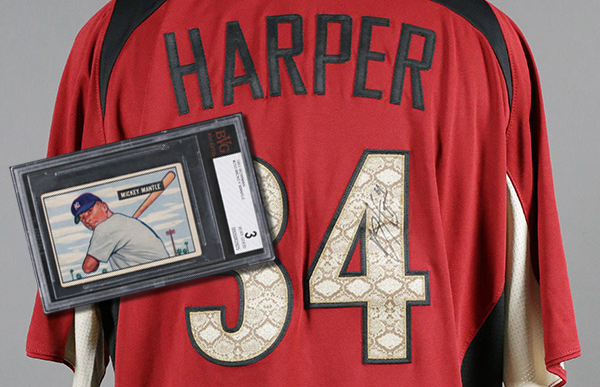 A rookie card of a hobby legend and some early game-used and autographed memorabilia from one of the hobby's current superstars are among the highlights in the July Beckett Auctions offerings.
As far as cards go, a 1951 Bowman Mickey Mantle rookie cards ranks as one of the most important and valuable. The card that's up for bid is graded BVG 3.
Other Mantle items include a BVG 2.5 1954 Dan Dee Mickey Mantle and a twice-signed copy of his autobiography, The Mick. The front cover is signed under the book's jacket. It's also autographed on the title page.
As far as Bryce Harper goes, several pieces of memorabilia have been consigned for the July Beckett Auctions. These include a game-used bat from 2012, his rookie season. A game-used and signed 2011 Futures Game jersey is also available. Finally, there's a 2010 Aflac All-American West team-signed jersey. Besides Harper, the jersey is also signed by Kris Bryant, Jameson Taillon and several more.
The July Beckett Sportscards and Bryce Harper Memorabilia Auction closes on Sunday, July 24.
July Beckett Auctions Highlights
Click on the links to view auction details and to bid.