Vindication Bowl jerseys up for auction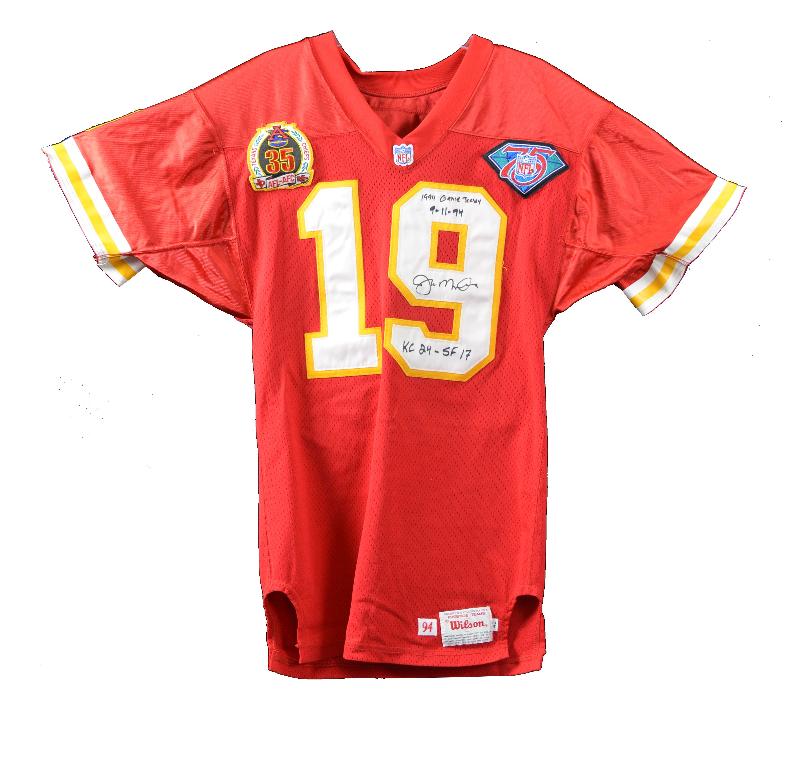 By Susan Lulgjuraj | Beckett Football Editor
When Steve Young and Joe Montana faced each other, all eyes were on the football world. The once teammates were now rivals, embroiled in a controversy only sports columnists and radio show hosts could love.
The Vindication Bowl.
Young vs. Montana and a chance for all the San Francisco 49ers fans to voice their frustrations over a change many questioned.
The Chiefs won the game 24-17, and now the jerseys from the iconic quarterbacks in that game are going to auction through Goldin Auctions as part of The Joe Montana Collection. The auction runs Feb. 25 – April 5.
Montana signed both sides of the #19 Chiefs home jersey with inscriptions. The front reads "1994 GAME JERSEY 9-11-94 KC 24 – SF 17″. On the back, it reads "MY GAME WORN JERSEY, 9-11-94 KC 24 SF 17, 19-31 PASSING 203 YDS 2 TDS." The jersey comes with a signed letter of authenticity from Montana and is pre-certified by PSA/DNA.
Young's 49ers road jersey is also a special piece for fans. Despite losing the game, San Francisco won the Super Bowl that season and Young was named the MVP. His jersey is signed with "MVP '94". It includes a LOA from the 49ers and is certified PSA/DNA MEARS-10.
Bidding for the Montana jersey begins at $5,000 while bidding for the Young jersey begins at $2,500.
"The fact that Montana saved this jersey for more nearly 20 years shows just how important the game was for him. It's certainly the most important game he ever played for the Chiefs and one of the 10 most memorable games in his career," said Ken Goldin, Founder of Goldin Auctions. "The chance for a collector to own the two jerseys worn by these two Hall of Fame quarterbacks in their only ever head-to-head match-up is a spectacular offering and a must-have for any 49er, Joe Montana, Steve Young or football Hall of Fame collector or football historian. This jersey pairing is easily worthy of being on display in Canton"
The Montana collection contains eight additional game-worn items from his time with the Kansas City Chiefs.
Susan Lulgjuraj is an editor of Beckett Football. You can email her here with questions, comments or ideas. Follow her on Twitter here. Follow Beckett Media on Facebook.