Vince Wilfork: Big, big man … big collector, too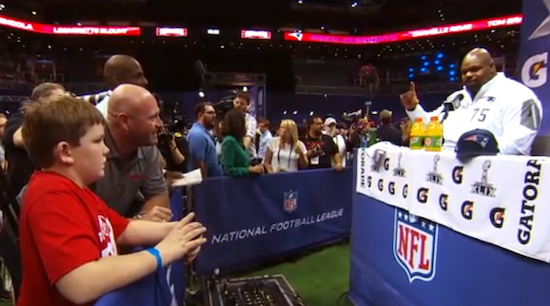 By Chris Olds | Beckett Sports Card Monthly Editor
Vince Wilfork might be the biggest one of the bunch on the field Sunday during Super Bowl XLIX when his New England Patriots take on the Seattle Seahawks.
No, that's not an observation about the waistline of the 6-foot-2, 325-pound — hey, that's what the roster says — 11-year NFL veteran. He might be the biggest collector of the bunch after his comments to Panini Kid Reporter Dylan Cooperider on Super Bowl Media Day.
The question? "Did you ever collect football cards when you were little?"
The big man's answer to Panini America's latest little hire?
"I still do. I have a big book like this," said Wilfork, holding the fingers on his right hand apart several inches. "Several of them with football cards, baseball, basketball. That was one of the things I did when I was a youngster because I was a fan of the game and loved sports. I still have those."
Then, he was presented with his Panini Super Bowl card.
"Do you want me to sign it or are you giving it to me?" Wilfork asked.
The defensive tackle was told it was for him.
"Well, I appreciate that," he replied.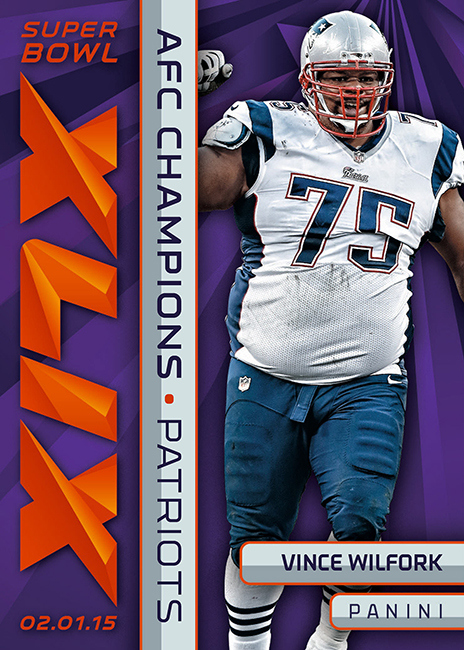 The newest card in Wilfork's collection came from Panini's Super Bowl sets, but cardboard appearances are nothing new to him as he's appeared on 309 different cards in the Beckett database since 2004. He has 35 Rookie Cards alone and 36 autographed cards. He also has only nine memorabilia cards despite the fact that his jerseys should go a long, long way on cardboard.
Watch the rest of Cooperider's interaction with stars from the big game — and see players' reactions to getting their Super Bowl cards — below.
—
[youtube]http://www.youtube.com/watch?v=1QPe22cKFRk[/youtube]
—
[youtube]https://www.youtube.com/watch?v=BwfvwSU3vkI[/youtube]
—
Chris Olds is the editor of Beckett Baseball and Beckett Sports Card Monthly magazines. Have a comment, question or idea? Send an email to him at colds@beckett.com. Follow him on Twitter by clicking here.