Video cards make a comeback in 2011-12 UD The Cup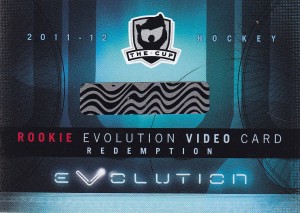 By Susan Lulgjuraj | Beckett Hockey Editor
Remember video cards that were all the rage last year?
Companies put video cards of athletes in boxes of some of the top players in the league. Well, they're back.
Upper Deck has included Rookie Evolution Video Card Redemptions in 2011-12 The Cup – a high-end hockey product on UD's calendar, which came out this week.
There's no telling who you would get considering these are just redemption cards, but guys could include Ryan Nugent-Hopkins or Gabriel Landeskog.
Do people want these cards?
You betcha.
One of the first of these redemptions to land on eBay sold for $599. And, currently, there are just three of these eBay.
Susan Lulgjuraj is the editor of Beckett Hockey magazine. You can email Susan here with ideas, comments and questions. Follow her on Twitter here.