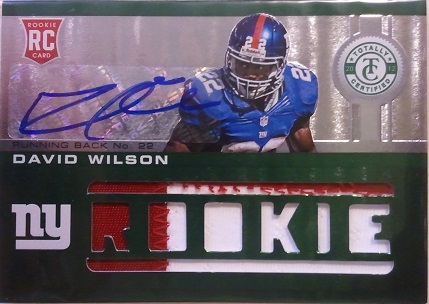 By Susan Lulgjuraj | Beckett Football Editor
The name Totally Certified goes back to the late 1990s. Pinnacle introduced the brand with football, hockey and baseball.
Panini America revived the name in football in 2011, and brought it back for another go-around by releasing 2012 Totally Certified last week. Totally Certified is a hit-driven product with an autograph or memorabilia cards in each of the six packs.
The type of hits can vary in Totally Certified with the obvious autographs and memorabilia cards, but collectors also have a chance at pulling HRX video cards. One of these video cards of Andrew Luck has already popped up on eBay
with significant asking price.
The base consists of 100 cards with a mix of veterans and retired players (click here for a full 2012 Totally Certified checklist)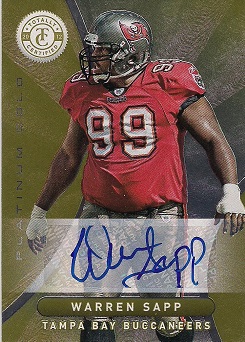 Veteran Autos
After going through an NFL collecting season where rookies dominated, Panini threw in a slew of veteran autographs in Totally Certified from players such as Percy Harvin, Cam Newton and Warren Sapp. While rookies still dominate, veteran autographs are always a welcomed addition.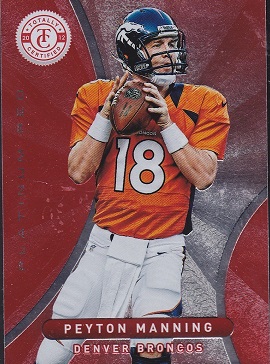 Micro-etching
Look closely at the cards for the micro-etching on Totally Certified. Scans don't do the design justice, but the cards employ this technology to add texture that appeals to some collectors.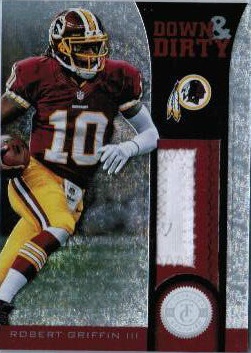 Patches
One of the selling points of Totally Certified is the different prime pieces of memorabilia embedded into the cards. One of the popular memorabilia subsets seems to be Down and Dirty where collectors have pulled several multi-color patches.
Here are some highlight from 2012 Totally Certified:
– 2012 Totally Certified HRX Robert Griffin III video card

– 2012 Totally Certified Andrew Luck autograph patch card

– 2012 Totally Certified Dick Butkus Black Autographs 1/1

– 2012 Totally Certified Alfred Morris autographs

– 2012 Totally Certified Platinum Gold Patch Tom Brady
Susan Lulgjuraj is an editor of Beckett Football. You can email her here with questions, comments or ideas. Follow her on Twitter here. Follow Beckett Media on Facebook and Twitter.