The Difficult Task of Collecting Usain Bolt Cards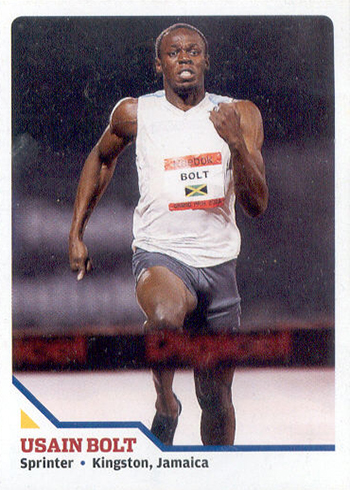 By Ryan Cracknell | Hobby Editor
The Olympic Men's 100m Final is one of the marquee events in all of sports. And in that event, Usain Bolt is king. But let's face it, track and field cards aren't exactly hot in the hobby. Niche at best, there are about as many different Usain Bolt cards out there as the sprinter has Olympic gold medals.
When Bolt wrapped up his third consecutive Olympic gold medal in the 100m in Rio (his seventh overall), he had just four trading cards and two stickers. And none of them have had traditional North American releases.
But that doesn't mean card companies haven't tired. Usain Bolt cards seem like a perfect fit for a product like Allen & Ginter. And it appears Topps has had the Jamaican speedster on their radar for a while.
@stalegum @tradercracks we've tried… So. Many. Times.

— Jon Einalhori (@JonEinalhori) August 15, 2016
Einalhori is Topps' Director of Player Licensing.
Whereas Topps has yet to include Bolt in any of their products, Panini has — but only in Olympic products aimed at overseas audiences. He was in their Adrenalyn XL set for the 2012 Olympics in London. Panini also put Bolt in their London 2012 sticker collection.
One thing to watch for, particularly on eBay, is a large number of homemade cards. Some of these look nice but they don't have any collectible value. With nothing official about them, they may be considered as novelty items by some. But like the Broder cards from the 1980s and early '90s, most will consider them to be similar to fakes.
If you are looking to snag some Usain Bolt cards, the bright side is that with so few cards, it's possible to build a complete or near-complete run. That's a rarity in today's hobby. So here's a look at what's out there.
Usain Bolt Cards Checklist and Gallery
If you're looking to buy Usain Bolt cards, here's what's currently available on eBay. Just be careful of unofficial cards.
2008 Sports Illustrated for Kids Usain Bolt #294
Like so many other athletes outside of the hobby mainstream, Bolt's first appearance on a trading card came in an issue of Sports Illustrated for Kids magazine. To be a little more exact, it was the September, 2008 issue. Originally part of a sheet, three of the edges are perforated. Because Bolt was on the outside middle of the sheet, one side is cut properly. A BGS 9.5 copy of the card sold on eBay shortly after his 2016 100m triumph for $199.95.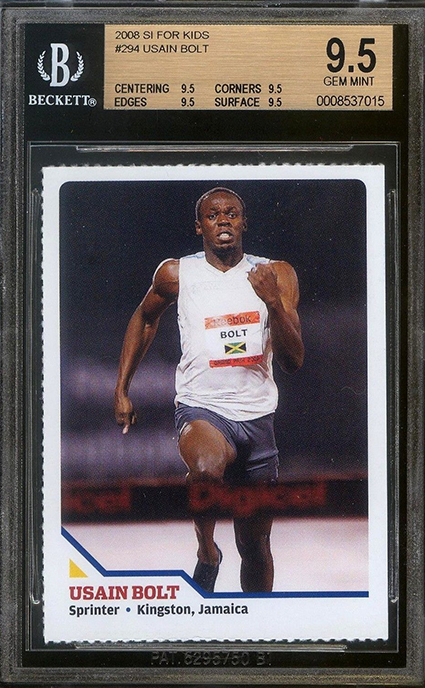 2012 Panini Adrenalyn XL Usain Bolt #251
Currently, this is probably the closest thing out there as far as traditional Usain Bolt cards go. Released in conjunction with the 2012 Olympics in London, its part of Panini's Adrenalyn gaming line. Panini tried to bring Adrenalyn over to North America for basketball and football but it failed to catch on like it did in other parts of the world. Bolt's card has a distinct glitter background making it easy to spot.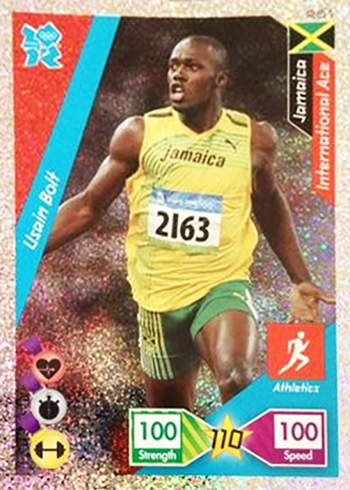 2012 Panini London 2012 Stickers Usain Bolt #65, 267
Panini included two Usain Bolt stickers in their London 2012 collection. One is a "shiny." The other has a basic white finish and has the sprinter flashing the peace sign. These weren't readily available in North America. It's likely there are plenty out there but actually finding them on the secondary market is another matter.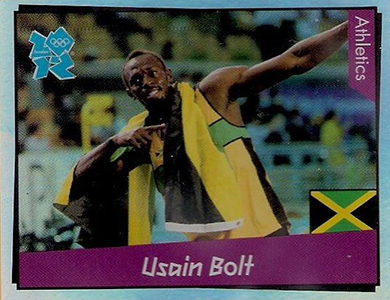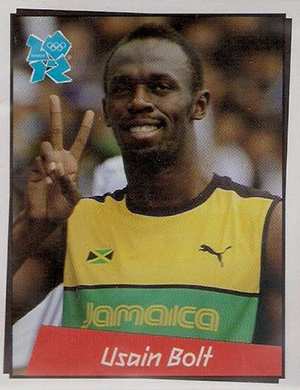 2013 Sportkings Memorable Moments Usain Bolt
2013 Sportkings Memorable Moments are art cards. Painted by Jared Kelley, there are four different Usain Bolt cards that go together to form a puzzle. That said, there's only one copy of each card making a full set an extremely difficult project.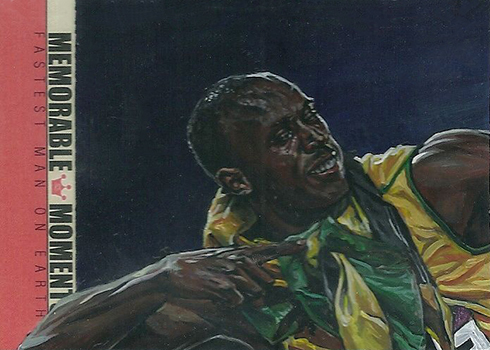 2015 Sports Illustrated for Kids Usain Bolt #473
Seven years after his for Sports Illustrated Kids card, Bolt appeared on a second one in 2015. Although not as significant, when there's so little cards of the sprinter out there, there's still some importance to it.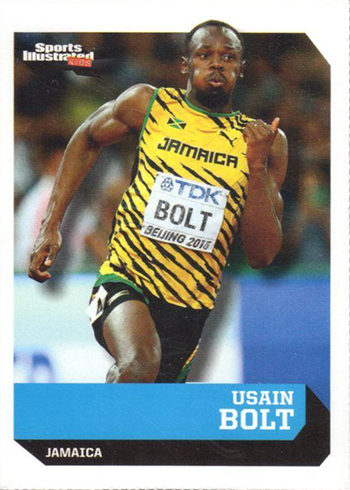 Comments? Questions? Contact Ryan Cracknell on Twitter @tradercracks.