Upper Deck, Wayne Gretzky sign long-term, exclusive deal
Upper Deck and Wayne Gretzky have worked together a long time – since 1990 to be exact.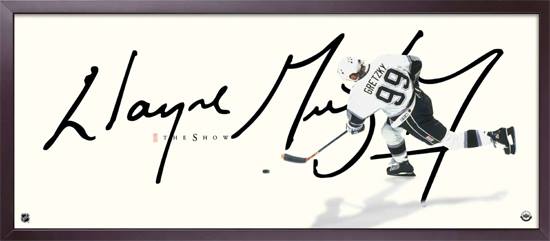 The two are keeping the relationship going with Upper Deck signing Gretzky to a new exclusive deal, the company announced in a release today. Autographed Gretzky cards and memorabilia will be found only through Upper Deck.
"As Upper Deck approaches its 25th Anniversary, the announcement of our expanded partnership with Wayne Gretzky couldn't be better," said Jason Masherah, president of Upper Deck, in a release. "While Upper Deck collectors continue to get excited about pulling Gretzky autographs from our hockey card packs, puck fans can now look forward to an amazing portfolio of Wayne Gretzky autographed memorabilia as well. We will offer several unique memorabilia pieces that are sure to be a hit with Gretzky fans everywhere."
Upper Deck has announced Gretzky will have a Tegata print in its Upper Deck Authenticated store. The Gretzky Tegata will feature a handprint over a mosaic.
In addition, UD is creating a mega-piece of memorabilia. The Show will be 46-by-20 inches and have a 2-foot long autograph.
Exclusive athletes to Upper Deck include Michael Jordan, LeBron James, Tiger Woods, Rory McIlroy and Landon Donovan.