Upper Deck readies NSCC wrapper redemption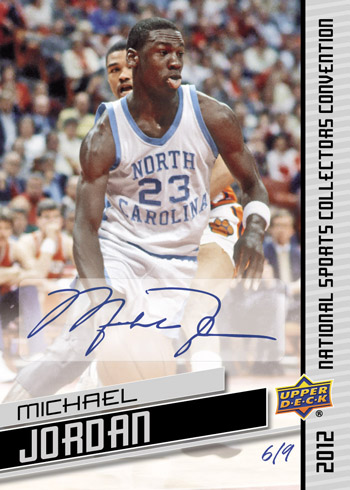 By Chris Olds | Beckett Sports Card Monthly Editor
Upper Deck unveiled its wrapper redemption program for this year's National Sports Collectors Convention set for Aug. 1-5 in Baltimore and the custom-designed set will include changes at autographs from some of the biggest names on the company's roster.
Collectors who buy five brands from a Certified Diamond Dealer at the show will receive an UD voucher that is good for a single NSCC pack after those five are opened at the company's booth.
The eligible products include 2011-12 SP Game-Used, SP Authentic and SPx hockey along with 2011 College Football Legends as well as these 2012 products: Upper Deck football, SPx football, SP Signature Edition baseball and Upper Deck Soccer.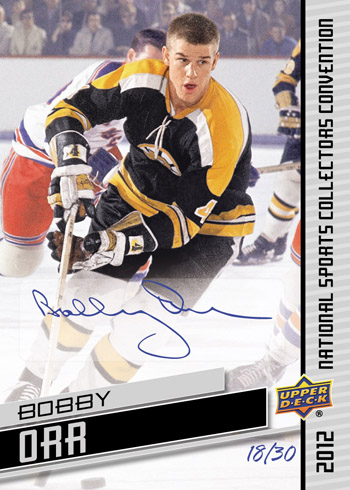 Each day's packs are different, giving collectors a reason to show up each day of the show to complete the 20-card NSCC set. Randomly inserted in the packs will be autographs from LeBron James, Michael Jordan, Sidney Crosby, Wayne Gretzky, Landon Donovan, Bobby Orr and more. Here's a rundown of the packs each day:
Aug. 2
NSCC-1 – Michael Jordan
NSCC-2 – Thierry Henry
NSCC-3 – Alonzo Mourning
NSCC-4 – Roger Staubach
NSCC-5 – Cody Buckel
Aug. 3
NSCC-6 – Wayne Gretzky
NSCC-7 – Robert Griffin III
NSCC-8 – David Robertson
NSCC-9 – Don Mattingly
NSCC-10 – Dwayne DeRosario
Aug. 4
NSCC-11 – Tiger Woods
NSCC-12 – John Kruk
NSCC-13 – Sidney Crosby
NSCC-14 – Landon Donovan
NSCC-15 – Trent Richardson
Aug. 5
NSCC-16 – LeBron James
NSCC-17 – Bobby Orr
NSCC-18 – Jack Morris
NSCC-19 – Brodie Merrill
NSCC-20 – Alex Ovechkin
Chris Olds is the editor of Beckett Baseball magazine. Have a comment, question or idea? Send an email to him at colds@beckett.com. Follow him on Twitter by clicking here.