Upper Deck unveils 2015-16 Young Guns design
When you click on links to various merchants on this site, like eBay, and make a purchase, this can result in this site earning a commission.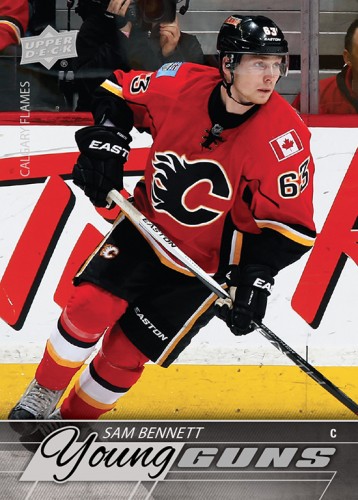 By Stephen Laroche | Beckett Hockey Editor
The release of 2015-16 Upper Deck Series One is still nearly four months away, but collectors are already buzzing about the rookie card content expected next season, especially with the anticipated of Connor McDavid on the NHL scene. The first overall pick in the 2015 NHL Entry Draft, he is regarded as a generational talent and the market is expected to be incredibly hot for this card once it is released.
Upper Deck's flagship release has long been a hobby institution and earlier today, the company unveiled the design for their newest Young Guns cards. It also revealed that this always-popular product will feature Sam Bennett of the Calgary Flames and Boston Bruins goaltending prospect Malcolm Subban, who are two rookies that are already expected to drive early-season sales.
What other players could also be a part of the Young Guns subset? Find out after the jump.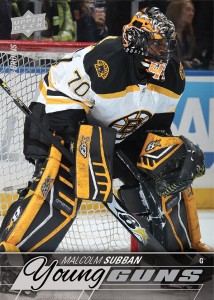 The 2015 NHL Entry Draft was loaded up with talent that could be ready to make the immediate jump to the pro ranks. Jack Eichel, who was selected second overall by the Buffalo Sabres, could see his cardboard debut with this release along with some other talents that have already signed entry-level deals such as Arizona's Dylan Strome, Carolina's Noah Hanifin, and San Jose's Timo Meier. Should other prospects like Winnipeg's Nikolaj Ehlers or Arizona's Max Domi be ready for opening night action, they could potentially be included as well.
Regardless of which 2015 draftees are included in 2015-16 Upper Deck Series One, the carry-over rookie crop has some additional standouts such as Jacob de la Rose of the Montreal Canadiens and Kevin Fiala, who made his debut with the Nashville Predators after the deadline that was agreed upon by the NHLPA and Upper Deck. A list of all players currently eligible for a rookie card in 2015-16 are listed below:
2015-16 Carryover Rookies
Stefan Noesen, Anaheim Ducks
Louis Domingue, Arizona Coyotes
Michael Lee, Arizona Coyotes*
Henrik Samuelsson, Arizona Coyotes
Brian Ferlin, Boston Bruins
Malcolm Subban, Boston Bruins
Sam Bennett, Calgary Flames
Brett Kulak, Calgary Flames
Emile Poirier, Calgary Flames
John Ramage, Calgary Flames
David Wolf, Calgary Flames
Danny Biega, Carolina Hurricanes
Keegan Lowe, Carolina Hurricanes
Rasmus Rissanen, Carolina Hurricanes
Kyle Baun, Chicago Blackhawks
Ryan Hartman, Chicago Blackhawks
Michael Paliotta, Chicago Blackhawks
Duncan Siemens, Colorado Avalanche
Josh Anderson, Columbus Blue Jackets
Oscar Dansk, Columbus Blue Jackets*
Brendan Ranford, Dallas Stars
Tyler Bunz, Edmonton Oilers
Curtis Hamilton, Edmonton Oilers
Andrew Miller, Edmonton Oilers
David Musil, Edmonton Oilers
Jordan Oesterle, Edmonton Oilers
Sam Brittain, Florida Panthers*
Jean-Francois Berube, Los Angeles Kings*
Nick Shore, Los Angeles Kings
Jacob de La Rose, Montreal Canadiens
Viktor Arvidsson, Nashville Predators
Anthony Bitetto, Nashville Predators
Kevin Fiala, Nashville Predators
Raman Hrabarenka, New Jersey Devils
Kael Mouillierat, New York Islanders
Ryan Bourque, New York Rangers
Oscar Lindberg, New York Rangers
Mackenzie Skapski, New York Rangers
Chris Driedger, Ottawa Senators
Shane Prince, Ottawa Senators
Matt Puempel, Ottawa Senators
Mark Alt, Philadelphia Flyers
Nick Cousins, Philadelphia Flyers
Anthony Stolarz, Philadelphia Flyers*
Petr Straka, Philadelphia Flyers
Bryan Lerg, San Jose Sharks
Daniil Tarasov, San Jose Sharks
Slater Koekkoek, Tampa Bay Lightning
Luke Witkowski, Tampa Bay Lightning
Casey Bailey, Toronto Maple Leafs
Antoine Bibeau, Toronto Maple Leafs*
Andrew MacWilliam, Toronto Maple Leafs
Alex Biega, Vancouver Canucks
Ronalds Kenins, Vancouver Canucks
Stanislav Galiev, Washington Capitals
Andrew Copp, Winnipeg Jets
Connor Hellebuyck, Winnipeg Jets*
* – backup goaltender that did not see on-ice action
Stephen Laroche is the editor of Beckett Hockey. Have a comment, question or idea? Send an e-mail to him at slaroche@beckett.com. Follow him on Twitter @Stephen_Laroche.