2014 Upper Deck 25th Anniversary Details
This week, collectors heading to their local card store or particiating in an authorized group break featuring Upper Deck products are in for a surprise treat coming in the form of special 25th Anniversary Promo Packs.
The five-card packs will contain a special 110-card base set from several sports designed in the same manner as the landmark 1989 Upper Deck Baseball release. Seeded once per pack is one of 40 different additional 1989 Themed Rookie Cards that include such young talents as Byron Buxton, Nathan MacKinnon and Johnny Manziel.
If that was not enough, there are over 70 different Autograph Parallel cards to track down and they are limited to between 25 and 125 copies each. Combined with the ever-popular Printing Plates, they will be coming out of packs at an attainable 1:17 rate.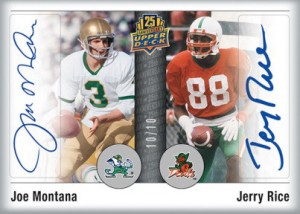 Promo packs will also house some major multiple autograph hits with City Signatures Dual (numbered to 10) and Triple (numbered to five). These cards will combine athletes who have played in the same city or on the same team.
If that was not enough to entice collectors, the first 10 hobbyists to complete the limited 25th Anniversary Silver Celebration set will earn an impressive dual Legendary Cuts card pairing legendary athletes or personalities. Each parallel card is numbered to 250, making the effort to complete a set a reasonable one.
This product is exclusive to distributors, authorized case breakers and online retailers and issued with the intention that it is to be used as a sales incentive. Upper Deck has noted in sales material that the packs are not to be resold and are for promotional purposes only.