2016 Upper Deck World Cup of Hockey Promo Set Details
The 2016 World Cup of Hockey is just a few weeks away and fans all over the globe are looking forward to seeing the game's brightest stars challenging for international glory. Many hockey collectors have been hoping that the event would get some cardboard coverage and Upper Deck will be issuing a special themed set in early September.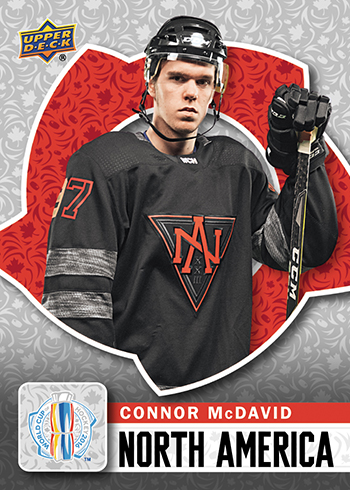 Issued in five-card packs, 2016-17 Upper Deck World Cup of Hockey will feature a 40-card base set and it will available at participating hobby stores as a gift with purchase. Each team in the tournament will have five players representing them on the checklist.
"Upper Deck, the NHL, and the NHLPA liked the idea of creating a set of cards around the World Cup of Hockey tournament that would be available in stores in September before the games begin," said Upper Deck's Sr. Marketing and Social Media Manager, Chris Carlin. "It really helps create excitement around the games and the new hockey season. We hope it drives fans to shops to put the set together and trade with other collectors."
In addition to the base set, 2016-17 Upper Deck World Cup of Hockey does have a chase element in the form of both autograph cards and press plates.
Please be sure to visit this page for further information on 2016-17 Upper Deck World Cup of Hockey promotional cards as release date approaches.
Stephen Laroche can be found on Twitter @Stephen_Laroche.