2011 Upper Deck The Avengers: Kree-Skrull War Trading Card Details
By Andrew Tolentino
Riding the wave of recently released (and soon to release) Marvel blockbusters,  Upper Deck is causing a collision between comic books and trading cards.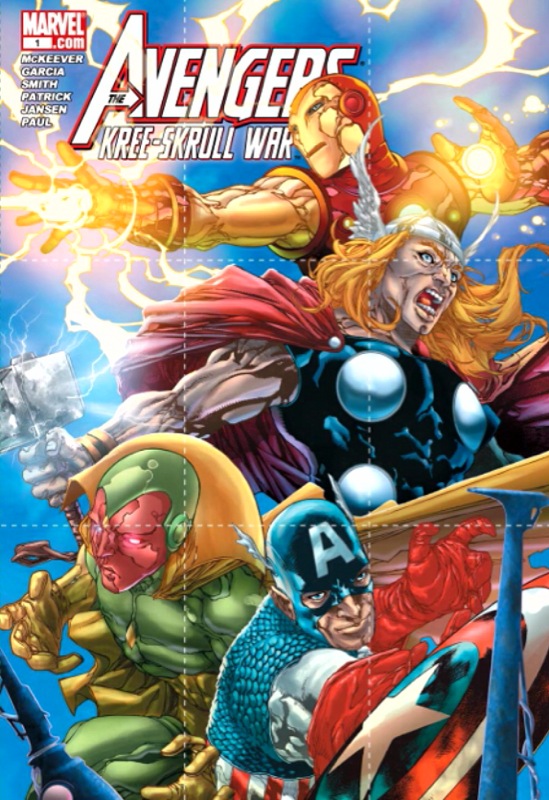 Another byproduct of Upper Deck's partnership with Marvel Entertainment, "The Avengers: Kree-Skrull War" set hits hobby stores today. Under normal circumstances, this kind of release could be summed up with a tidy list of per-pack odds and box hits — but this one tells another tale.
In fact, the experimental endeavor spins a whole new Marvel story altogether … card, by card. Departing from hit quantities and checklist finds, the set offers a new experience in comic consumption.
In a phone interview (coming soon, in full) Upper Deck's Marvel Product Manager Bubby Johanson explained, "We tried to find a way to be innovative and what we wanted to do was try to see if we could merge both the card collector and the comic collector in the same kind of venue." Thus far, the merger has already made a splash, causing speculation and excitement in the greater superhero hemisphere.
With a classic storyline re-imagined by Marvel writer Sean McKeever, the product is a comic book composed of cards. Much like a traditional comic, the story reads left to right, top to bottom, front to back, page to page. In this case though, each page of  "Sacrifice" — the primary story — consists of nine cards with story components on both sides of the card (90 cards assembled in order for the 20-page adventure).
But wait, there's more.
In addition to "Sacrifice," the set also offers an opportunity to assemble four more side stories:
"The Debt" – An eight-page saga featuring Quicksilver and the Scarlet Witch
"The Fall" – A six-page plot focusing on S.H.I.E.L.D agent Nick Fury
"Power" – A four-pager showcasing the exploits of Super-Skrull
"Soldiers' Honor" – A four-pager with Captain America
Each 24-pack box of "The Avengers: Kree-Skrull War" should yield the cards needed to complete the main story (headlined by Avengers Thor, Iron Man, Captain America and Vision). Packs consist of nine cards in the following formula:
4 "Sacrifice" (main story) cards
2-3 character cards
1-2 side story cards
1 cover card
Since the set's function as a comic book follows conventional card binder standards (three rows for three cards), Upper Deck is offering a practical promotion. The first 1,000 collectors to fill out included box-topper forms will receive a free "The Avengers: Kree-Skrull War" binder.