Upper Deck surprises Rory McIlroy fan with unique item
Michael Crew is a huge Rory McIlroy fan.
He's collected his cards, followed his career and even got to meet the golfer.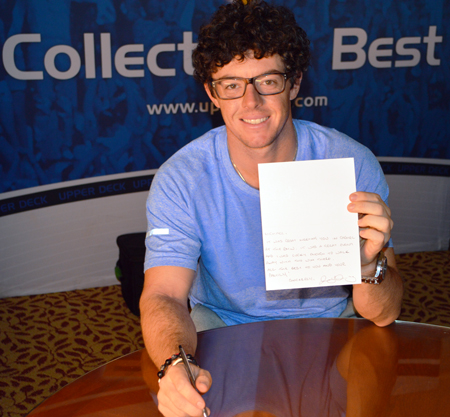 But Upper Deck provided Crew with one of the best pieces of his collection recently. It sent Crew a handwritten note from McIlroy thanking him for his support.
"My reaction was like a kid in a candy store," Crew said. "I was expecting a redemption from UD for my Inked Drivers set so when my wife called and said there was a package from UD I assumed that's what it was. When I got home I immediately went to the package and thought it was too big for a redemption. I opened it up and started tearing up right away. I told them I hadn't cried since my daughter was born."
Crew, a father of two, has talked to Upper Deck through social media. He's a large supporter of the company, especially its golf products.
That's one of the reasons Upper Deck wanted to surprise Crew with this unique McIlroy item.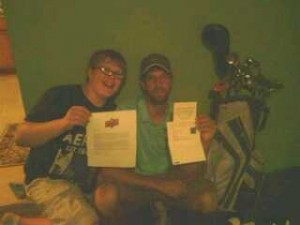 "We want to thank you for your support of Upper Deck golf products, Tiger Woods and Rory McIlroy" Upper Deck wrote in a letter to Crew. "We also want to share how much we appreciate your engagement with us online through social media platforms like Twitter and Facebook. We wanted to do something special for you so we got little information from you through Twitter and used it to have Rory McIlroy personally write a note to you on Upper Deck stationery."
UD even included its UDA authenticated hologram on the card.
Crew got to briefly meet McIlroy at the BMW Championship in Carmel, Indiana. He wished McIlroy luck, and it might have worked. McIlroy won the event.
McIroy's letter mentioned that meeting.
"Michael,
I was great meeting you in Carmel at the BMW. It was a great event and I was lucky enough to walk away with the win there. All the best to you and your family.
Sincerely, Rory McIlroy."
This letter is sitting in his golf case at home until he figures out how he will frame it. It's one of the best pieces he has to go along with his 2012 SP Game Used short-print card.
"When Rory turned pro in 2007 I immediately took a liking to him," Crew said. "Kind of like Tiger all over again. He has a great attitude and he's from Ireland, the one place I want to play golf before I die."