Upper Deck Reveals Fall Expo Priority Signings Plans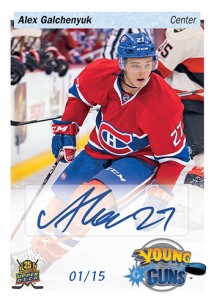 By Stephen Laroche | Beckett Hockey Editor
The 48th Sportcard & Memorabilia Expo in Toronto is less than a month away and Upper Deck has delivered some early details regarding what collectors can expect from their popular Priority Signings program at the latest installment of the long-running show.
Since 2014-15 Upper Deck Series One will be released that weekend, hobbyists in attendance will have an opportunity to open boxes at the company's booth and receive a special Priority Signings card that pays tribute to the Young Guns cards from their landmark 1990-91 release.
"For the semi-annual Sportcard & Memorabilia Expos we have the opportunity to say, 'thank you', to our most savvy collectors and also to engage some new fans," said Upper Deck's Senior Marketing & Social Media Manager, Chris Carlin. "The best way to do that has been to share autograph cards with them through an experience that provides the same thrill of opening a pack. Upper Deck has been running the Priority Signings autograph redemption program for years at the show and it remains a major reason for attendance. It's not every day you can buy a box of cards for less than $100 and get a free autograph card of top NHL players and legends."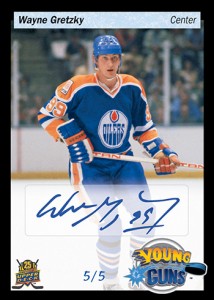 In order to obtain a Priority Signings card, collectors must purchase a qualifying box from a certified Upper Deck dealer, who will provide them with a coupon that they must present while opening the box at the company's booth in the corporate area of the show. A list of products eligible for redemption should be revealed soon.
Since 2014-15 marks the 25th season that the flagship Upper Deck product has appeared on store shelves, it was only natural that the company decided to look back fondly at the release which put them on the map in the hockey collecting world.
"For this year, it was important we pay tribute to the product that started it all in 1990-91 NHL Upper Deck and in particular, the Young Guns cards," noted Carlin. "While the 1989 Upper Deck Baseball product is no doubt our most iconic design, the 1990-91 NHL Upper Deck Young Guns design is definitely a close second in terms of how important it was to the industry. That set really signaled a change for hockey collectors where they could experience a higher-quality trading card brand, and we have worked every year to improve upon that promise to our fans with every release. The Priority Signings cards for this year harken back to that design with imagery from each subject's rookie season where available."
Case breakers will not be left out of the program, either, as there are extremely limited black-bordered Priority Signings cards that will be numbered to five copies or less. The player selection here is expected to be of high quality with both current stars like Jonathan Toews and legends such as Wayne Gretzky being featured.
Carlin also noted that there will be further announcements about Upper Deck's plans at the Fall Expo.
"We think collectors will love these limited-edition cards and we have several other announcements coming about other activations at the show to celebrate the history of that set and Young Guns rookie cards."
While a complete checklist is not yet available, there is certain to be some buzz among collectors about these cards in the time leading up to the show.
In the upcoming weeks, be sure to stay tuned for more content related to the 48th Sportcard & Memorabilia Expo both online and in print from Beckett Hockey. The event will be taking place at the Toronto International Centre from November 7 to 9, 2014 and additional information such as dealer listings and autograph guests can be found here.
Stephen Laroche is the Editor of Beckett Hockey and Beckett Basketball magazines. Have a comment, question or idea? Send an e-mail to him at SLaroche@beckett.com. Follow him on Twitter @Stephen_Laroche.