Upper Deck previews meteorite cards from 2012 Goodwin Champions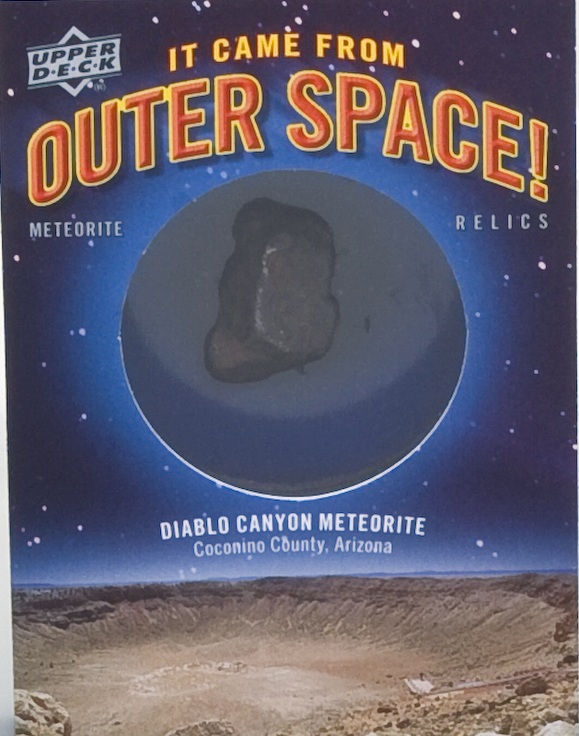 By Susan Lulgjuraj | Beckett Sports Card Monthly Editor
These cards came from outer space.
No, really, they did.
Part of the quirkiness of Upper Deck's 2012 Goodwin Champions is the type of stuff collectors can get beyond sports such as Civil War relics and pieces of meteorites that fell to Earth.
Collectors found redemption cards in boxes of Goodwin Champions for 20 total meteorite cards. Over the last month, these cards sold on eBay anywhere from $100 to $300.
These cards are ready and Upper Deck has given Beckett a look at these unique cards.
The Upper Deck cards offer different shapes of meteorites and details the fragment and place of discovery.
Some of the pieces in the Upper Deck's "It Came from Outer Space Collection" include the Korra Korrabes meteorite, initially found in Namaland, Namibia in November of 1996. A local farmer discovered the first specimen from this group in a dry riverbed.
Another piece in the collection is a Gibeon meteorite, also found in Namibia. Gibeon meteorites are a classification of fragments that fell in prehistoric times and are considered an iron meteorite. The Nama people used them to make tools and weapons.
Much closer to home, there is a piece from the Canyon Diablo meteorite in Coconino County, Arizona. This asteroid fell about 50,000 years ago and meteorites have been collected for hundreds of years from the crater site.
All the cards have the origin of the meteorite, which could make for a fun history lesson once a collector gets these cards in hand.
Meteorites seem to be a hot topic right now. This Sunday, Heritage Auctions is hosting the largest meteorite auction in the world, offering 125 fragments. Some of these pieces are expected to go for a large amount of money.
Susan Lulgjuraj is an editor of Beckett Sports Card Monthly. You can email her here with questions, comments or ideas. Follow her on Twitter here.