UD partners with Marvel for Captain America card set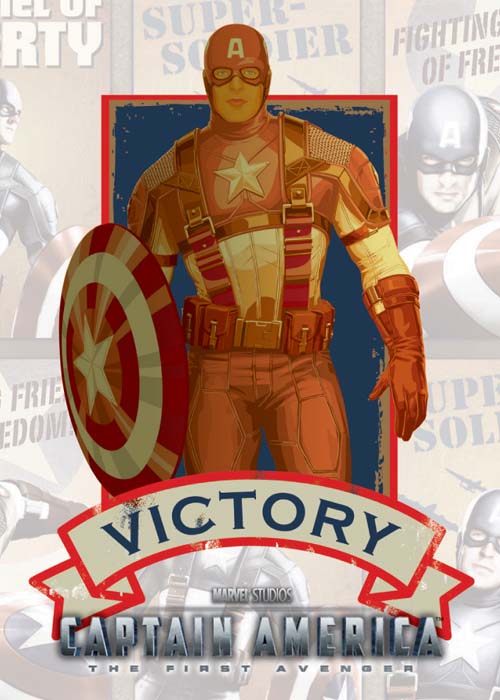 By Andrew Tolentino | BSCM Editor
While the summer blockbuster isn't scheduled to premiere until July 22, Captain America: The First Avenger — on cardboard — arrived this week at comic book stores and other superhero-conscious retailers.
Propelled by a partnership with Marvel Entertainment LLC. — one that most recently brought us both THOR and Marvel Beginnings sets — Upper Deck revealed the bells and whistles in its latest debut. "Just like we did with our THOR movie trading card set from earlier this year, this effort will include memorabilia directly from the costumes featured in the movie, and autographs from some of the actors in the movie," explained Upper Deck's vice president of marketing, Jason Masherah.
[youtube]http://www.youtube.com/watch?v=-J3HfllvXWE[/youtube]
According to the manufacturer, the base set will be comprised of 86 "movie plot" cards, 12 character cards and one "movie poster header" card. Also included are autographed inserts from actors Kenneth Choi (as "Jim Morita), Stanley Tucci (as "Dr. Erskine"), Toby Jones (as "Arnim Zola) and Neal McDonough (as "Dum Dum Dugan").
Headlined by the film's main characters, memorabilia inclusions arguably offer more premium appeal. Collectors can expect to pull costume pieces from both "Steve Rogers" and "Captain America," "Peggy Carter,"  "The Red Skull" and other key players at a rate of one in 48 packs. Upper Deck will also debut six insignia patch cards — showcasing Red Skull's Hydra Army Patch — among other iconic emblems from the film.
For the hardcore comic book crowd, the set also features sketch cards from a variety of artists including Charles Hall, Katie Cook, Eric Ninaltowski, Jonboy Meyers and Jim Cheung.
The latest hero-movie-based brand from Upper Deck comes seven cards per pack and 24 packs per box. Stay tuned to Beckett.com for more images and other marvelous media as it becomes available.