Upper Deck makes plans for the 2013 National Sports Collectors Convention
Upper Deck has a number of plans for the 2013 National Sports Collectors Convention.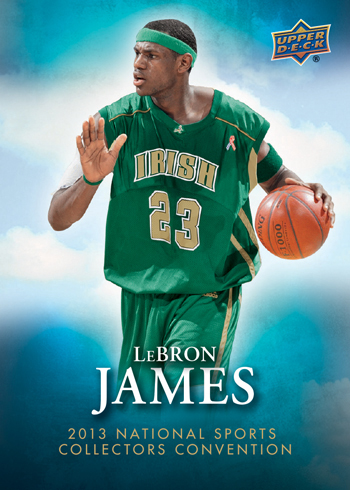 It already announced its VIP cards (click here), but the card company is putting it all out there.
One of the biggest draws at any National are the wrapper redemption programs held by the various companies. UD's program can get collectors cards of players such as Jonathan Toews, LeBron James and Reggie Jackson.
But each day will have different players in the packs.
Thursday (starting at noon): Rory McIlroy, Mark McGwire, Troy Glaus, Jonathan Toews, Cheyenne Woods
Friday (10 a.m.): LeBron James, Tony Cingrani, Wayne Gretzky, Tony Gwynn, Brandon Saad
Saturday (10 a.m.): Tiger Woods, Bobby Hull, Reggie Jackson, Pete Incaviglia, Ken Griffey Jr.
Sunday (10 a.m.): Michael Jordan, Frank Thomas, Patrick Kane, Darryl Strawberry, Jim Abbott
To take part in the wrapper redemption program, collectors will have to purchase five packs from a Diamond Certified Dealer (DCD) of 2013 SPx Football,2013 Upper Deck Football (Hobby), 2012-13 SP Authentic Basketball, 2012-13 NHL SP Authentic or 2013 Goodwin Champions or they can purchase two packs of 2012 Fleer Retro Football, 2012-13 NHL Fleer Retro or 2012-13 Fleer Retro Basketball. Collectors have to purchase these packs from a CDC to get a voucher for one of the NSCC promo packs.
In addition, fans can find autographed cards randomly inserted into packs.
Case Breaker Promotion
Upper Deck started its case-breaking promo at least year's National and is bringing it back once again. Collectors that open a sealed six-box case of 2012-13 Fleer Retro Basketball, 2012-13 Fleer Retro NHL or 2013 Fleer Retro Football can get NSCC promo packs from each day and a raffle ticket that is good for an item from Upper Deck, which includes memorabilia or a rare Michael Jordan autograph.
This promotion is limited to just 25 customers, and the case has to be purchased from a CDD to receive a voucher.
Expired Redemption Raffle
Bring up to five unscratched, expired Upper Deck autograph redemption cards to the Upper Deck booth by Saturday, August 3 before 10:30 a.m. to participate.
You do not need to be there to enter the raffle. Send up to five unscratched, expired Upper Deck autograph redemption cards to:
The Upper Deck Company
Attn. The Upper Deck Expired Redemption Raffle Program
2251 Rutherford Road
Carlsbad, CA 92008
Write your name, address, phone number and email on the front of the expired redemption.
There will be 100 prizes given away at this event, including autographs, unopened boxes and memorabilia.
In addition, Upper Deck has planned several other events:
Kids Draw Your Own Trading Card & Decoy Toss Challenge, Upper Deck Signature Challenge, Notre Dame Football Pack War & Tailgate, Daily Upper Deck free raffle.
For more information, visit Upper Deck's blog listing specific details of each event.