Upper Deck launches credit card program for trading cards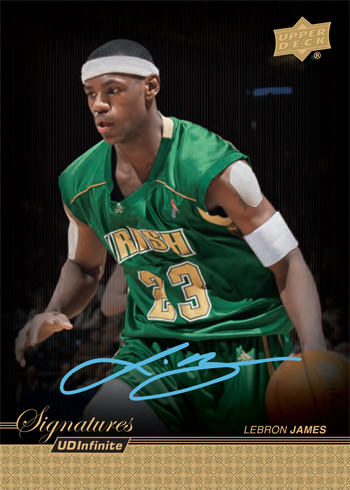 By Susan Lulgjuraj | Beckett Sports Card Monthly Editor
Spending money could earn you more cards.
Upper Deck has launched a program with the Dynamics ePlate Visa credit card to earn digital cards, which in turn can lead to exclusive cards in hand.
When customers select the Upper Deck Experience, they will earn a digital trading card for every $10 spent using the Dynamics ePlate Visa card. The digital cards are instantly sent to your mobile phone.
When an entire digital set is collected, customers will get a UD Infinite foil pack with randomly inserted autographs of athletes such as LeBron James, Tiger Woods and Joe Namath. Collectors can trade or buy digital cards to complete their set quicker.
These cards are only available through the program.
"We're excited to bring the joy of collecting trading cards to everyday purchases," said Richard McWilliam, CEO Upper Deck. "The ePlate device allows us to offer virtual cards instantly to our collectors, and the ability to trade with friends to complete sets and earn exclusive, physical cards."
Click here for more information about the card.
Susan Lulgjuraj is an editor of Beckett Sports Card Monthly. You can email her here with questions, comments or ideas. Follow her on Twitter here.