2023 Upper Deck Jay and Silent Bob Reboot Trading Cards Details
2023 Upper Deck Jay and Silent Bob Reboot brings Kevin Smith's View Askewniverse back for another series of trading cards. Based on the 2019 film, the checklist isn't an overly complex one. But the nature of the movie opens up a lot of possibilities for cards from a lot of notable names and, for some, autographs.
Hobby boxes promise either an autograph or sketch card plus one manufactured relic. Packs without one of these should include one of a handful of different parallels.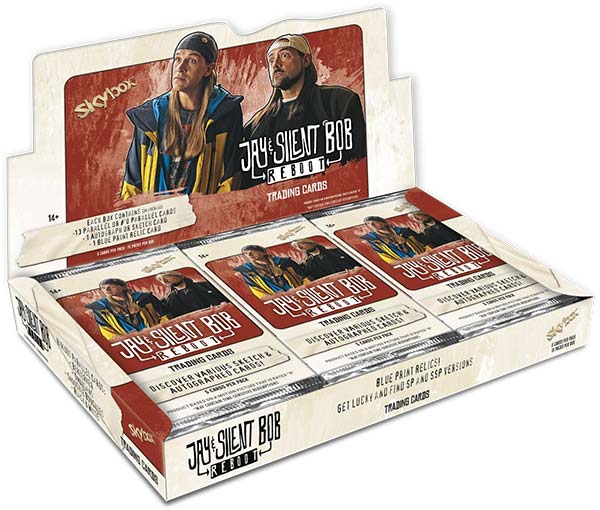 2023 Upper Deck Jay and Silent Bob Reboot Checklist Overview
The 100-card base set has two sections. Eighty cards are dedicated to the movie itself where the titular characters go on an adventure to Hollywood. The remaining 20 cards are part of the Character Profiles subset. Done in the style of a convention badge, these highlight the large list of actors to appear in the movie, many of whom are reprising roles from Smith's earlier films.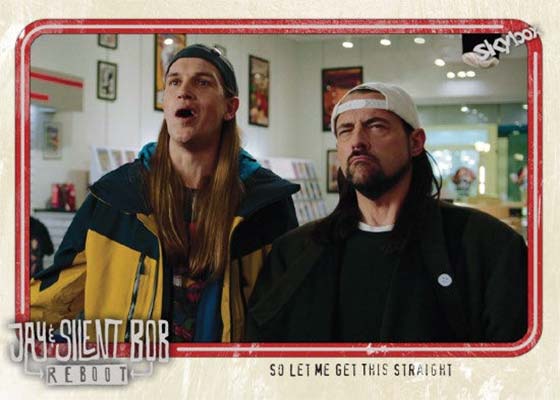 Parallels total 13 per hobby box and come in four levels:
Berzerker
Snoogans – /799
Snoochie Boochies – /499
Black and White – /137
Similar to Upper Deck's 2017 Clerks release, signatures come in a variety of styles and themes: Jay and Silent Bob Reboot Autographs, Secret Stash Signatures and Strains of Gold Signatures, some of which have multiple signers.
Likewise, art cards come in three types: standard Jay and Silent Bob Reboot Sketch Cards, Black and White Sketch Cards and Cartoon Sketch Cards.
The product's manufactured relics revolve around Blue Prints. Besides the regular cards, autographs are also randomly inserted.
In addition to 2017 Clerks, Upper Deck had a Chasing Amy set that was originally supposed to come out in 2019. It has yet to surface and there has been no word if it has been scrapped. Zerocool announced that they were doing Clerks III cards in conjunction with that film's release. Outside of a promo given out at the 2022 National Sports Collectors Convention, nothing has come out for that set, either.
2023 Upper Deck Jay and Silent Bob Reboot at a glance:
Cards per pack: Hobby – 5
Packs per box: Hobby – 15
Boxes per case: Hobby – 20 (two 10-box inner cases)
Set size: 100 cards
Release date (subject to change): TBA
What to expect in a hobby box:
Autographs or Sketch Cards – 1 Total
Manufactured Relics – 1
Parallels – 13
The 2023 Upper Deck Jay and Silent Bob Reboot checklist will be up as soon as it's available, likely shortly before the product's release.