Upper Deck includes former Yale hockey star on Heroic Inspirations card in Series 1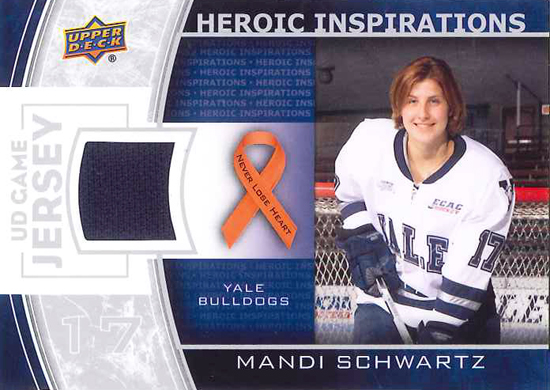 By Susan Lulgjuraj | Beckett Hockey Editor
The latest person to appear on an Upper Deck Heroic Inspiration card is Mandi Schwartz.
Schwartz, a former Yale University hockey player, died in 2011 at the age of the 23. She was diagnosed with cancer her junior year in college in 2008.
Upper Deck has put other inspirational people on cards including 9-year-old Jack Hoffman, who is in cancer remission, and UD officials wanted to include one in Upper Deck Series 1.
"Mandi's name kept coming up as we talked internally about finding an inspirational hockey athlete to honor with a trading card," said Chris Carlin, Upper Deck's sports marketing manager. "Mandi Schwartz is certainly not the prototypical hockey player that appears on Upper Deck's hockey cards, but that's what makes her inclusion in a mainstream set like this so great because she is so different. As we found out more and more about Mandi's story, everyone in the building began to draw inspiration from her and we became very excited about this project. A player like Mandi deserves a trading card and the one we created is very special."
The card is to raise awareness for The Mandi Schwartz Foundation. She appeared in a Yale uniform on the cards with a game-worn jersey or patch.
Upper Deck made the game-worn jersey cards short-prints and the patch cards are limited to just 15 copies. However, most of the cards will be sold The Mandi Schwartz Foundation with details coming at a later time.
"It certainly means the world to us that Mandi's legacy will be carried on by Upper Deck creating this special card," said Carol Schwartz, Mandi's mother. "Mandi has always been a tremendous example of commitment and dedication for student athletes, especially for those who play hockey. I can think of no more fitting tribute to her than that of sharing her passion for hockey and life with her very own Upper Deck card."
Several of these cards have sold on eBay
from anywhere between $70 and $150.
Mandi is the sister of St. Louis Blues Jaden Schwartz.
Susan Lulgjuraj is an editor at Beckett Media. You can email her here with questions, comments or ideas. Follow her on Twitter here. Follow Beckett Media on Facebook and Twitter.