Upper Deck Ice rookies drawing attention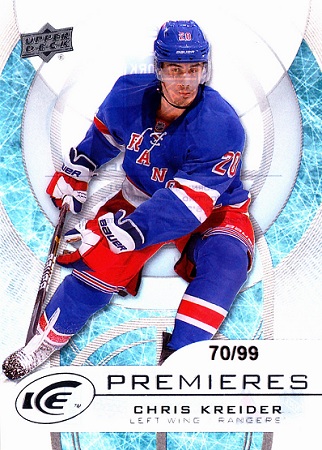 By Susan Lulgjuraj | Beckett Hockey Editor
A box of 2012-13 Black Diamond hockey yields parallels, jersey cards and the potential for autographs. However, one of the reasons collectors are picking up boxes of Black Diamond has nothing to do with the above.
The Upper Deck Ice bonus box topper, is getting a lot of attention.
Each pack holds three base cards and one of 20 Rookie Cards. But the three most coveted rookies are Jaden Schwartz, Sven Baertschi and Chris Kreider.
The Rookie Cards feature three different tiers with cards numbered to 999, 499 or just 99. Kreider, Baertschi and Schwartz fall in the lowest tier causing some crazy prices on unsigned, non-memorabilia Rookie Cards.
Of Kreider's priced cards in the Beckett database, his Upper Deck Ice has a HI book value of $400. His next highest valued card is his 2012-13 Score Autograph at $250.
The only card that has sold for money on eBay recently was a 2012-13 Certified Black RPA patch autograph, a 1-of-1.
Loose packs on the secondary market are hard to find with just a few popping up on eBay and retailers selling them for around $15 a pack.
– Chris Kreider 2012-13 Upper Deck Ice RC /99

– Sven Baertschi 2012-13 Upper Deck RC /99

– Jaden Schwartz 2012-13 Upper Deck RC /99
Susan Lulgjuraj is an editor of Beckett Hockey. You can email her here with questions, comments or ideas. Follow her on Twitter here. Follow Beckett Media on Facebook.