Upper Deck, GTS and Universal Bring Back Overtime Packs for 2014-15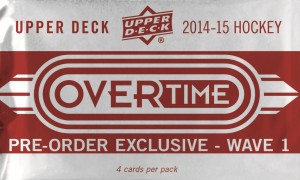 By Stephen Laroche | Beckett Hockey Editor
Back again for 2014-15, the upcoming release of 2014-15 Overtime from Upper Deck will be taking things to a whole new level and both collectors and dealers are ready to reap the benefits.
In recent years, Upper Deck has combined with distributors to offer up a special bonus in the form of the Overtime packs. They have been met with great acclaim and give a little extra to hobbyists, case breakers and stores in appreciation of their continued support.
This year, dealers wanting to get in on the Overtime action can do so by ordering boxes of 2014-15 NHL Artifacts, 2014-15 Upper Deck Series One or 2014-15 Black Diamond from either Universal Distribution in Canada or GTS Distribution in the United States. There are few new twists this season as well that you can learn about after the jump.
For every box ordered, dealers will receive one three-card pack to distribute to collectors that purchase a box from them. However, those that pre-purchase their boxes from either distributor will instead receive four-card packs containing an additional special insert card that differs for each wave of Overtime packs.
The first wave of packs contains cards 1-60, which are made up of 40 regular cards, 10 shortprinted rookies and 10 shortprinted legends. There will be Blue parallels (1:2) and Red parallels (numbered to 99), but the biggest chase will be for the Autograph cards found once in every 36 packs. For those that pre-order, the extra card will be from the Flash of Excellence set and they will have die-cut Orange (numbered to 25), Emerald (numbered to 10) and Purple Autograph (limited to three copies each) parallels that will certainly get some attention.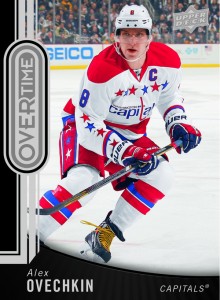 Wave 2 packs are expected to be issued with 2014-15 Trilogy, 2014-15 SP Game Used and 2014-15 SPx. The pre-order version will contain Rookie Roll Call inserts along with base cards 61-120. The final wave will finish the base set at 180 cards and add Lords of the Rink inserts to the mix.  In order to get those, dealers will need to pre-order 2014-15 Upper Deck Series Two, 2014-15 Upper Deck ICE or 2014-15 Upper Deck Masterpieces.
The Rookie Roll Call and Lord of the Rinks inserts will have the same parallel levels as the Flash of Excellence cards from Wave 1. Additionally, base cards 101-120 and 161-180 will be shortprinted rookies.
Programs like this are perfect for helping build awareness of upcoming releases and also create goodwill between collectors, dealers, distributors and manufacturers. Naturally, a set of this nature will help facilitate trading among those that want to finish the set. If dealers place their orders before product release dates, they will receive the four-card packs, which certainly helps them to encourage customers to reserve their boxes early as well.
Stephen Laroche is the editor of Beckett Hockey and Beckett Basketball magazines. Have a comment, question or idea? Send an e-mail to him at SLaroche@beckett.com. Follow him on Twitter @Stephen_Laroche.